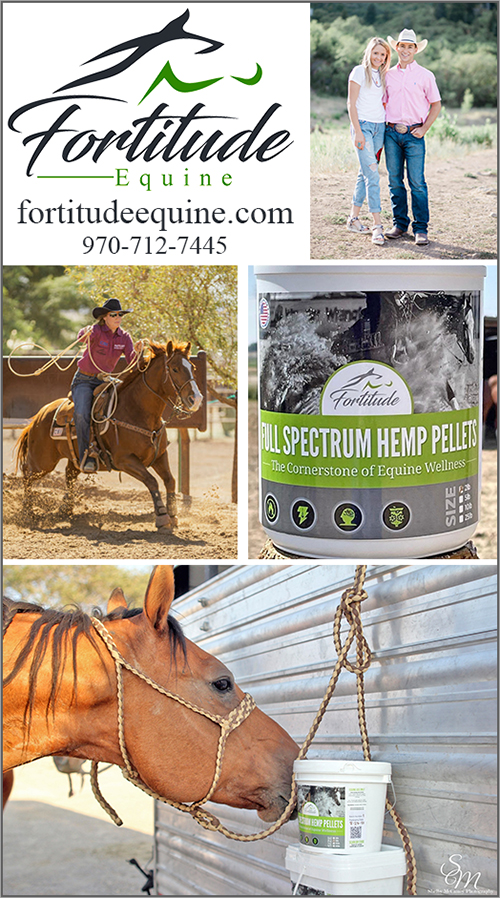 Full Spectrum Hemp Pellets by Fortitude Equine
Full Spectrum Hemp Pellets by Fortitude Equine are the HIGHEST QUALITY--- WHOLE PLANT & Full Spectrum Hemp Pellets!




About The Owners— Erik and Laramie Jackson— Dedicated Horse People
Erik Jackson grew up in a small town in Idaho, but he spent his summers on the family ranch in central Nevada. That's where his passion for horses and roping developed. Thinking he wanted to be a vet, he went off to Montana State focused on pre-veterinary studies, and after three years, he decided vet school was no longer a priority. He switched to plant science with a focus on genetics and never looked back. This is where he met Laramie.

Laramie grew up in a rodeo & ranching family in western Colorado. With a barrel racer mom and a bareback rider dad, a passion for rodeo was bred into her. She spent her summers horseback while helping her dad A.I. cattle all over Colorado & Wyoming. When it came time to make plans for her future, Montana State was where she chose to further her education while competing under coach Andy Bolich for the MSU rodeo team. After graduating with a bachelor's degree in 2017, Erik went into business with his dad, where they founded Plant Fuel Genetics (PFG). Through PFG, Erik & his dad developed high CBD hemp genetics and sold those seeds to farmers all over the world. Due to an injury that found her on the sidelines of competition, Laramie chose to follow him to Nevada. The two were married in 2018 and ready to build a life together.



How Did Erik and Laramie Come To Start Fortitude Equine?
It was a natural forward step based on their desire to help the horses they love and use their education to take hemp to a greater level than was being used in the equine industry. During their years in Nevada, Erik and Laramie fostered close relationships with farmers near & far, where Erik met the farmers that would eventually grow the hemp used in Fortitude Equine Full-Spectrum Hemp Pellets. Those years also led Erik to his newest adventure, working with Phylos Bioscience & cannabis farmers across the US. Laramie leads the Fortitude Equine team while they raise a daughter together! They both still enjoy competing, although time doesn't allow for as much of it these days. The Jacksons are passionate about helping horses & their owners enjoy the most of their time together.

So… Exactly HOW Is "Fortitude" DIFFERENT From OTHER Hemp Supplements?
What sets us apart from other CBD companies is our superior product. We use raw, whole-plant biomass with no prior processing in our pellets. Many other CBD companies use post-extracted biomass, similar to barley mash from a brewery, adding CBD isolate back in. Those companies sometimes also use a very low potency plant, only containing 1-2% CBD, all while charging much more than Fortitude does!

Why Is Fortitude Effective When Other Hemp/ CBD Products Fall Short?
Because we are using the whole plant, all the beneficial cannabinoids, amino acids, and terpenes are left intact, including less than 0.3% THC. This small amount of THC acts as a "key" to turn on the cannabinoid receptors to uptake as much CBD as possible. This is why many CBD products seem ineffective because most other products contain no THC. A minimal amount of THC is necessary to see the full benefits of the plant. Due to our close relationships with the farmers who grow our hemp, using seeds that we bred, and the lack of a middleman, we can buy a higher quality hemp plant to begin with, while giving our customers a more potent product and keeping the cost down for all of us. We also know exactly where it all came from, from the seed, through the farmer, all the way to our pellet mill. We have complete control of everything put into the plant throughout the process.

What Conditions can Fortitude Equine Help My Horses With?
Research has shown CBD to help with the following conditions:
* Alleviate Anxiety/Stress
* Reduce Inflammation
* Pain Relief
* Skin Allergies
* Ulcers (Neutralizes the pH of stomach acid)
* Skin & Coat Health

How Long Before I Can Usually See Results?
Because Hemp and CBD act through the entire system, it most often takes 10-14 days to notice the BEST results, but many people see results in as little as an hour regarding attitude and disposition.

What Sizes CBD Products Are AVAILABLE At Fortitude?
Our exceptional and affordable products are designed to help your horse in a notable and affordable way! Our Full-Spectrum Hemp Pellets are the only product we offer with CBD, but all of our products are hemp based.

CBD Full Spectrum Hemp Pellets: $79.99! This is our 2-pound size and contains a 32-day supply of 1 oz daily! Your horse will love how it makes him feel less stressed, less inflamed, and more like his or her usual self.

We also have 5 lbs ($159.99)

And we have 10 lbs ($299.99) available on our website, with an option to special order 25 lbs ($599.99).

Is It True That Fortitude Is Better AND More Affordable?
Yes!! Our CBD pellets are much less expensive than competitors per gram of CBD.

For example....
Fortitude Equine = $1.77/gram CBD
Competitor #1 = $122/gram CBD
Competitor #2 = $39/gram CBD

What About The Cold Pressed Hemp Seed Oil At Fortitude?
Cold Pressed Hemp Seed Oil— $149 for a gallon— This is wonderful, especially for picky eaters. Our cold-pressed hemp seed oil is:
• Triple-filtered, 100% cold-pressed hemp seed oil, no fillers or preservatives
• Full of antioxidants and minerals
• A healthy portion of Omega 3, 6, and 9 fatty acids - which are great for joint, muscle, and brain health.
• Supports a healthy immune system
• Supports a healthy inflammatory response
• DOES NOT CONTAIN CBD

I Have A PERFORMANCE HORSE. Can Fortitude Equine Help Me?
Yes!! Performance horses have special needs to help with energy and recovery. You will love our Complete Aminos! Elite human athletes supplement with amino acids; why isn't your horse? If you're not supplementing with amino acids, there's a good chance your horse isn't recovering as quickly as it should be. This can lead to injury and chronic fatigue. Amino acids are the building blocks of protein and are essential in healthy muscle recovery after competition and training.

So Fortitude Can Help My Horse With Muscle Recovery?
Yes! This is where Fortitude Equine's Complete Aminos, at only $99 for a 30-day supply, come to the rescue. Adding our hemp protein-based amino acid powder to your horse's grain is a simple way to ensure your horse is recovering the way it should. You only get so many runs on your horse, and Fortitude Complete Aminos can help you make the most out of the ones you have left.

* It contains 18 amino acids - 10 more than most similar products on the market
* More Bioavailable than comparable products on the market.
* Rich in Magnesium, Zinc, Copper, and Iron.
* Good source of prebiotics
* DOES NOT CONTAIN CBD

How Do I Feed Fortitude Equine Full-Spectrum Hemp Pellets?
1oz once per day is all it takes to alleviate anxiety and reduce inflammation in the body.

Wonderful Note To Horse Owners: There are no drug interactions and no limits on feeding this with other supplements! That is not the case with so many of our competitors! Although, we do suggest that you only feed one calming supplement at a time, so you know what is working for your horse!

What Do Horse Owners SAY About Fortitude Equine?

"My new horse was edgy, spooky, and a bit hard to deal with. I could see a big difference in his demeanor within a couple hours. I'm very happy with this product" – Shannon P.

"This pellet has made a huge difference on one of my head horses. I prefer the natural route over drugs and this has worked very well." – Travis B.

"I love these pellets for my youngsters in training and on the road. This product not only helps with the mental stress but also greatly with physical recovery. These are a staple in my program." - Tenley E.

"I have used several other products, but did not see the instant results that I did with the Fortitude Pellets. My young horse always get a little on the muscle when I worked him, but not since using a 1/2 ounce of the pellets. I have had the best rides on him and am looking forward to the future." -Deb P.

"This is the best CBD product I have tried. My OTTB is focused and happy. Helped her with her back pain as well."
– Melissa M.

"LIFE CHANGING PRODUCT - I have a 5 yo gelding that is bred hot on top and bottom, he had severe anxiety, frantically pawed when eating, was always in a hurry and impatient under saddle, spooky, just all around kind of stressful to be around. I spent months going back to basics and slowing things down for him, to no avail. CBD was my last resort, but I am so glad it came to it, because I practically own a different horse. We are now on our third small container, 1 scoop, once a day. He is a dream to ride, everything seems so much easier for him now because he's actually using his brain and able to focus and think things through without an initial reaction. His pawing has lessened, seems to just be an occasional old habit now. He is all around just better to be around. I am so thankful for Fortitude Equine, it has brought so much peace into my and my geldings life. I will be a repeat customer!" – Monica T.

Fortitude Is MOST Effective 1 Hour After Ingestion!
We have not had this fail a test in a performance setting but have only had one instance where blood was drawn and tested. CBD was likely not tested for because it wasn't a banned substance with the association. Please consider CBD concentration is highest in the bloodstream 1 hour after consumption. Please check with your performance association or governing body to determine if CBD is an allowable substance.

Fortitude Equine Offers A Truly Superior, Highly Effective CBD. Order Today!
You will love the difference that Fortitude Equine can make in your horse(s), and your horses will love feeling their best. Read our testimonials and give us a try. We are excited to talk to you and help you with your order. Call and tell us about your horses today!!


---
Contact: Laramie or Erik

Dillon, Montana 59725
Phone: (970) 712-7445
Email:
Website: Click Here To Connect

---