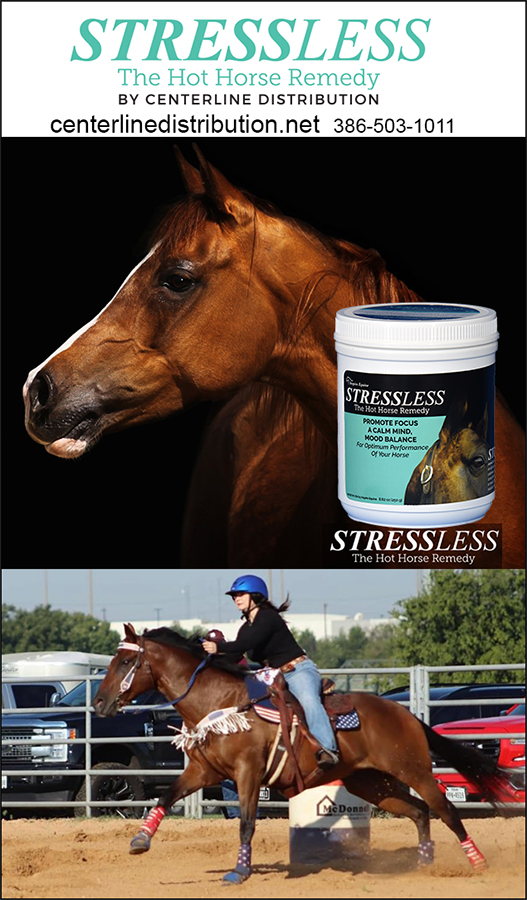 StressLess® by Centerline Distribution


StressLess® helps increase receptivity to training and behavior modification and is safe for long or short term use, with no side effects!



Is STRESS

Undermining

YOUR

Horse's Performance?
The performance people at
StressLess® Equine
know what it means when a horse is too excited or nervous to perform well. Horses know when they are walking through that arena gate, or being loaded into a trailer, that they are off to a barrel race, or some performance activity, and it is easy to blow some of their energy and focus, before they even get a chance to perform… and when micro-seconds count, the last thing you need is to have your horse loose focus or energy, and perform at less than their very best!
How Did StressLess® Come To Be?
Developed and made in the U.S., this miracle for equine mental health was first conceived by a group of research

veterinarians, trainers, pharmaceutical executives, and horse owners.

They collaborated to develop a calming product that was safe, natural, effective, and easy to administer. StressLess has been refined over time and we feel it is the best product on the market to

promote calmness in horses naturally

. By promoting a calm mind, focus, and mood balance, StressLess can help your horses train and compete at their optimal level.
But Can StressLess® Really Help Me? How Is It Different?
Yes-we-can!
StressLess®
is different than many other equine calming supplements that are currently on the market. It is comprised of a naturally derived compound that mimics the calming properties of mother's milk. The active ingredient in
StressLess®
has been shown in multiple studies to have calming, anxiety-relieving properties in multiple species, including horses, dogs, cats, and even humans!
How Does StressLess® Work?
We're so glad you asked! The active ingredient in
StressLess®
imics the action of GABA, a neurotransmitter that binds to nerve cells in the brain, promoting calm, and decreasing stress reactions. StressLess® helps
increase receptivity to training and behavior modification
which ultimately decreases poor performance. It is safe for long or short term use, has no side effects, and no drowsiness or impaired motor function.
Calmer mind, greater focus and better performance!
What Benefits Come With Regular Use Of StressLess®?
This amazing equine supplement encourages calm and focus but does not affect the motor skills or energy level of your horse. You will notice

a more willing and balanced temperament

with no drowsiness or impaired performance in the ring or on the trail. The best part of our calming, mood-balancing formula is the decrease in stress, which equals a happier horse and rider.
Consider StressLess if you are dealing with:
Agitation
Nervousness
Overreaction
Low Appetite
Inconsistency
Poor Performance
Anxiety
Fear
Recommended By Trainers Who Know!
More and more professional Trainers are using and depending upon StressLess® as regular use encourages their success by increasing the horse's reception to behavior modification while promoting focus during training and schooling. Nervousness in your horse may be reduced, especially in important situations like showing, traveling, medical procedures, prolonged stall rest, moving, adoption, meeting new animals/people, and day to day training.
Can StressLess® Help Discourage Ulcers?
It can be very helpful because limiting stress is one of the best ways to prevent equine gastric ulcers, according to an academic study published by Dr. Beth Davis at Kansas State University. Sadly, 90% of racehorses and 60% of show horses are affected by ulcers, so we think the use of StressLess® Horse Supplement

can be a great way to promote calm, which leads to good equine health.
What Are The Ingredients?
Casein Hydrolysate (from milk) is the active ingredient of StressLess. All batches of StressLess Horse Supplement contain 800 mg of hydrolyzed casein per serving, and the guaranteed analysis is the same.
Guaranteed Analysis
125 Servings Per Container
Amount per serving
Hydrolyzed Casein – 800 mg
Minimum Protein – 36%
Minimum fat – less than 1%
Minimum Crude Fiber – 0%
Maximum Moisturen- 2%
What Is The Recommended Dosage?
We recommend that you start your horse at

4 scoops a day for a trial period of one to two weeks,

fed with grain as a daily supplement. Feed all in one serving, not split. After this initial period, you may be able to modify that level down according to the "hotness" and focus of your horse. Most trainers and owners are usually able to gauge where they stand with the horse's stress reactions after the trial period.
Note:

We do not recommend going below 2 scoops a day, especially if you have an upcoming stressful event. In that case, you can increase the dosage to 4-6 scoops a few days before the event. Your horse may train quietly at home on a regular 2 scoop schedule, and for shows increase the dose to 4-6 scoops about five days before. T
he maximum recommended dose is 8 scoops per day.
Is It True That Horses On StressLess® During Hurricane IRMA
Betty Ledyard, U.S. A. distributor at Centerline Distribution, put all of her horses in Florida, on 6 scoops of StressLess® during Hurricane Irma and they were perfectly quiet in their stalls during the intense wind and rain. Testing has shown that 75% of horses respond to StressLess and typically they respond within five days to two weeks. We recommend you use for one month before judging your horse's response.
What Do Horse Owners Say About StressLess®?

"Pretty miraculous. My horse Trev is overall pretty calm, but I have used StressLess with him several times for competition or training stress… I recently started riding him after months and months of stall rest and hand walking. It seemed like drugs were the only answer to easing his pent up energy to prevent injury—but I hate the idea of any medication used long term. Anyway, I put him back on StressLess and it has been unbelievably effective."
– Archer Israel
"I have spent so much $$$ on calmers to no avail and then StressLess came to my rescue without a deadening effect. I give him 4 scoops with breakfast and my life in the field & showing is StressLess!"
– Pru Osborn
"Stressless is great ammunition to battle the most stressful situations. My horses have benefited immensely!"
– Elisa Wallace with Wallace Eventing
"StressLess made a huge difference in Chance. He is much more focused and rideable."
– Kylee Hone
"I started StressLess and it has been AMAZING for my mare. I cannot even explain it. Her personality is still there but the punch is out of the crazy."
– Sarah Brand
"We went to Venice two weekends ago and Keegan was the most calm and relaxed horse I have had yet."
-Mariah Korzenok
"I have seen a great improvement in Monroe's focus and we are making great strides in his training now that he is fully engaged."
– D.L.
"The horse I'm mainly riding was distracted and spooky while training. Ever since I put her on Stressless she's much more concentrated and less spooky. She was often internally stressed out about new exercises and training hard, Stressless made my daily training with her much easier and relaxed."
– Jana Reich
Is It True That StressLess® Comes With A Full Guarantee?
Yes!
We are so sure of the capabilities of StressLess® that we offer a
100% money back guarantee
if you are not completely satisfied with the results . We are perhaps the only calming supplement company that offers this unconditional guarantee, but once you try this amazing product, you will see why we guarantee its success for your horse!
Order StressLess®

Today and

Enjoy The Ride!

StressLess®
comes in 8.82 oz tubs which will provide two months of supplementation if following the recommended minimum dosing. Few things offer more joy to a rider, than riding a calm, focused horse.
StressLess®
is safe for short or long term use and there are no side effects to increasing or decreasing dosage as needed. Keep in a cool and dry environment!
Order Today and
enjoy your ride!
---
Contact: Betty Ledyard
19 Bulow Woods Circle
Flagler Beach, Florida 32136
Phone: 386-503-1011
Email:
Website: Click Here To Connect

---