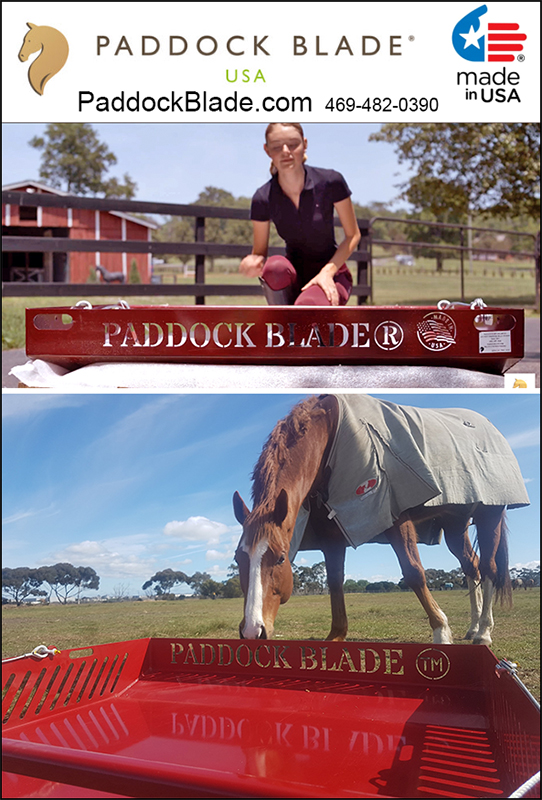 Paddock Blade USA
Made in the USA, Paddock Blade is the affordable, long lasting and easy to use solution to removing manure from your pasture! Less flies, less disease, less parasites and fun to use!
Is Manure Ruining YOUR Horse's Pasture?
Your horses eat, sleep, roll, walk and graze on your pasture and paddock areas. Few things are more unhealthy, than manure. It attracts flies, harbours bacteria, fly larvae, and gets into your horses digestive system, hooves and is generally the last thing you want on your horse's food. Most people ignore it thinking manure is "natural"… well so is disease, few things are more "natural" than disease— and none of us want our horse ingesting harmful bacteria or fly larvae that can turn into dangerous worms in their digestive system.
What About Using Manure Spreaders?
So, instead of removing the manure, you want to spread it all over your horses grazing area? The idea behind manure spreaders is to make manure into small bits that can 'absorb' into the pasture. Kind of an "out of sight out of mind"… well, now you have manure, its bacterial and germs spread all across your horse's feeding area. Personally, we don't think that is a wise or well -advised idea— at all! Removing as much of the manure as possible, is always the best bet.
Why Not A Manure Vacuum?
A manure vacuum is certainly a better idea than spreading manure all over your field, but, they are costly, (many are $7,000- $8000 or more!) with many moving parts that can break or need replacing.. surely, there has to be an affordable, sensible, easy solution… and guess what? There IS!



Introducing The Paddock Blade— an Affordable, Sensible and Realistic Solution!
With the
Paddock Blade
, all that is needed is an ATV or very small tractor to pull it! No "moving parts" to break and built to last for decades and
LESS than $1500!
How Did The Paddock Blade Come To Be?
Paddock Blade
was first invented in a small farmyard workshop just outside Worcester in the United Kingdom in 2017. Orginally made for a horse owner who was tired of cleaning paddocks by hand, enduring the weather and insect bites, and suffering from repetitive strain injuries in their hands, legs, back, and shoulders. This led to the development of Paddock Blade, a purpose-built tool to make paddock cleaning easier and more efficient, freeing up more time for horse owners to spend with their animals.Traditionally, paddock cleaning has been a backbreaking task that involves using a rake and wheelbarrow or other equipment. Often making it hot, tiring, and tedious. With Paddock Blade, horse owners can say goodbye to these struggles and enjoy the benefits of a cleaner paddock with minimal effort.



How Does The ONLY "American Made" Pooper-Scooper For Horses Work?
Designed by horse people for horse people, we know that you want a tool that'll not only work, but be easy to use. To use your
Paddock Blade
, simply hitch it to your vehicle, tow and collect. It will automatically adapt itself to keep a tight ground plane to any surface and at any angle. Whatever you are using to tow it with needs to be able to travel at 12-19mph comfortably for the best results. Now you can sit back and enjoy the ride and let Paddock Blade do the hard work for you!
48" Wide X 39" Long X 12" High
Lifetime Warranty as Standard
Proudly American Made
No Moving Parts / Maintenance or Assembly Required
Clears An Acre In 10 Minutes
90 Gal Capacity (Over 3.5 Wheelbarrows)

Patent Protected Design

America's Best Selling Paddock Cleaner
What Other Uses Are There For Paddock Blade?
Your
Paddock Blade
Can help you in so many ways! In tow mode, your
Paddock Blade
will efficiently collect manure, rocks, sticks, leaves and other organic debris. Some of our customers use their Paddock Blade entirely for clearing rocks and tidying up their property. In trailer mode, your
Paddock Blade
can also be used to carry heavy loads, up to 1100 lbs. Bales, bowsers and any other heavy items that you can think of can be moved easily by Paddock Blade… and yes, if you have "cow patties"— we can help remove them!
Is It True That Paddock Blade is Made in TEXAS & Has 10 Year Warranty?
Wherever in the world you order a paddock blade you are buying a premium locally made product that supports the economy and jobs. We don't rush or cut any corners. Simplicity is our strength and we deliver on our promises. Proudly American made in Texas. We use locally sourced American steel and components. This is very important to us and Your purchase supports the American economy and jobs. Our products are manufactured to the highest standards. Every single Paddock Blade is quality checked before it leaves our factory. Paddock Blade is the only American made horse poop scooper. It's also the only one backed by a 10 year warranty.
Do I Have To Assemble It?
No! We've done all the hard work for you. As soon as you can get your Paddock Blade out of the packaging you're good to go. There's also no moving parts or maintenance required. Simplicity is our strength.
How Do I Empty It?
The Paddock Blade has six handles around the side and rear, and a bar at the front to make emptying quick and easy. Once you have done your paddock cleaning and filled it up to the desired level, simply tow your Paddock Blade over to your poo pile, unhitch it and lift and tip it from the back, side or front to raise and tilt. Alternatively, you can keep a shovel, rake or brush at your poo pile to empty the contents in a few seconds. Whatever method you choose it will save you hours of time and effort every single week.



Is It True That I Can Make Payments On the $1499 Total Price?
Yes you can!
Ordering is EASY.
We offer Shop Pay at the checkout for affordable monthly installments. You can choose to pay over a 3, 6, or 12 month period starting from just $135.30 per month plus interest. Here are some example payments plans. $1,499 into 12 monthly payments of $135.30 at 15% APR. With a total amount payable of $1,623.20 with a total interest amount of $124.60. Or split over 3 months at 15% APR with payments of $512.21 per month. The total amount payable is $1536.63 with a total interest amount of $37.63. While there are no late fees for monthly installment payments, your order is subject interest fees. Your credit score isn't affected when you apply, but it can change if you don't make your payments on time. You can still take advantage of any discounts and promotions we have running and pay with shop pay installments. Just select the option at the checkout to learn more.
Note:
Alternatively if we can tailor a payment plan to suit your budget. Please call us at on 469-482-0390 or email us at
hello@paddockblade.com
so we can arrange one to suit you. Rates from 0%-36% APR. Payment options through Shop Pay Installments, are subject to an eligibility check and are provided by these lending partners:
affirm.com/lenders
. Options depend on your purchase amount, and a down payment may be required.
Are Taxes & Shipping INCLUDED in The $1499 Cost?
YES! Shipping is included to the 48 states and so is the tax! $1499 is the TOTAL cost for 48 states in the USA.
What Do Horse Owners SAY About Paddock Blade?
"This product has it all! American and DURABLY made, 10 year Warranty, Ease of Use, Payment Program (if you want it) and helps keep the pasture as clean as possible. Get one— you will love it"—
-Ann Pruitt- Director at InfoHorse

" I have based my entire career on quality, common sense and durability, and I see these exact attributes in the Paddock Blade. See my video below…
- Guy McLean Nationally Known Horse Trainer



"Our business has over 60 horses. After buying our Paddock Blade, we have been able to spend more time doing what we do best and also had the ability to increase our clientele. Our paddock blade has helped in all terrains. As a business product we can't recommend this enough!"
- MFC Equine Rider Coaching
"We love it! When you have as many horses as we do at Siratsa Park and product about 15 tons of manure per year, you are always looking at ways to cut down the time on mundane chores— our Paddock Blade gives us that! We will be back for more"
- Jayce and Matt Haskins
STS Thoroughbred Stables
Are Orders Really Shipped Within 1 Business Day?
Yes! All orders are dispatched from our factory within 24 hours for every business day. You can track your delivery with our trusted courier partner. All deliveries are insured.
Order Your Paddock Blade Today!
If you have pastures or paddocks, you need
Paddock Blade
. We have financing to make it affordable for every horse owner that wants one— Proudly American made in Texas. We use locally sourced American steel and components. This is very important to us. Your purchase supports the American economy and jobs— and can help keep your horses healthier! Our products are manufactured to the highest standards. Every single Paddock Blade is quality checked before it leaves our factory.
Paddock Blade is the only American made horse poop scooper.
It's also the only one backed by a
10 year warranty
—
pick up the phone and let us help you with an order today!!
---
Contact: Jake Fowler
2451 West Grapevine Mills Circle #1026
Grapevine, Texas 76051
Phone: 469-482-0390
Email:
Website: Click Here To Connect

---