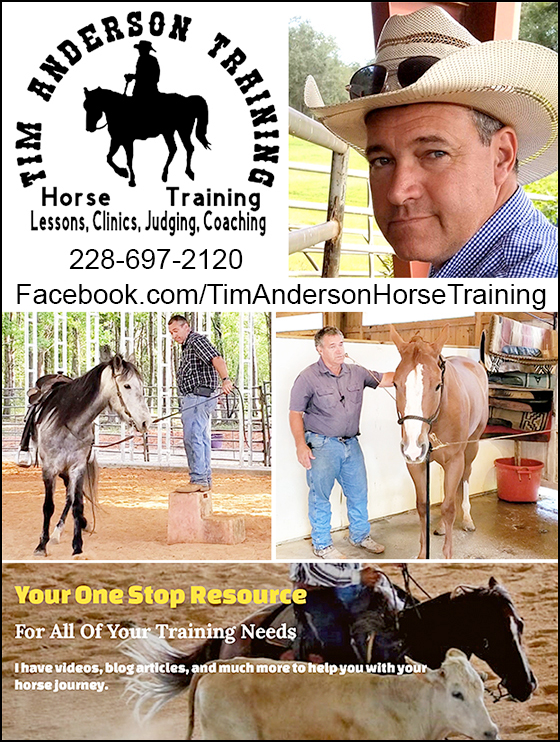 Tim Anderson Horse Training
With over 20 years of training Police horses, Reiners, Performance horses, and just "family horses", Tim Anderson has the skill, the compassion, the leadership your horse will respond to and trust.


Tim Anderson— Over 25 Years of Training Excellence!
Tim Anderson
has trained and coached multiple world-class and top 10 horses and riders. He holds several riding instructor certifications and has over 20 years of experience training police horses. Throughout his 30+ year career, Tim has successfully started more than 1,500 horses under saddle. Few trainers have the knowledge and experience that Tim has with a whole training program that can take a horse from unstarted all the way through to a sucessful show career. Because Tim's program is a complete comprehensive system with the horse's career advancement in mind, Tim's horses learn in a progressive and complete way, not just spot problem solving, so there are no holes in the horse's training to show up later.



But...Aren

'

t All Trainers The Same?
Wouldn't it just be wonderful if all trainers had the knowledge, skill and love of horses that Tim Anderson does! But we've all experienced (or know of people who have!) people to sent their horse to a trainer only to have the horse come back thin, upset, spooky and worse than when they left! Many a horse owner has spent money that was not only wasted, but ended up with horses returned in a worse mental (and perhaps physical) state than they left! This is the opposite of what a horse owner wants to see.



What Makes Tim Anderson Different?
Tim has a
genuine love of horses. He has become successful, not because he knows how to force a horse into compliance, but because he lets the horse tell him where he or she is in their education or training, and he builds a foundation starting from there. Tim takes the steps necessary to help the horse understand what is being asked, he takes the time to make sure that tack and training equipment fit and are comfortable to the horse and he works in a methodical way that builds success upon success, with a ready reward for correct responses.
What About My Horse's Care While In Training?
In addition to a training program that is taylored to the need of the individual horse and the desires and riding goals of the owner, Tim ensures that EVERY horse has a comfortable, clean stall, with hay and grain to fit his or her particular needs so that they can rest comfortably, and get the nutrition they need. This, alone, is vital to a horse's training success as it helps remedy the stress that comes when in a new place. Seeing to the physical, mental and emotional needs of the horse during training, creates a cycle of success, where the horse associates the training process with positive experiences, making them more willing and eager to participate.



What If I Just Want A Well Trained Horse That Isn't A Show Horse?
While it's true that many top breeders rely upon Tim to train their show prospects there are also people who just want to "tune up" their horse, or to get help with a problem horse they just 'rescued' or…need help developing a more rounded 'trail horse'. WHATEVER your training needs are, Tim has the skill and the compassion to help both horse and rider.
Does Tim Offer Training Videos That I Can Learn From?
Tim as an AMAZING array of very helpful videos! While he has numerous videos on
YOUTUBE
(be SURE to subscribe!), Tim has
PROBLEM SPECIFIC VIDEOS
for sale on his website that offer a wealth of knowledge on a huge variety of topics from problem solving to tack to how to help a spooky horse to explanations about collection etc…. these are immensely helpful to riders! You will also love Tim's
BLOG
with photos and great tips at
www.HelpWithMyHorse.com
What About Clinics, Lessons or Coaching?
You bet— Tim does it all! Once you start to work with Tim, you will want to continue. Tim has a gift for helping people and horses, feel comfortable and that kind of support creates an amazing environment for learning. Simply contact him and let him know if you need phone consultation (you can send him video of you and your horse working together to demonstrate what you need help with), or you can contact him for lessons and even clinics! Tim is anxious to help and it will be money and time well spent! Tim answers all his messages and emails himself. If you have a question about your horse send it and he will do his best to help you out.



What Do Horse Owners Say About Working With Tim?
Melinda from Australia commented, "Thank you, Tim

I am so enjoying your video's. I look forward, to whenever your next one is posted

!!! I could listen and watch you for ages". Rebecca said, "Great example of patience and systematic training." Rodney commented, "One of the best trainers I've seen in a long time for a lot of reasons. I enjoy every time. Thanks". Patricia commented, "I really enjoy when you explain your strategy.

You're not emotional, just matter of fact, no, we're not going to do that, I want you to do this; until he does it, then he gets a "good boy". The comments like this seem endless.
Call Tim Anderson Today!
Few people can "do it alone" when it comes to horsemanship.
The assurance that you can trust Tim Anderson with your horse is a powerful statement. It's not just about training techniques but also about building a successful and happy partnership, which is a testament to his commitment to the well-being and fulfillment of both the horse and the rider. Call and talk to him today— it will be the beginning of a happier, more willing horse and a great future.
---
Contact: Tim Anderson
13000 Mount Pleasant Road
Vancleave, Mississippi 39565
Phone: 228-697-2120
Email:
Website: Click Here To Connect

---