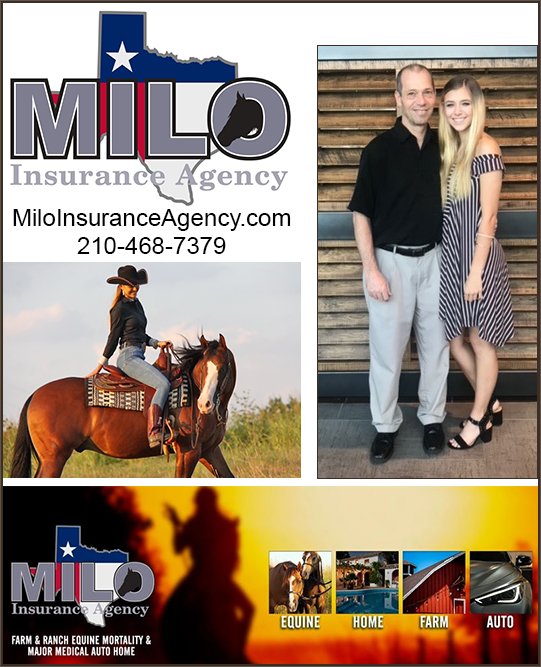 Milo Insurance Agency
Milo Insurance Agency is owned by Patrick Yohey working with his nationally known daughter, (Reining Champion) Courtney Yohey. Together they provide the best in insurance for you and your equine partner!
Why Is It Called "MILO" Insurance? Who Is "MILO"?
Says owner, Patrick Yohey, "It is called MILO Insurance Agency- after my daughter Courtney's 1st Futurity Horse! named "MILO". My Insurance Agency was inspired by my 30+ years' experience in the insurance industry and my daughter's horse Milo. My daughter has been showing Reining horses since 2008. Courtney and her horse Cheese became quite the talk of the town when this 8yr old little girl and 5-year-old average gelding started tearing it up… We met a lot of fabulous people along the way that provided help and inspiration for her to achieve her goals and chase her dreams. As with most barns we all become family, and that same family feeling is what Milo Insurance inspires to be.
Jump ahead to the 2022 NRHA Futurity … Courtney is there with her first futurity horse, MILO, she raised him from a weanling. I looked around and saw all this support system and said to myself, " How can I help and give back?" … They all need insurance, and they all need someone they can trust and wants the best for them. I have the passion; knowledge and I truly care about each client— and their horses! Thus... MILO Insurance Agency was born and we have been working hard with happy clients since!
Is It True That Courtney Yohey Is Patrick's Daughter?
Yes! She is Patrick's pride and joy... Courtney worked hard to become successful in reining. She has earned Many championship titles as a youth including 3 APHA world titles. She also has won the NRHA Northwest Affiliate Finals several times in both Youth and Non-Pro divisions. All the while earning a scholarship to Texas A&M NCAA Equestrian Team. While at Texas A&M she earned her degree in Animal Science with a minor in Agribusiness. She also threw in two National Championships, earned all SEC in Reining, and was voted MVP her junior year. Patrick says, "We have always supported her dream and go to all the shows where we have gained lifelong relationships with and learn the ins and outs of showing, and caring for horses, it has given me the true passion for horses and what they do for people!"
His Daughter Courtney Yohey:
2018-19 Aggie Equestrian's MOP in Reining

2018-19 SEC Winter Academic Honor Roll

2017-18 Aggie Heart Award
SENIOR (2019-20): Tallied six wins in Reining … Recorded a season-high of 72 and earned MOP at SMU (2/15).

JUNIOR (2018-19): Awarded Most Outstanding Player in Reining at the team's annual banquet ... Tallied nine wins in Reining, including four at the SEC Championship and NCEA Championship ... Registered a team-best and career-high score of 74.5 against SMU (2/2) ... Named to the SEC Winter Academic Honor Roll.

SOPHMORE (2017-2018): Presented with the Aggie Heart Award at the team's annual banquet … Finished the season with seven wins in Reining … Recorded a season-high score of 71.5 three times.
How Do I Know If I NEED Insurance?
Honestly the best way to know, is to call! But if you have horses, if you have a home or a car or a horse business, it is very likely that Patrick can help you— and he will spare no effort to serve you well. Just pick up the phone, Patrick will ask you a few questions and then take the time to get you the BEST possible quotes for the BEST possible package!
What Kinds Of Insurance Are Offered?
* Equine Mortality
* Major Medical for horses
* Special Event
* Business Owners (small or large commercial)
* Home/ Auto
* Collector Cars
* US Rider Roadside Assistance Insurance
(for when you are traveling with your horse trailers!)
Call Patrick Today and Get Peace of Mind- Tomorrow!
The unforeseen happens to all of us. Insurance was made to help caring people have 'peace of mind" in the event of accident or misfortune. Patrick Yohey is a horseman, his family are horse people and he truly cares about each client and their particular needs. It costs nothing to pick up a phone and give a call— it only costs if you don't. Patrick is excited to hear from you and welcomes your call to Milo Insurance Agency today!!
---
Contact:
1354 North Loop 1604
San Antonio, Texas 78232
Phone: 210-468-7379
Email:
Website: Click Here To Connect

---