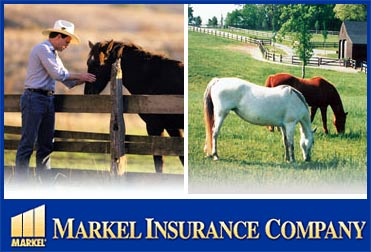 Markel Insurance Company- The Insurance Company with Horse Sense®
Serving all 50 states- The Markel Insurance Company name and reputation are unsurpassed in the field of equine insurance.

About Markel Insurance…
The Markel Insurance Company name and reputation are unsurpassed in the field of equine insurance. For over four decades, we have provided uninterrupted coverage for horses and horse-related risks. We also pioneered many of the policy forms and endorsements now considered standard in the industry. As a leading developer of specialty risk management tools and services, we have continually enhanced and improved our products to meet the changing needs of our customers.

About Our "Horse Specialists"
Known as the Insurance Company with Horse Sense, Markel is represented by a team of horse insurance specialists all educated in specific breeds and/or disciplines. These chosen individuals have made a lifelong commitment to the horse industry and understand your unique equine insurance needs.

Insurance Plans Available:
Mortality, Medical/Surgical, Theft
Both our Hassle Free and Standard All Risk Mortality & Theft policies feature the same great coverage. Most horses will qualify for our Hassle Free policy. No vet certificate required on horses valued up to $30,000.

Commercial Equine Liability
If you run an equine business, this is a policy you need to consider. Commercial equine operation where the insured is actively involved in breeding, boarding, training of horses and/or any activity noted above and receives monetary value or other compensation. Liability limits of $300,000 to $1 million are available with this policy.

Private Horse Owner
Coverage for private horse owner applies on or off premises anywhere in the U.S., Canada, and U.S. territories. Coverage is offered for bodily injury and property damage, done only by a horse, which is scheduled on this policy. This coverage is not available to individuals involved in commercial equine operations* (example: trail rides, riding instruction, race training, commercial breeding or boarding of horses which you do not own), or if you own more than 10 horses.

Riding & Hunt Clubs
Don't leave your riding clubs unprotected! Limits of $300,000 to $1 million available and spectator liability is included.

Call Markel Insurance Today!
Most of our friendly and knowledgeable representatives are active horse owners themselves! They will cheerfully help you to find the right policy and the best coverage for your needs. Your calls are welcomed today!
Many of our employees were horse owners long before they became involved in the insurance industry. They know first-hand the passion shared by horse owners. They are true "horse people" who represent the commitment that makes the Markel difference.
---
Contact: Our Friendly Staff
4600 Cox Road
Glenn Allen, Virginia 23060
Phone: 1-888-217-3658
Email:
Website: Click Here To Connect

---