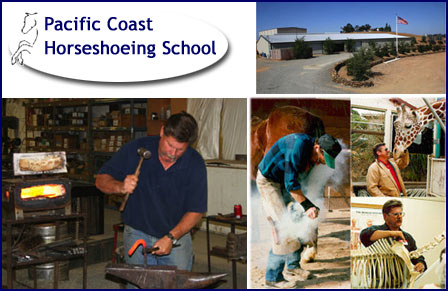 Pacific Coast Horseshoeing School
First class facilities, top notch and well thought out instruction, and the support you need to become a successful Farrier.


Meet Bob Smith, Head Instructor...
"If you have made the decision to become a successful Farrier, you are going to need a school that gives you the best opportunity to make that goal. At PCHS, consideration for every aspect of your future success has been made to ensure that each of you receives the outstanding instruction and support you need for a prosperous future as a Farrier. " Bob Smith
Bob and his school maintain the feet of the hoofed animals at the San Francisco Zoo. Bob was recognized as the American Farrier's Association's Outstanding Farrier Educator for 1997. He is a graduate of California State University at Sacramento, and did graduate work in Farrier Science with Dr. Doug Butler at Sul Ross University, Alpine, Texas. He and his wife, Linda, own and operate Ironwood Equestrian Park, a popular training and show jumping facility in the Sacramento area. Bob is a Vietnam era veteran.
About Your Instructors:
Chuck Presnail is the forge instructor. Chuck brings to PCHS a wealth of teaching experience at both the University and Vocational Level. Along with being a professional educator he is an accomplished Farrier on the hunter/jumper show circuit. Chuck got under his first horse in 1972, in Michigan, and continues today with a small clientele of Grand Prix and performance horses.
Pacific Coast Horseshoeing School Is Fully Prepped For Your Success!
7,500 square feet of forge and shoeing area
200 square foot tool room, with private lockers for each student
1000 square foot metal shop
600 square feet of a modern classroom complete with central heat and air.
How To Pick a Farrier School:
Don't pick a school based on location; pick a school based upon curriculum. You wouldn't marry someone just because they lived next door, close and convenient, why use that criteria to pick a school. Pacific Coast Horseshoeing Schools is one of the nation's leading Farrier Schools and we spare no effort to ensure the success of our students!
Here Are Key Factors To Keep In Mind...
Instructors: If your instructors are recent graduates of the school you need to rethink your choice. Unless you have supported a family, made the house payments and bought the groceries shoeing horses I don't think you are qualified to teach. Call the school and ask to speak to an instructor not the guy who owns the school or a secretary.
Availability to practice: If you are going to be away from home to learn the art of horseshoeing you need the opportunity to practice after school and on weekends. The best way to get good is to practice and you have to be provided with the opportunity.
Schedule : If new people are arriving every Monday, someone gets shorted. The new student who is in a class above his/her head or the older student who has to listen to a repeat of old material instead of moving on to new material. An eight week program would have 8 different levels of students!
Horses: PCHS does not bring in rank, ill mannered, dangerous horses for students to shoe. You cannot learn how to balance a moving foot! Make sure the horses you work on at the school are going to be the same type of horses you plan on shoeing when you go home. Students need good quality horses that allow them to practice professional skills. The opportunity to shoe 10 horses per day means nothing if you can't shoe any of them because they are dangerous.
Consumer protection: Make sure you understand the refund policy of the school. What happens if you decide after the first week that shoeing horses is not for you? Will you get a full refund?
What Do PCHS Students Have To Say?

"The Italian Quarter Horse Association interviewed all U.S. schools. They sent me to the one they say is the best. The selection was very much appropriate." Leonardo Cagnolati, Grosseto, Italy
"I attended a six week program in the mid-west. After I graduated I returned home and was unable to compete. I was not capable of shoeing professionally. I enrolled at Pacific Coast Horseshoeing School and learned more in the first week then I did in the entire six week program."Matthew Frederick, Napa CA (707) 252-8372
"Pacific Coast Horseshoeing School has a very solid program with an extremely high success rate for its students." Kirk Atkins, resident Farrier at the University of California, Davis, Veterinarian Teaching Hospital
"I had heard that Pacific Coast Horseshoeing School was the best school in the United States. At 37 years old I could not afford to attend a marginal school. PCHS was even better than I heard." Glen Brazeau, Houston, British Columbia, Canada (604) 845-3141
"Bob and Chuck are very knowledgeable, but more importantly are willing and able to effectively teach their skills to others. They will give you as much as you are able and willing to learn." Tara Rich, Redding, California (530) 223-4058
Call PCHS Today And Start Your Future As A Farrier Tomorrow!
PCHS is for every student who wants a quality education as a Farrier. There is extensive course information on the PCHS website link available below. Bob wants to hear from each of you personally , to help you enroll and help you get started your new and exciting career as a Farrier-- so be sure to call today!
---
Contact: Bob Smith
5225 Carbondale Road
Plymouth, California 95669-9729
Phone: (209) 245-3920
Email:
Website: Click Here To Connect

---