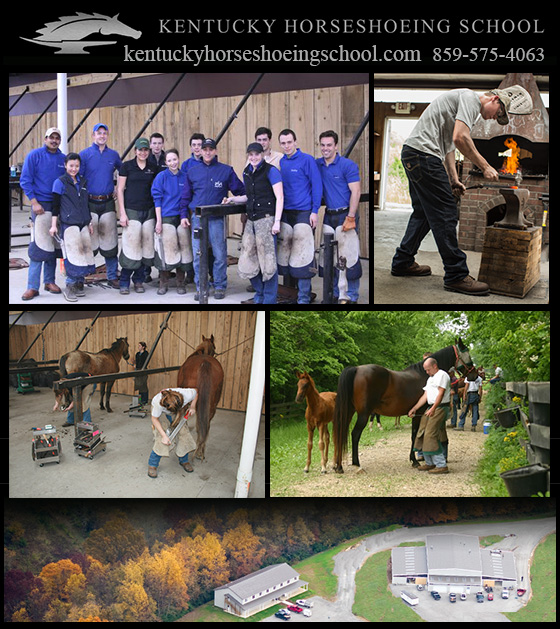 Kentucky Horseshoeing School
Kentucky Horseshoeing School is proud to be Nationally Accredited by the ACCSC, and is a provider of Federal FINANCIAL AID!

Meet Our Director
Mitch Taylor, a Certified Journeyman Farrier in the American Farrier's Association (AFA), directs all instruction at KHS. Recognized throughout the farrier industry as a top clinician and educator, Mitch stays actively involved in all aspects of the farrier profession. In addition to his work at KHS, he conducts numerous clinics for the international farrier and veterinary community and volunteers extensively in the AFA, where he has served on the Board of Directors and as Education Committee Chairman.

A noted author, Mitch publishes frequently in Professional Farrier, the official publication of the American Farrier's Association, and served as the primary author of the AFA's Education Manual; he has published extensively in numerous other farrier publications, including the American Farrier's Journal.



Because Everything Is Riding On YOU .. Make Your Choice Kentucky Horseshoeing School!
We all know the saying... "No hoof, no horse"-- but who is it that is helping to protect and care for that hoof? Who will your clients trust to care for their horses? Will you have the CONFIDENCE you need to face the situations that can arise as a farrier? If you are a graduate of KHSUS-- you will have the confidence, the knowledge and ability to be up to the challenge and to keep your client's horses, performing their best!



Is It True That Kentucky Horseshoeing School is Nationally Accredited?
YES! Kentucky Horseshoeing School is proud to be Nationally Accredited by the ACCSC (Accrediting Commission of Career Schools and Colleges). Accordingly, ACCSC is committed to the important role of ensuring the integrity of educational programs as a means of serving the public interest and public accountability.

Is Kentucky Horseshoeing School A Provider of Federal Financial Aid?
YES! Financial Assistance in the form of loans and grants is available to qualified students. KHS makes every possible effort to aid those students who need financial assistance in order to complete their college programs. Applicants in need should apply for financial assistance at the same time they apply for admission to Kentucky Horseshoeing School.
Some types of aid available are:
Federal Pell Grant

Direct Unsubsidized Loans

Direct PLUS Loans

Direct Consolidation Loans

WIA Workforce Investment Act
Veteran Administration Benefits
Students seeking financial assistance through any of the available programs should request information and appropriate financial aid counseling from KHS. The Financial Aid Administrator will be pleased to assist in completing and submitting all forms to the appropriate agency/lender. The student is responsible for providing accurate information. Financial aid consists of Grants, Scholarships and Loans. Please remember that loans must be repaid and should not be considered entitlements.
Note: There is a wide variety of scholarship opportunities available, all with different criteria.


About Our Amazing School
Teaching and hands-on training at Kentucky Horseshoeing School is conducted in our new State-of-the Art teaching campus. Our custom-designed 23,000 square foot facility is comprised of three individual shops, two classrooms, a welding shop and lounge facilities. These areas are designed to provide the optimum educational venue while assuring a safe environment. The entire facility is outfitted with the latest equipment and visual learning aids, as well as wireless Internet accessibility throughout the campus.


The KHS work areas are complete with gas and coke forges, belt grinders, drill presses, knife sharpening stations and arc welding capabilities. There is ample room for shoeing horses with 14 cross-tie stations to contain horses for shoeing and more than 30 workstations, complete with anvils, vices and both propane and coal forges.

This configuration allows each student to work their own forge station and enhances student safety. For further efficiency and ease of learning, beginning and advanced forging classes/continuing education clinics are held in separate shops.

KHS is excited about the new modular housing options on our Richmond campus with numerous options for both male and female students. A senior staff member resides on the KHS campus to supervise the residential students.

What About Meals?
Meals can be prepared in the dormitory kitchens or purchased at local cafes and restaurants. A lounge equipped with a television, VCR, and a library of educational videos is also available for student use.





How About Their Instructional Staff?
The Kentucky Horseshoeing School employs two resident assistants at all times. These staff members are practicing farriers and honor graduates of KHS, trained by Mitch Taylor to instruct students in basic farrier techniques. These positions prove helpful in instructing from the student viewpoint and provide valuable insight and incentive for attending students.

The Kentucky Horseshoeing School employs a professional staff to assist instructors and visitors. These staff members are familiar with the school's programs and offerings and can assist you as you prepare your application and registration materials.



What Kind Of Teaching Can I Expect?
KHS instruction is designed to be well-rounded. You will acquire skills through a combination of classroom instruction, hands-on-training, laboratory demonstrations and field tours. Kentucky Horseshoeing School emphasizes the mastery of fundamental skills and balanced shoeing. You will acquire skills through a combination of classroom instruction, hands-on-training, laboratory demonstrations and field tours. In addition to basic shoemaking, you will learn equine anatomy, physiology and the fundamentals of biomechanics.

In addition to basic horseshoeing and shoe making, you will learn equine anatomy, physiology, and the fundamentals of biomechanics. When not in the classroom, you are encouraged to further your skills on your own. Our shop and forge area, along with our video library, are open seven days a week.

During your tenure, you will master the fundamentals of farrier craftsmanship. You will learn how to trim a horse for proper balance and how to recognize and treat common types of lameness and gait problems. You will be guided through basic and advanced forging techniques, using both coal and gas forges.

About Our Location
Kentucky Horseshoeing School is located in the midst of Kentucky's fabled Bluegrass Region. The fertile soil here nurtures horses of all breeds, and explains why there are more thoroughbred farms concentrated here than anywhere in the world. Here in the "horse capital of the world" you will have the opportunity to work on a variety of horse types and breeds. You may also have the chance to meet noted veterinarians, farriers and equine experts who frequently visit the Kentucky Horseshoeing School as guest lecturers.

At Kentucky Horseshoeing School, you are less than an hours drive from many of the industry's star venues and events. To the East, in Lexington, are Keeneland Race Course, the Red Mile Harness Track and the Kentucky Horse Park (site of the Rolex 3-day Event, the U.S. Polo Open and the Egyptian Event).

And to the West is Louisville, home of Churchill Downs and the world-famous Kentucky Derby, along with the Kentucky State Fairgrounds, which annually hosts the World Championship Horse Show.

Get Registered Or Call For More Information Today!
If you are going to invest in a professional career as a Farrier, don't you deserve to have the best education and support system? Our small classes, high standards, and attention to detail has no equal. Since 1973, these are the elements that combine to make Kentucky Horseshoeing School the best choice for your farrier education. We look forward to helping you towards a bright and independant future as a successful Farrier! Pick up the phone and give us a call today!




---
Contact: Kentucky Horseshoeing School
3612 Lexington Road
Richmond, Kentucky 40475
Phone: (859) 575-4063
Email:
Website: Click Here To Connect

---