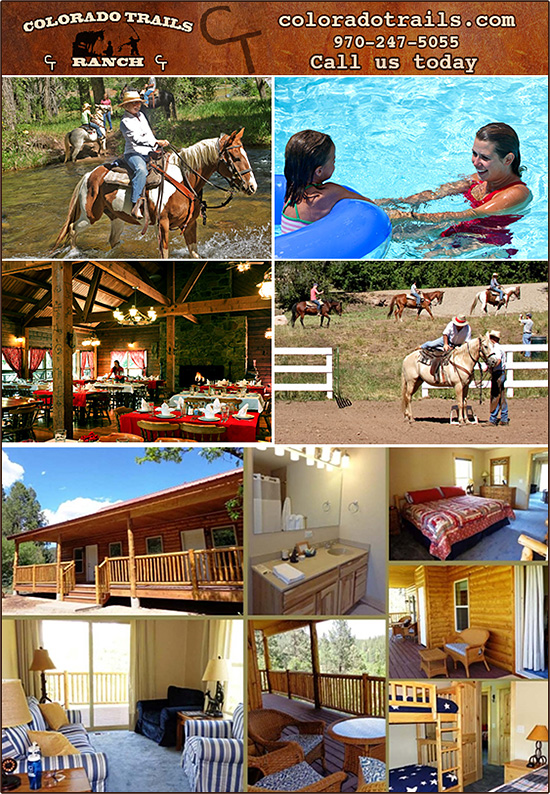 Colorado Trails Ranch
At CTR, we make SURE that every guest has the best vacation they've ever had!



About Colorado Trails Ranch
Colorado Trails Ranch is different from all other Dude Ranches-- and a very special place. Rather than being an adaptation of some sort of former ranch, ours was built to be a dude ranch from its very beginning in 1960.


get settled in and be ready to go back to work.


Prior to any original construction, there were only two buildings; a tiny old barn and the anteroom portion of what was once Coney Cove dance hall, built around 1912. This log structure is still in use today as wrangler staff housing. The first few years there was only the new lodge and six Alpine cabins. A lot of growth and change has taken place over the past half of a century on this guest ranch.

In early years, guests made up their own brand, which was burned into the timber posts in the lodge. Those brands are still there, but this practice came to a halt many years ago. It was a sad end to a great Colorado Trails Ranch tradition, but necessary to protect the building from burning down.

Each year, the ranch comes alive in May with the arrival of our staff from all over the country, and sometimes from around the globe. CTR would not be the special vacation spot it is without the liveliness, and vitality, of the staff.

What Is A FULL STAY?
Our full stay is a 6½ day stay with arrival on Sunday and departure after lunch the following Saturday. This will allow folks a little more time to travel home, get settled in and be ready to go back to work. Our guests find this the most convenient and enjoyable to work with in their every day lives.



Colorado Trails Horseback Riding
Horseback riding in Colorado is an incredibly unique way to experience the terrain. Discovering the vast mountain ranges, riding alongside a creek, or loping across a meadow - it's easy to feel like you're in a movie or fairy tale.

Once you're in the saddle, you'll be able to enjoy short scenic trail jaunts, half day rides, all day rides, team penning, and even take part in competitive games in our 'Corral Capers' guest rodeo.

Don't worry if you've never ridden a horse before. There is really something for everyone with our horseback riding options for people of all ages and skill levels. Our staff and horses are prepared to easily accommodate both beginners and accomplished riders at Colorado Trails Ranch.

You'll have choices of morning and afternoon rides, or both. The lengths of these adventures can range from half day, chuck wagon lunch, and all day rides.

Buckaroo (5-8)
You really don't need to hunt further for fun family vacations that make travel with kids highly enjoyable. At Colorado Trails Ranch, our dude ranch activities are organized just as much for allowing you to have a blast, as they are about keeping your children safe, happy and entertained. When you come to stay with us, you will have plenty of time to play, relax, reconnect and rejuvenate.

Our youngest kids' program, the Buckaroos, is well planned and executed for children ages 5-8. Lots of folks bring much younger kids to Colorado Trails Ranch, but schedule babysitter time to take part in adult adventures. We do have babysitters available when you need them at an additional hourly rate.

The safe adventures and fun activities lined up for our Buckaroo guests are all enjoyed under the watchful eye and energetic guidance of experienced dude ranch staff. You have the freedom to join in their activities, or to spend a portion of the day with other adult guests having your own vacation fun. Don't worry about leaving them, they'll be so busy making friends and exploring this new world they won't realize you are gone. (Try that at home!) This program keeps kids busy, teaches them new skills, and ensures they are not only safe, but having just as much fun as their parents. Our Buckaroo guests' days are filled with:


Go on a picnic lunch horseback ride
Adventure out on a half-day rafting trip
Discover the great outdoors on nature hikes
Scavenger hunts
Hayrides, cookouts, and campfires.
Maybe even an overnight camping experience.
Fishing and swimming.
Trail riding and horseback games in the riding arena.
Archery and riflery.
A trip to the petting zoo.
Arts and crafts.
Games of horseshoes, volleyball, and basketball.
Western dancing and more activities.
Farewell awards ceremonies and festivities.
Rough Riders (9-12)
We probably don't need to tell you that these are the years that independence emerges, or that at the ripe old age of 9 – one is no longer a little kid. This group of youngsters prefers to hang out with friends their own age and spread their wings a bit. Can you tell we've met a lot of these 'middle kids'? Over the years of hosting great family vacations, Colorado Trails Ranch has developed the perfect experience for our Rough Riders – those middle kids who are 9-12 years old.

Your children in this age group will truly have the time of their lives on our dude ranch adventure vacations. They'll be excited about discovering new things, making friends with others in their peer group and yes – enjoying some of that much sought after independence. Not only will they be having a whole lot of fun, they will be perfectly safe and learning new skills with their experienced counselors.

Here's a peek at some of the really fun stuff your Rough Riders will be doing on our all inclusive family vacations:

Horseback riding lessons, trail rides, and the guest rodeo games.
Fishing stocked ponds and riverside on or near the ranch.
Half-day river rafting trips.
Sports like volleyball and basketball
Nature hikes
Swimming and power tubing on Vallecito Lake
Scavenger hunts
Meeting the animals in our petting zoo.
Archery and rifle shooting
Arts and crafts
Western dancing
Hayrides, cookouts, and campfires.
Overnight wilderness camp outs.
Teens (13-17)
Teens are notoriously difficult to please. The last thing they want to do is go on family friendly vacations, worse still on an outdoor adventure vacation. Skeptical might not be an appropriate description of the reaction of your announcement that this year everyone's going on a dude ranch vacation. Sound familiar?

Don't pay any attention to the sulking, it will all be quickly forgotten once they arrive at Colorado Trails Ranch, and see just how cool this adventure vacation stuff really is. The only reason teens are against these kinds of family vacation ideas, is simply because they don't know what it's really all about. Just wait until they feel the freedom of loping across the valley on a horse. Disney hasn't got anything like it or white water rafting.

Teens need action, independence and some freedom to explore this experience with their peers. The experienced dude ranch staff is adept at keeping these youngsters happy and smiling.

They may arrive as the most jaded, skeptical guest, but they'll be the first one out the door in the morning - ready to take the day by the horns. Your teen will be super involved with new friends and discovering so many new things.

Horseback riding lessons, trail rides and the guest rodeo games.
White water rafting and hiking.
Swimming and power tubing.
Archery and riflery.
Fishing
Sports like volleyball and basketball.
Western dancing
Hayrides, campfires and cookouts.
Overnight wilderness camping.
Farewell awards ceremonies and festivities.
What Are The Cabins Like?
Booking your vacation for an all inclusive family adventure at Colorado Trails Ranch is like discovering you have located a home away from home. From 2013 to 2016, we have replaced all our cabins with larger cabins-- and all with living rooms! The guest ranch cabins are comfortable, and beautifully decorated with a casual luxury. Once here, you may find that like all other guests, it's hard to tear yourself away… from the gorgeous surroundings, the fun loving ranch family and this new found freedom.

The cabins included in our adventure vacation packages feature private baths for each bedroom, daily housekeeping, living rooms- and inviting porches just right for watching the sunset or visiting with new friends. The view from the cabins is incredible, a panoramic display of our awesome mountains and clear night sky. The stars really do seem within reach here.

What Is The Food Like At The Ranch?
We guarantee you'll enjoy every meal served during your stay. It's one thing for us to tell you that our chef is one talented cook, but it takes more than words to prepare you for the dining experience at Colorado Trails Ranch. Everyone raves about the food. It is one part gourmet and one part homemade goodness, always high quality, healthy and sensational.

We're well aware that meals at home are hurried events or eaten on the run. Every part of a vacation should be pure pleasure, and on our guest ranch, you have the opportunity to indulge yourself in scrumptious, yet wholesome food. Menus are fulfilling, diverse and satisfying to both adults and children alike. Even your picky eaters will be thrilled with the delicious meals that are part of our all inclusive vacation packages.

Make Your Reservation Today For The Vacation Others Only Dream About!
A great summer takes a little planning! The only planning you have to do is to pick up the phone and call us today and we'll take care of the rest. For more information about our camps as well as our other packages, please call and talk to Jeannie today!


---
Contact: Colorado Trails Ranch
12161 C.R. 240
Durango, Colorado 81310
Phone: 970-247-5055
Email:
Website: Click Here To Connect

---