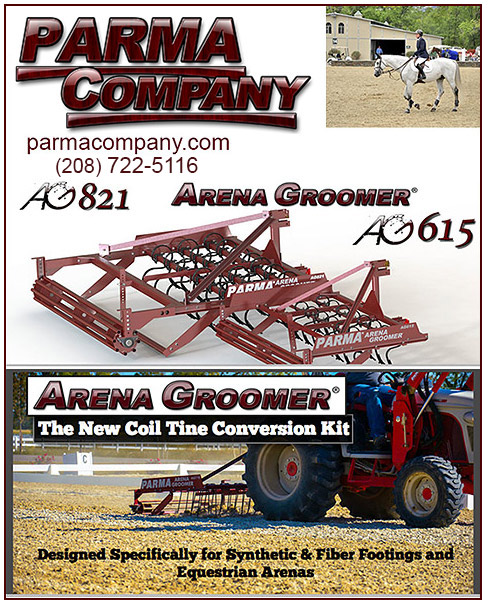 Parma Arena Groomer®
Parma Arena Groomer® provides three functions in one unit to create a complete ground preparation in one pass. It looses soil, prepares base and evenly levels all in one.


About The Parma Company:
Located in Parma, Idaho in the heart of the Treasure Valley of southwest Idaho and eastern Oregon. We are a leading manufacturer of specialized agricultural equipment for the farming and livestock industries. We pride ourselves on fine worksmanship and specialization of our Equipment. With our in-house engineering department we are innovative leaders in the agricultural community.

The Parma Arena Groomer®
The Parma Arena Groomer has been proven in arenas and on tracks for all events that require good footing. Its ability to prepare your base as well as the top surface in one pass can improve the performance of your horse and save stress on his legs at the same time. The unit uses vibrating "S"-tines that can be set to your desired digging depth to leave a well-prepared base. Following the tines is a leveling bar that will shave off high spots and carry dirt to fill holes as you pass over the arena. To the rear of the machine is a roller that conditions the surface and also gauges the depth of the tines to leave a uniform finish on your arena.



What does the Parma Arena Groomer® Do?
The 'S' Tines loosen compacted soil and prepare the base. Front depth is controlled by the hydraulic lift of the tractors 3-point hitch in combination with the set depth of the rear roller. The tines have reversible points that are also replaceable. The Leveling Bar fills in holes and smoothes humps. It adjusts to different depths to control the amount of surface material carried.The Rear Pipe Roller, which is fully adjustable also, breaks and pulverizes clods. It firms and packs the base, leaving a soft, uniform surface.
What Sizes And Models Are Available?
5' Mini w/ Mini S-tines – Model AG513
6' Mini w/ mini S-tines – Model AG615
7' Mini w/ mini s-tines – Model AG719
8' Mini w/ mini s-tines – Model AG821M
8' Standard w/ standard s-tines – Model AG821
10' Standard w/ standard s-tines – Model AG1027
12' Standard w/ standard s-tines – Model AG1233
8' Professional w/ 2 rows of standard s-tines and 2 rows of coil tines – Model AGPRO
Tongue and Ratchetjack option for pulling behind ATV/UTV
Coil Tine Conversion for Synthetic/Equestrian arenas (swaps out the S-tines)
Solid Roller Option
Swivel Hitch option for 3-point attachment
NOTE: Special wider sizes can be built on request.

How is the Parma Arena Groomer® Different From Other Drags?
The Parma Arena Groomer utilizes the balance of three functions placed in one unit to create a complete ground preparation in one pass. The Arena Groomer uses time proven seedbed preparation techniques, applied in a design exclusively for the Arena. The combination of the S-Tines, leveling bar, and rear pipe roller and their placement create that perfect balance. There is no need to own two or three different tools to accomplish the same task that one Parma Arena Groomer will do.



How Do I Know What Size Is For Me?
There are three standard sizes of the Arena Groomer; the 8-foot 3Bar, which has three rows of S-Tines, and the Mini 6 foot and 5 foot, which each, have two rows of smaller, mini S-Tines. The size determination is mostly dependant on the size of tractor or power unit available to pull it. The 8-foot model will require 30 to 35 horsepower minimum, while the mini models will need only 18 to 25 horsepower min. Remember to also match the width of the Arena Groomer with the tractor tire outside width to insure coverage of the tractor tire tracks. We have been very successful utilizing four wheel ATV's with the 5-foot model. There is available a pull tongue option for those without a 3-point hitch hook up on their power unit. Other widths are available upon special order.
All of the above mentioned models attach to the tractor utilizing the 3-Point hitch for quick and easy hook-up and go. They are lightweight with the 8-foot unit weighing just 800 lbs while the lighter mini models are just 300 to 350 lbs. With all these features each unit is easily adjusted and maintained by anyone around the arena.

Is Parma Arena Groomer® Easy To Set Up?
Yes! Just view our easy 6 steps in our easy video below!




What Do Parma Arena Groomer® Owners Say About Parma?

The Arena Groomer prevented a huge wreck at the Idaho Qualifier after a forgotten hose flooded 1/3 of the arena overnight. With the Arena Groomer we moved the mud around the arena and worked it into the dry ground. We started on time and roped all day with no problems.
Clay Taylor – USTRC Contractor
The Parma Arena Groomer does a great job, and it does it fast. I use it because I don't have to waste practice time working the arena with several implements.
Dee Pickett – World Champion Team Roper
Our business is managing horse shows from California to Virginia. The Parma Arena Groomer is the most consistent arena tool for leveling and for maintaining a great surface for all breeds.
Russ Walther – Walther Management Group
How Do I Get A Parma Arena Groomer® For My Property?
The Parma Arena Groomer ships easily by truck in a simple bolt together package that requires only a ¾ wrench for assembly, with the mini Arena Groomers needing just minimal assembly. Parma Company has dealers established around the country to assist in your buying needs.

Order The Parma Arena Groomer® Today!
If you have an arena, you need The Parma Arena Groomer®! This high quality groomer will ensure safe footing for your horse and a smooth surface for your arena. So what are you waiting for? Give us a call today and let us help you find the only arena groomer you will ever need!
---
Contact: Parma Company's Helpful Staff
P.O Box 190 or 107 Main Street
Parma, Idaho 83660
Phone: 208-722-5116
Email:
Website: Click Here To Connect

---