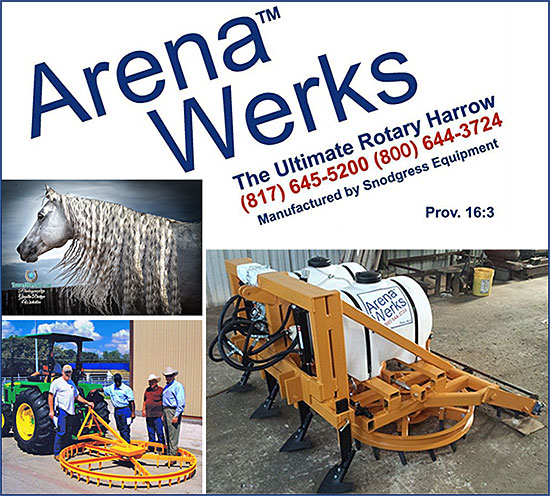 The Original Arena Werks™ by Snodgress Equipment
The Original Arena Werks™ Drags, are a collection of rotary harrows designed to guarantee your horse sure footing in your arena.



About Our Company
The Arena Werks Drags came to owner Randy over 30 years ago. He purchased and customized a drag for his arena and the next thing he knew, all of his friends wanted one too! Randy used to train horses so he knew how important good footing was in an arena for horses. Five different models and four different sizes were created to accommodate all arena types as well as orchards, baseball diamonds and landscaping. Since his companies origination, Arena Werks Drags are now industry standard endorsed by the likes of Ty Murray and Terry Bradshaw!




We WERK So You Don't Have To!
The circular motion of the arena drag takes the high spots of dirt and spins them around and deposits them in the low spots. It will grab the dirt that gets thrown up on the rail around the arena fence, therefore, leaving a smooth, level finish on the arena. You won't find another arena drag that does more! We manufacture different arena drag models, and different sizes for everyone's individual needs.

What About Other Arena Drags? Aren't They All The Same?
No! That is why our clients love Arena Werks! With the Arena Werks arena drag you are able to Water, Rip, Level, and Smooth all in one swipe. And with no corners on the drag, you are able to get close to the fence and it won't hook the fence post. The basic straight drag harrow won't fill in your low spots; it will just run over the high spots and not level the ground under the top level of dirt. It can't get the dirt off of the rail and move it back to the middle. It leaves ruts in the arena footing.

What If I Have Rubber Footing, or A Specialized Footing?
Arena Werks™ can handle it all and we do it better than anyone else! Our harrows also work well with rubber footing and different types of footing used today by Ropers, Reiners, Western Pleasure, Cutting, and English riders. Our harrows are also used in orchards, baseball diamonds, and even landscaping.

What If I Am A Barrel Racer? Do You Have A Model To Help Me?
You bet! Our Lonestar™ model was made specifically for Barrel Racers! The drag has 8 narrow box blade rippers for when the ground gets packed, it has 4- 2′ wide circles that are close behind the tractor tires to prevent resistance when make sharp turns around the barrels, and the drag bar on the back to leave a finely tuned top finish that is not too slick to help prevent your horse from slipping.

What If I Have Packed Dirt Clods? How Do I Get Rid Of Them?
We're so glad you asked... we are famous for getting rid of them. Just see our video below!




The Original Arena Werks™
The Original Arena Werks ™ comes in many different sizes, from 5' to 9', is available with welded or replaceable teeth, and is designed to be pulled behind a tractor. The circular motion takes the high spots of dirt and deposits them to the low spots in your arena. This motion will allow for a smooth level finish for your entire arena.

The JUNIOR Arena Werks™
The Arena Werks Junior™ is the economy model of the Arena Werks II for people that don't have hydraulics but still need to rip their arena once and a while. It has all of the assets of the original rotary harrow. It comes in 4 different sizes, 5′, 6′, 7′, & 8′. It has 3 manually operated rippers in front, and a fourth ripper can be added. It is also available with welded teeth or replaceable teeth.

Arena Werks Buggy™ (Harrow Sold Separately)
Don't have a tractor to pull your arena conditioner? No problem. The Arena Werks Buggy™ is for you! It has a three-point hookup just like a tractor. Available with manual or electric lift. Made to fit the basic drag in 5′, 6′, 7′, and 8′ models.
Arena drag sold separately. It's also available with replaceable teeth, call for information and pricing.

The Original Arena Werks II™
The Arena Werks II™ Levels, flattens, breaks up dirt clods, no corners to hook fence posts. The circular motion of the rotary harrow takes the high spots of dirt spins them around and deposits them in the low spots. It will grab the dirt that gets thrown up against the rail around the arena fence and throw it back into the middle. Our Arena Harrows also work well with rubber footing, pin bark mulch or the various other footings out there.

These Arena Werks II arena drags are used in orchards, baseball diamonds, landscaping, and chicken houses. The circular motion will leave a smooth base with no ruts underneath the surface, therefore giving you the best possible footing for today's competitive horses. comes in three sizes: 6', 7' and 8'. The AWII requires a tractor and hydraulic remotes. In addition to the teeth on the harrow itself, the AWII has a row of blades in front, which help break up hard-packed soil.

The Arena Werks H20 Pro
The Arena Werks H20 Pro is the newest model and comes in three sizes: 6', 7' and 8'. The H20 requires a tractor and hydraulic remotes. All of these models come with 1" teeth.
Options on the H20 Pro are:
Rippers, Rollers, and Water
Rippers and Rollers, No Water
Rollers and Water, No Rippers
Lite: Rollers only, No Water or Rippers
What Are Horse Owners Saying About Arena Werks Drags?
The endorsement list for Arena Werks is filled with celebrities in the equine industry! One of those celebrities, Matt Tyler, has said the following about Arena Werks Drags: "Arena Werks provides the right footing for my horses to perform at the level I ask of them. One pass over my arena and it is ready!"



"Arena Werks H2O Pro and the rotary harrows are second to none when it comes to equipment that can handle all the different arena grounds, wether it be sandy dry soil or hard packed soil.
The working replacement parts are standard, easy to find products and Arena Werks always stands behind their product with a lifetime manufacture defects guarantee on the structure and welds.
When you need your arena dirt done right, invest in the best equipment for the job, invest your money in an Arena Werks!"
Charlie Hall Arena Manager Pinto World

"Best investment I ever made was that Arena Werks water trailer And drag."
- Jason

"Good afternoon! I purchased a used 7′ original Arena Werks rotary harrow this weekend for a friend. This replaced a homemade drag that worked well in breaking up the ground, but left behind an un-level arena. Let me just say…INCREDIBLE!!! If there is one complaint I have about the Arena Werks, it's that using it becomes addictive. The leveling ability works so well that the difference was noticeable after only a few passes. I could go on, but I'm not writing to bore you with my story.
Thank you very much for making such a great product!"
Sincerely, John M.

"I started to build a round pen at home. The first picture was my dirt work attempt with my box blade which did not work at all. The second picture is after only 20 minutes with my awesome Arena Werks drag. Why I didn't use that to begin with I'll never know. This drag will break up any hard ground guaranteed! Thank you Randy for building such a great product!!"
Chad at Bombproof Horsemanship

Don't Your Horses and Riders Deserve The Best? Order Today!
Making sure that your arena is well maintained, watered and groomed will only increase your enjoyment of riding for both you and your horses! Few things make riding nicer than a nice, well groomed, sparkling arena. For those of you with horse farms, boarding stables or training stables, a well maintained arena is an absolute MUST -- or you will loose clients. Call Arena Werks™ today- and let us help you on your way to the best footing for your horses!

---
Contact: Snodgress Equipment
2200 CR 705
Joshua, Texas 76058
Phone: 800-644-3724
Email:
Website: Click Here To Connect

---