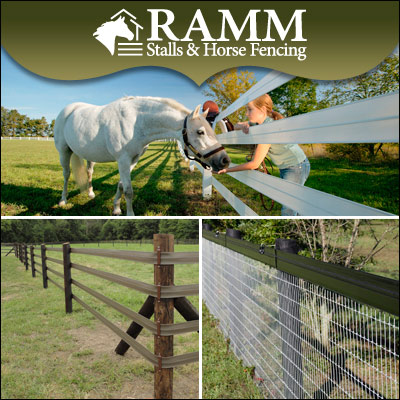 Quality Horse Fencing by "Ramm Fencing & Stalls"
Ramm Fencing & Stalls offers a complete and comprehensive fencing line to suit every possible need and budget for today's horse owners.



About Ramm Fencing & Stalls
Over 25 years of business, Ramm Fencing & Stalls (formerly Ramm Fence) was started by Debbie and Mike Disbrow as the result of their own disappointing and unpleasant experience purchasing a fence system for their horses. Wanting to ensure that other equine enthusiasts would not have to endure similar situations, they launched Ramm Fence, now Ramm Fencing & Stalls, with the objective of truly meeting the horse owner's needs while providing the best customer service, the highest quality products, and thorough follow up. Ramm Fencing & Stalls is staffed by people who own and love horses. As "Your Equine Partner", the entire Disbrow family considers it their personal responsibility to help horse owners learn about all fencing alternatives, stall options, and other considerations.

Plan Your Fence…
In order to help find you the best fencing for your particular situation, it is important to do some planning! For instance, how many mares, geldings, foals, yearlings and stallions will be in the pasture? What are the dimensions of your pasture and how many gates will you need? These are just a few of the considerations you will need to prepare for when planning for your new fence.


About Our BOARD Fencing For Horses...
Board Fencing has been the tradition in horse fencing systems for as long as we can remember. Much advancement has been made in recent years to improve the quality and longevity of board fence when being used as horse fence. At RAMM, we try to stay ahead of the pack and offer only high-quality horse fences, equine products, and products for your farm and barn. Our true-cut oak boards and CCA treated posts are a great combination for board fencing systems. The posts and rails can be left natural, or they can be painted with our board fence paint. 3 and 4 rail fencing systems are available. To help protect the fence from chewing horses, we recommend installing electric fence with your board horse fence.

Is It True That Ramm Also Has The BEST In Flex Fence® Horse Fencing Available?
Yes! Flex Fence® is specifically designed as a safer alternative to traditional fencing and it works great in even the most extreme weather conditions! It combines strength, maximum safety, very low maintenance, a traditional look and easy installation. Our 5.25" Flex-Fence is the best value on the market. Other sizes are also available. Flex-Fence combines strength and beauty and is available in rolls of 330' and 660' in white, black or brown.

See WHY We Call It FLEX Fencing-- In the Video Below!



Just How STRONG Is Flex Fence®?
Take a look at the video BELOW to see it hold up to a TRACTOR! Because these horse fencing systems are manufactured to our exact specifications, there's no other flexible horse fence like it on the market. RAMM's Flex Fence® contains polyethylene plastic, which is the only type of plastic approved for use in the airline and bridge building industries. The plastic and high tensile wire used are molecularly bonded, so this horse fence is designed to stay straight as a board, no matter the weather. A UV guard and high-quality plastic mean the colors stay true, and these rails are even recyclable. The Flex Fence® series is made exclusively by RAMM in the USA.




Is It True That Ramm Offers A Complete Selection Of Electric Fencing Options?
YES! From our Shockline Flex Fence® to our Electric Tape and Ropes our Electric Fencing options put you on total control of your fencing needs. Horses are herd animals, and they respect the bit, kick, nip and nudge from the dominant horses in the herd. Our electric fencing provides that "nip" and teaches horses to respect the barrier. The "bite" that the horse feels is short-lived and doesn't physically harm him, unlike a kick from an actual horse. Electric fence can serve many purposes. It can help prevent wear-and-tear on other fence systems, teach horses to respect the fence line or create a safer environment when two paddocks share a common fence.




Want Mesh Wire Fencing? Ramm Has the Best!
RAMM's Class-3 Mesh Wire Horse Fencing helps keep predators out while keeping your horses and livestock contained. Mesh horse fencing is great if you have small pets and worry about them getting into or out of pastures. Mesh wire horse fencing is much more effective than traditional high tensile wire and board fencing systems. The closely spaced woven design helps prevent horses from "stepping through" or "walking down" the fence.


Galvanized wire mesh horse fencing has evolved over the past 30 years into a popular equine and livestock containment system. Mesh is typically offered in two separate classes: class-1 or class-3. With class-3 galvanization, more zinc is added to protect your fencing, thus adding more years into the life expectancy of your fencing system. We offer three types of class-3 mesh fencing:

If you have children or pets and worry about them getting into pastures, mesh fence may be the right choice for you. While it cannot keep out all predators, our representatives can give you ideas for fencing configurations that will meet your needs. Closely spaced woven designs and good rust protection keep these mesh fences looking great for many years.


Let RAMM Help You With Your Horse Fencing Needs Today!
With over 30 years of experience in the horse industry, RAMM specializes in providing horse fencing systems and equine products that have been proven to provide you with superior performance in the protection of your horses. Our wire mesh fence gives years of protection between fencing and is designed to meet your equine fencing demands. Our friendly and knowledgeable staff at Ramm Equine Fence has an earnest desire to help you find the best equine fencing solution for your needs…and pocket book! Call our office today, let us know about your horses, your property requirements and your goals, and we'll help you find the right fencing for you!



---
Contact: Our Friendly Staff
13150 Airport Hwy
Swanton, Ohio 43558
Phone: 1-800-618-5692
Email:
Website: Click Here To Connect

---