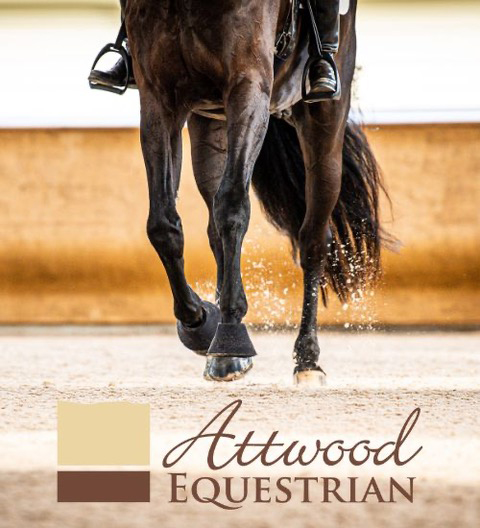 Quality Equine Footing By Attwood Equestrian Surfaces, Inc
Deciding on the proper equine footing for your arena is an important choice; let Attwood Equestrian Surfaces make the process easier for you!


About Equestrian Surfaces
Attwood Equestrian Surfaces is an innovator of equestrian footing. We scientifically develop, produce and install surfaces that enhance the safety and performance of both the horse and rider.
 Attwood has been a leader in the industry for over 30 years, completing hundreds of installations for both private and professional facilities. From racing to dressage and from hunter/jumpers to eventing we can provide the best footing options, fully tailored to your individual needs.





Pinnacle
-- For Those Who Must Ride On The Absolute BEST!
Our most premium surface, Pinnacle is a dust free footing proprietary to Attwood. This footing is not dependent on water and is engineered to bring you the optimum in grip, support, and rebound. The sand and fibers are coated with a viscoelastic polymer making Pinnacle far superior to other dust free solutions, such as wax coated blends. Pinnacle is suited for indoor and outdoor use and can remain stable in temperature extremes. 



Ameritrack- Reduces Concussion, No Watering Necessary, Helps Support Healthy Tendons
This complete racetrack system is specifically designed and formulated for horse safety and injury reduction. Ameritrack is engineered with a free-draining base and all-weather cushion. It incorporates a vertical drainage system which eliminates movement of the cushion to the rail and results in a consistent, no bias track. AmeriTrack is a dust free, non-water dependent surface.

EuroTex
- Optimal Arena Footing For Daily Training
EuroTex is a unique composition of geotextile combined with specially selected sand that creates a consistent footing with just enough cushion, just enough grip. Proper watering and harrowing are key to the versatility of the footing whether it be for dressage, Grand Prix jumping or training gallops.

EuroTex provides optimal arena footing for daily training. Attwood carefully selects the components of the geotextiles to balance cushioning and stability and to prevent compaction. EuroTex is a manufactured, customized blend specifically made according to Attwood's high standards, and has been installed in many of the top equestrian venues in the United States, the United Arab Emirates and Europe.

Five Star Events Choose Attwood Equestrian Surfaces For Their Footing!
In 2018, Attwood was asked to build three world class arenas for the Fair Hill Event Zone, in prep for the Maryland 5 star that was coming. One of only two 5 Star events in the United States, and seventh worldwide, the Maryland 5 Star was meant to carry on the storied legacy of eventing in Fair Hill, Maryland. The final formula for the footing was recognized for it's superior versatility, grip and concussion. The secret was in the sand. With literally thousands of types of sands to choose from, it was very important to understand the sand's qualities and not just go with what was on hand. Then balance that with the correct amount of felt and fibers.

Curved Kick Walls- Adding Useful Elegance and Sophistication!
Set the stage in your arena with Attwood Equestrian's Curved Kick Walls. The sleek contemporary design exudes elegance and sophistication. Each panel is made from 9 layers of wood in a mold designed by AES. The curve in the panel ensures that the horse maintains a safe distance from the wall.

Note: Choose from a Maple, Oak, Beech, or Walnut wood with endless color possibilities and customizations.
Whether you are renovating an existing arena or building a new one, the Attwood Curved Kick Wall will enhance appearances and provide added safety for the horse and rider.

Arena Wet Keeps Your Arena Precisely Moist!
ArenaWet enables you to water your footing from underneath! This allows for very precise moisture levels putting the water exactly where you want it. Easy to use and maintain it not only saves you water but time as well. It is now possible to ride on or drag your arena at the same time as you water!

Call To Order Your Equestrian Surface Today!
Don't settle for cheap imitations when you can have the best equestrian footing in the industry!! You spend thousands of dollars on the best horses and top trainers, make sure you have the best footing to ensure the best rides possible with Equestrian Surfaces. Call our office and let us help you with a quote- today!
---
Contact: Our Friendly Staff
5273 Hunter Cour
Marshall, Virginia 20115
Phone: 540-364-5647
Email:
Website: Click Here To Connect

---