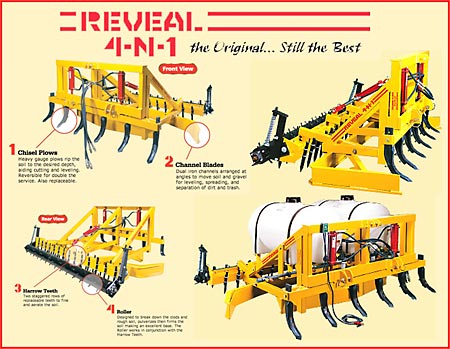 Reveal 4-N-1, The ORINGINAL Ground Prep Tool Since 1989!
The Reveal 4-N-1 ORINGINAL Ground Prep Tool Since 1989! is a rugged hard working tool designed to make arena preparation and maintenance easier and less time consuming.


About Our Company
D.J. Reveal, Inc. The Reveal 4-N-1 is designed, manufactured, and marketed by Don Reveal as a family business since 1989. We understand the ground finishing process like no one else, and have developed the ultimate ground prep tool to meet your needs like no other tool. The unit is made in various sizes to suit your needs, in hitch categories 1, 2 and 3 to match your equipment. Don't be fooled by imitators, go with the Original, Still the Best, the Reveal 4-N-1.

The Reveal 4-N-1 was originally designed with the landscaper in mind, and many landscapers and sod farmers are using the unit to prepare seed beds and ready the ground for laying sod. Soon the horse owners discovered it worked perfectly to keep their arenas in good condition, with a minimum of time and effort. Virtually anyone working the ground can do it better and with less effort on many different types of materials including gravel (driveways), sand, clay, dirt, rubber-added, etc. The Reveal 4-N-1 is the only tool endorsed by the NBHA and the ANHA.



Is It True That The Reveal 4-N-1 Does The Work Of Several Tools?
Yes and this is why it is SO popular! The Reveal 4-N-1 has the capabilities of multiple tools without the hassle and time required to hook and unhook several pieces of equipment. Because of the multiple functions that are hydraulically operated, this one tool allows you to control the situation without being limited to a single function piece of equipment, all from the comfort of your tractor seat. Our unit is available in various sizes and in hitch categories 1, 2, and 3 to match your equipment. Anyone working the ground can get better results with less effort by using the reveal 4-n-1 on a variety of materials including: sand, clay, soil, rubber-added, and gravel (driveways).

More About The Amazing Reveal 4-N-1
The Reveal 4-N-1 is a rugged hard working tool designed to make arena preparation and maintenance easier and less time consuming. We offer five different models for you to choose from depending on your needs:

Regular Model - adaptable to smaller tractors (23hp- 4wd - 32hp- 4wd) with all the same capabilities of the other models (weighs 320 lbs less than the heavyweight)

Heavyweight Model - used with larger tractors (50hp-130hp) used to move heavier soils and /or the need to move more soil at a time

Short Model - used in tighter working areas - having only has one leveling channel it shortens the unit by two feet

Wheel Unit - allows unit to be used as a land plane, which makes leveling a lot easier, as well as maintaining that level. Great when you have multiple operators. Wheel unit is necessary to use laser equipment.

Laser Unit - adaptable with wheel unit - provides precise slope on job sites - quick and easy application with precise leveling of up to 5% accuracy. This unit is excellent for custom arena work.

What Makes The Reveal 4-N-1 Different From The Competition?
Our product is different from our competitors because it has an easy 3-point hook-up and more functions and capabilities readily changeable by hydraulic control. Here are some other unique features:

Harrow pulverizing roller
What' so great about our product is that even with all these functions it is still reasonably priced. Being a multi-functional tool it can be used also for driveways, landscaping, no-till farmland and drainage solutions, parking lots and even snow removal.



Is There A Watering Kit That I Can Add For Dust Control?
You bet! Our Water Kit can be mounted to the 7' and 8' models (the base is not wide enough to mount on the 6' model) at time of purchase or easily mounted at a later time. It has two 65-gallon water tanks operated by a 12-volt electric water pump. The electric switch easily mounts on your tractor with a magnetic back. The spray boom allows you to put water where you need it at a 10-gallon per minute flow rate. Excellent to control dust and maintain consistent moisture control for long periods.

This product is very easy for both men and women to use and how often you need to use the water option depends on temperature, airflow, and arena usage. The type of footing and the discipline of the horses will also determine the amount. What makes our product different from the competition is that it is very convenient to use and easy to maintain moisture and is designed specifically for the Reveal 4-N-1.

Order Your Reveal 4-N-1 And Water Kit Today!
The Reveal 4-N-1 and Water Kit are the ultimate arena and ground prep tools that no arena should be without! The Reveal 4-n-1 is sold and used throughout the United States and internationally (Canada, Puerto Rico, Dominican Republic, Venezuela, Mexico, Italy, and Guatemala) with great success for arenas, gravel driveways, landscaping, erosion repair, agricultural use, ball field maintenance and much more... horse properties use it both inside and outside the arena to keep their grounds in top condition! Easy to use and maintain, these products will ensure proper footing for your horse, so don't wait-- CALL US today!
---
Contact: Our Friendly Staff
15686 Webber Road
Mt. Orab, Ohio 45153
Phone: (937) 444-2609
Email:
Website: Click Here To Connect

---