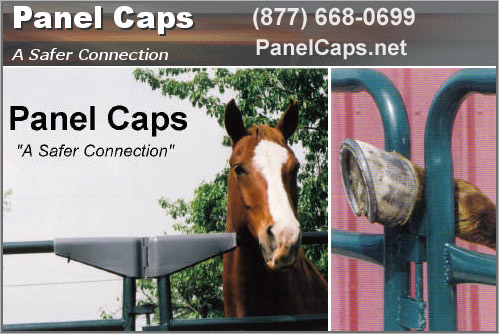 Panel Caps (Patent Pending)
Panel caps are an innovative new product designed to enhance your horse's safety by filling the gap where two standard corral panels are connected.

Why Use Panel Caps?
Fencing is made to safely house your horse…but the gaps left in standard corral panels can become a source of trouble and danger for your horse if those gaps are left exposed. Panel Caps (patent pending), designed by horseman Rex Painter, eliminate the problem completely. today, and we'll get them shipped to you right away!
Easy to install, durable, sun-resistant and extremely affordable…you can't afford NOT to have them! Your horses are a major investment of time, care and money. Seeing your horse with a hoof caught in the panel space (nearly every horse owner has witnessed THAT nightmare!) or a neck bruise (or cut!) where he was using a gap in the fence to help him reach some of that tempting grass just outside his reach…is enough to break any horse lovers heart!
Why worry needlessly when you don't have to? Panel Caps Panel caps are made of tough, durable plastic and conform to any angle up to 90 degrees. Panel caps are perfect for round pens, corrals, and everywhere your panel fencing leaves a gap!
If your panel system includes gate units, we have panel to gate unit connectors and gate cap sets. Gate caps will make all of your gates safer. Panel Caps even offers specialized panel cap units for multiple panel connections.
Any "Gap" in your protection of your horse should be taken seriously and eliminated right away. Horses are amazing, curious creatures that can get into trouble in the blink of an eye. Help protect your equine friend by eliminating trouble wherever you can find it!
Call Panel Caps Today!
Don't risk injury to your horses. Panel Caps are a simple, affordable, extremely easy to install and a great way to ensure that your fencing works FOR you and not AGAINST you.
---
Contact: Rex Painter
7123 Track Road
Nampa, Idaho 83686
Phone: 877-668-0699
Email:
Website: Click Here To Connect

---