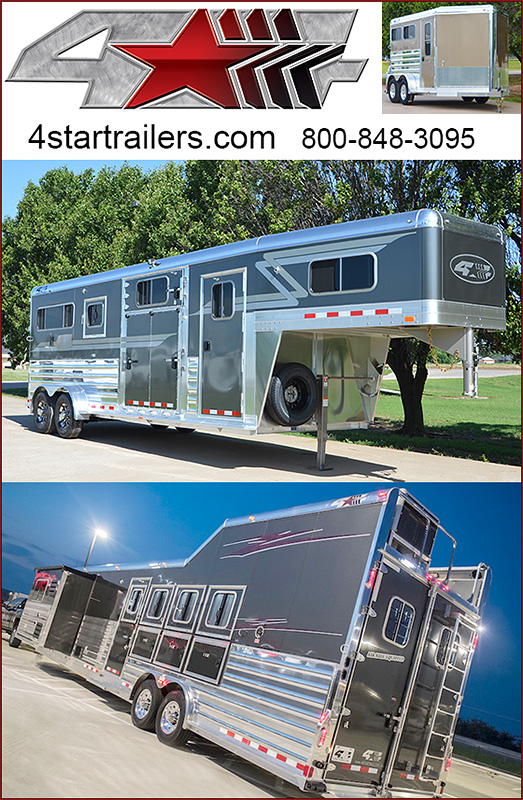 4 Star Trailers
4 Star Trailers are custom built with safety, durability and complete customer satisfaction in mind for every trailer made! All 4 Star Trailers have the patented "Concept II Design".



How It All Began…
In April of 1984, four men set out to fulfill their dream. The four men, from whom the 4-Star logo came, had a vision of a superior trailer carrying the 4-Star name. Holding a major portion of the trailer market, 4-Star Trailers now employs well over 200 people. Always continuing to improve and with the company-wide philosophy of maintaining superior engineering and quality workmanship, every new 4-Star has the same structural integrity as the first 4-Star. It is this belief that will keep 4-Star a force within the industry for years to come.



About The Trailers...
All of our trailers are our patented Concept II Design. Concept II gives a smoother side while having fewer visible weld marks. Our deluxe model horse trailers are our most popular base models. All of our base models can be customized to suit your every need. Our base models consist of everything from Straight Loads, Center Loads, Slant Loads, Stock Combos, and Polo Trailers with the ability to build a trailer to haul from 2 horses to 15 horses. Our Stock Trailers can be built in box lengths from 10' to 44', heights from 4'6" to 9'6", and widths from 6' to 8'6". Options can allow you to build a single deck or double deck, add a variety of gates and other option, our Stock Trailers can be built to suit your exact needs. Using our lists of options, all of our trailers can be built to your specifications.

With the ability to change everything on the trailer, we have a variety of options from axles to windows that allow the trailer to suit your use. With appearance options from aluminum wheels to tape designs and colors to our Vision options, which can allow you to use everything from a baked enamel skin, polished slats and top rail, stainless steel skin, or a combination of all three, to make the trailer one of a kind and match your style. To see standard equipment and our most popular options, please visit our website www.4startrailers.com



Our W.E.R.M Flooring Has No Equal In The Industry and Eliminates Need For Rubber Mats!!
WERM Flooring is a low cost and environmentally friendly product that is made from 100% post industrial recycled rubber. The product is then poured into place and troweled onto the floor, much like finished concrete. The finished product is half an inch thick, is impervious to liquids and completely seals the floor, giving your trailers and stalls a non-slip and durable surface.

WERM Flooring Systems can be installed in:
Horse Trailers
Wash Racks
Aisle-Ways
Recovery Stalls
Stall Floors
Kennel Floors
WERM Flooring Systems are well known for the following attributes:
Keeps your horse comfortable and can prevent injuries
Outstanding performance and longevity
Exceptional durability
Slip-resistant
Easy to maintain
Seamless edges help control bacteria
Lowers dust in your trailers and stalls
Non-absorbent
Cleans off with a hose
Transitions easily between walls, drains, and columns
Affordable
What is "Air Ride"?
Many 4 Star Trailers are equipped with Air Ride. Air Ride suspension will provide a superior ride to the traditional spring axles or industry standard torsion axles. While improving the ride for the trailer and tow vehicle, the largest advantage is for the animals. It will prevent soreness and stiffness in a long haul. Traditionally, a torsion axle is designed to ride best at close to its maximum load. An air ride will adjust the ride for the amount of weight loaded, for example, a four horse trailer equipped with air ride, will provide the same smooth ride loaded with one horse or four horses.
4 Star Horse Trailer Models:
4 Star Trailers has several models in Gooseneck, Bumper Pull, Straight Loads, Center Loads, Slant Loads, Stock Combos, and Polo Trailers with the ability to build a trailer to haul from 2 horses to 15 horses!
Concept II™ VISION
4-Star looked into the future and had a VISION! Continuing the tradition of building the finest in custom trailers, 4-Star's Concept II™ VISION delivers an unprecedented blend of class and sophistication to create a unique, personal touch to your custom trailer.
Deluxe Model Goosenecks
Our Goosenecks feature low position latches for drop down feed doors, drop down in rear load door, (2) load lights, and custom Vision tape job.

Deluxe Model Bumper Pulls
The same quality and craftsmanship in a "Bumper Pull" Both 2 horse slant loads and 3 horse slant loads available with the quality and durability of design that you expect with a "4 Star"! www.4startrailers.com/horse.asp
Designed as a show stopper, the VISION is available in four styles: Polished Aluminum Extrusions, Anodized Aluminum Slats, Pre-painted Smooth Aluminum, and Stainless Steel; or a combination of the four for the Ultimate Show Trailer. Living Quarter Trailers available and all with AIR RIDE!

Straight Load/ Center Load
Available in a 2 Horse Thoroughbred Bumper Pull or Gooseneck and a 4 Horse Center Load Gooseneck. Superior quality, attractive design, and the quality you expect with a "4 Star".

Polo Trailers
4 Star Polo Trailers are available in 24', 26', 28', and 32' models to suit the needs of horse owners who need to haul several horses in security and style!

Stock/ Combo Trailers
14' Bumper Pull, 28' & 34' Gooseneck models to ensure that you have the right "4 Star" stock trailer for your horses!
Where Can You Find A Dealer?
Once you see a "4 Star"… you won't want to settle for less! 4-Star has dealers spread throughout the country. While we do not have a dealer in every state, we do have some of the best dealers in the industry. All of our dealers can price a custom trailer to suit your needs, while most of them have inventory that may fit what you desire. Our trailers can be shipped to your dealer, or even the possibility of having the trailer shipped to your door, we have customers all across the country. Please call 4-Star Trailers or email us today and we'll put you in touch with the dealer nearest you.
---
Contact: Our Friendly Staff
10000 N.W. 10th Street
Oklahoma City, Oklahoma 73127
Phone: 800-848-3095 or 405-324-7827
Email:
Website: Click Here To Connect

---