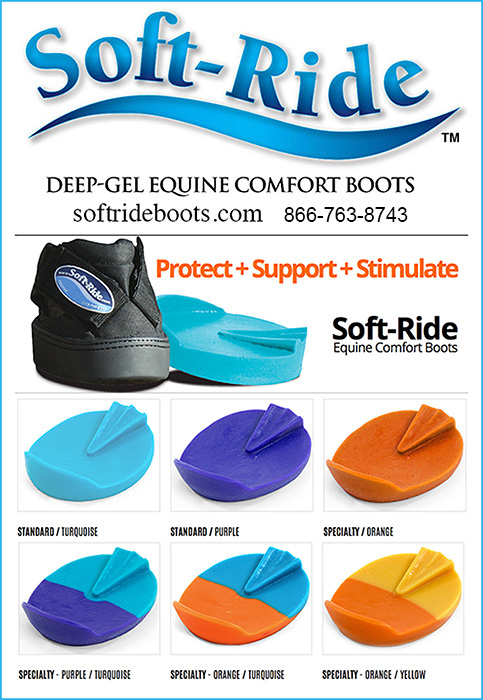 Soft Ride Equine Boots By Soft Ride, Inc.
The health of your horses hoof directly affects their overall health, so protect their hooves with The Soft Ride Equine Comfort Boot.

The Importance Of Hoof Health
The horse's hoof is a marvel of anatomical engineering. Designed to carry horses swiftly and efficiently over long distances at speeds sufficient to escape predators, a horse's hoof is also one of its most vulnerable body parts.

A healthy hoof can easily support a horse, even though hundreds of pounds of force press on each square inch of hoof tissue with every step. But when the hoof is injured or diseased, the horse must compensate its posture, weight bearing, and even head and neck position to attempt to relieve pressure on painful areas. More weight is put on the "good" hooves, as the horse tries to compensate for pain.

Soft-Ride boots are a solution for simple management of foot lameness problems in horses. The gel orthotic "cushion" molds to the bottom of the hoof, providing firm contact with the frog and dissipating harmful vibrations. Use a standard hoof knife or rotary tool to contour the orthotic to ensure a good fit and maximum comfort for the horse.




Soft-Ride Equine Comfort Boot
The Soft-Ride Equine Comfort Boot is the horse health industry's premier system for hoof care needs of all breeds, sizes, and ages of horses. Constructed of high-performance synthetic materials and made in ten generous sizes, the boot slips on and off easily, and stays snug with sturdy Velcro™ straps. The tough outer shell gives the horse a "rocker" base of support while a removable, washable orthotic insert cushions and supports the bottom of the hoof. Soft-Ride Boots provide support, protection, and comfort for horses with needs such as:

• Discomfort caused by chronic lameness, especially painful laminitis
• Rehabilitation from injury, surgery, or disease
• Medication or frequent imaging needed for the hoof
• Reduction of tension on strained tendons and ligaments
• Safety concerns during breeding and foaling seasons
• Pre- and post-workout support and comfort
• Transport protection
• Protection from hard ground and rough terrain
• Reduce discomfort while in stall at show facility with hard stall floor

Why Should I Choose A Soft-Ride Boot For My Horse?
There are a huge variety of uses that a Soft-Ride Boot can help with. Here are a few examples:

Travel- Riding on Soft-Ride gel orthotics isolates turbulence and vibrations. The horse arrives more rested and ready to perform. Stress to the animal is a major factor in its overall performance. Horses are less stressed when traveling with Soft-Ride boots.
Pain Therapy- When a horse is in pain, immediate comfort is always the first priority. Choose Soft-Ride Equine Comfort Boots to relieve suffering from a wide variety of hoof conditions and disorders. Use with or without shoes. The tough outer boot works in tandem with an orthotic insert system.
Stalling- Natural Mechanics & Self Messaging effect: The Soft-Ride deep gel orthotics enable the horse to do subtle weight shifts, (by loading or unloading the gel). Horses rely on movement to aid natural blood circulation in the hoof, so when they are standing in the stall they need additional assistance. Modern show ground facilities are being converted to easily cleaned asphalt and concrete stall flooring. This is hard on horses hooves and joints. Ease your horse's comfort and increase blood circulation with Soft-Ride Equine Comfort Boots.
Which Orthotic Insert Should I Choose?
A Soft-Ride Standard-Density orthotic insert is included with the purchase of every Soft-Ride Equine Comfort Boot. This gel-like cushion comforts and protects the hoof, making Soft-Ride boots truly unique. To provide comfort for unique conditions, Soft-Ride interchangeable orthotic inserts are available in 4 desities, plus a new dual-density insert. The ability to change inserts to alter the density level allows you to fine-tune the boot for therapeutic needs that change as the horse's condition changes.


What Do Customers Say About Soft-Ride Equine Comfort Boots?
We encourage clients to use Soft-Ride Boots for general transportation purposes, whether it is across the country to the Quarter Horse Congress or oversees to the World Equestrian Games. Just as you would use a standing support bandage to protect the limbs, we recommend using Soft-Rides to support and protect the feet.
Alan Donnell DVM

Equine Sports Medicine
When we make a long haul the horses need some time to recover. In the past they've been slightly sore, and not ready to go work right away. However, with the Soft-Ride Comfort Boots the horses stepped off the trailer fresher, with more energy. The difference the Soft-Ride Comfort Boots made was significant. I highly recommend them.
Brian Bell
6-time NRHA World Champion



Order Your Soft-Ride Equine Comfort Boots Today!
Give your horse the comfort and healing it craves with a Soft-Ride Equine Comfort Boot! Whether your horse is suffering from hoof issues or you just want to ensure maximum comfort for your horse, if you own a horse you need our Soft-Ride Equine Comfort Boots. So what are you waiting for? You can find Soft-Ride at BigDWeb, KVSupply, Ebay and more-- or you can call and ORDER today!!
---
Contact: Our Friendly Staff
12011 West Lake Road
Vermilion, Ohio 44089
Phone: 866-763-8743
Email:
Website: Click Here To Connect

---