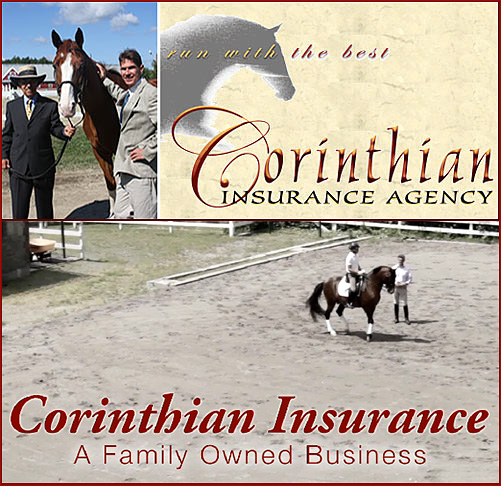 Equine Insurance From Corinthian Insurance Agency
Whether you are looking to insure your horse, your farm or your equine business Corinthian Insurance offers the absolute best coverage available from "A" rated insurance companies that LOVE to insure horses and farms.


About Corinthian Insurance
More than twenty five years ago, licensed horse show judge, instructor, and equine appraiser Joe Lombard was dissatisfied with what he saw as a lack of knowledgeable equine insurance agencies. A lifelong outdoors man and equine enthusiast, Joe decided the best way to solve this problem would be to start an equine insurance agency of his own. Armed with this newfound desire, and his longstanding love of the horse world, Joe opened Corinthian Insurance Agency in 1984.

Scott obtained his license in 1990, and today works beside his father Joe at Corinthian Insurance Agency as they prepare to celebrate 25 years of protecting and guiding New England's horse, stable, and rider community through the equine world they have come to know and love.



Full Mortality and Major Medical Protection Insurance
Corinthian Offers Equine Mortality and Major Medical Insurance that horse owners can rely on! If you own a horse you have a financial investment you should protect. A Horse Mortality policy is basically life insurance for your horse with you as the beneficiary. Mortality coverage will provide you with the agreed limit of policy to replace your horse if it dies or needs to be humanely put to sleep. Coverage is provided in most cases of death due to injury, illness, humane destruction or transportation accidents, and it also covers theft or mysterious disappearance.

* Major Medical: An equine mortality policy including a major medical endorsement could save you a bundle if your horse is injured or becomes ill. The major medical coverage helps pay for "major" vet bills incurred from accident, injury or illness. Please note: preventative treatment such as worming, coggins, and routine physical exams are not covered. This coverage is typically available for horses 31 days -15 years old. (Please inquire about coverage now available to older horses) Annual limits range from $2,500 to $15,000.

* Surgical Only: This endorsement provides coverage for the expense of surgery necessitated by accident, injury or illness. The term surgery refers to medical treatments that require the horse to undergo anesthesia. This coverage is typically for horses above the age of 15 years old but is available to any horse between 31 days and 17 years old. (Please inquire about coverage now available to older horses). Annual limits range from $2,500 to $10,000.

* Transit Coverage: This endorsement provides coverage when a horse is traveling out of or into the US. For example, it would be added to a policy for a horse purchased in Europe and shipped to the US for about .5% of the insured value. Please note: Some parts of the world are considered "un-insurable areas".

* Named Perils: This endorsement provides coverage for death as a result of specific named causes, such as fire and lightning. This also includes coverage for theft. This is available for horses over the age of 24 hours old.

* Loss of Use: This coverage pays the insured up to 50-60% of the insured value of the horse for the discipline listed on the policy. This endorsement may require additional veterinary examinations, and is typically only available to "athletes

Corinthian Also Offers In Depth Farm and Estate Insurance!
Corinthian's Agricultural and Farm Insurance programs are designed to meet your farm's unique needs. Whether you run a small farm, a winery, a large equine operation or anything in between, you will find Corinthian Insurance understands your needs, offering more than 30 years of experience working with businesses like yours.

First, we work with your family/business in understanding your farm insurance needs. We determine just how we can help you get the most from your dollars by assessing your homes, barns, arenas, out buildings, tools, equipment and activities. Additionally, we educate our clients by showing them how to control premium expenses with higher deductibles and risk management. Once we determine the coverages and limits you need, we then select the best markets that will provide the most protection for the best value.
Coverage Options
General liability insurance
Property insurance
Inland marine insurance
Auto insurance
Workers compensation insurance
Umbrella insurance
Business owner's policy (BOP)
Equipment breakdown insurance... and much MORE!



If You are An Instructor, Trainer or Clincian- Corrinthian Has An Insurance Program Just For You!
Equine professionals from all over have come to depend on our help in securing insurance for riding instructors, trainers and clinicians from a variety of disciplines. Whether you teach high level dressage or train hunter/jumper riders – we offer the best coverage for commercial equine liability in the country. Additionally, we work with many riding clubs, horse shows and associations throughout the region that horse owners interact with.
* Commercial Equine General Liability: This program provides coverage for professionals who conduct Equine-related business such as training, teaching, breeding, boarding and other horse-related activities.
* Care, Custody, or Control: This program is an endorsement to a general liability policy and provides additional coverage to those who board or train horses. Care, Custody, or Control will provide coverage in the event that non-owned horses are injured or killed due to the Insured's and/or the Insured's staff's negligence.
* Riding Clubs, Hunt Clubs: These programs provide third-party liability coverage to members of Riding and Hunt Clubs. This coverage offers protection for owned or leased premises, public events, and a variety of club functions.
* Horse Show Liability: These programs provide third-party liability coverage to members of Horse Show Organizations
* Farm Protection Packages: These programs are designed for stable owners who operate a professional equine facility as a business. It combines the protection afforded in Commercial Equine Liability with the exposure of owning property. Corinthian offers coverage for your property such as homes, barns, sheds, arenas, contents, owned machinery, equipment, tack and livestock. Additionally, the farm package offers liability protection for exposure both on and off the premises including boarding, breeding, training, racing, horse shows, riding clinics and riding lessons.
* Commercial Umbrella/Excess: This coverage provides additional liability to those who feel that a million dollars is not enough to protect their business and assets. Corinthian's Umbrella/Excess coverage can provide up to $5 Million dollars in additional liability protection above the primary Farm Package, Commercial Equine Liability, Business Automobile policies, and Worker's Compensation coverage.
So What Do Our Customers Say About Corinthian Equine Insurance?
We would like to thank Corinthian's staff for the exceptional level of service they have provided us since joining the Corinthian family in 2006. It has best decision we made in protecting our horses and our business! The reason we selected them is because they understand our business and our greatest concerns. Not only did they save us money, but they streamlined our entire insurance program. Best of all it was a painless and smooth transition from our prior agent. Right from the beginning Corinthian's winning team has been there for us for all our insurance needs. They currently provide us with professional equine liability, care custody and control, auto, workers compensation, mortality and now we are reviewing our life insurance needs. Whether it was a billing issue or a question on our coverage; they have consistently been prompt, knowledgeable, professional and a real pleasure to deal with. If you are involved in horses we recommend you contact Corinthian Insurance. You will be pleasantly surprised.
Bill Warren & Bill McMullin
WARREN-MCMULLIN DRESSAGE
Medfield, MA

We have come to depend and rely on the staff at Corinthian Insurance for the protection we need for our very busy riding and training center. Our previous agent that we have dealt with prior to selecting Corinthian Insurance just did not understand our operation. We now have the confidence and peace of mind we had desperately been searching for over the years. Bottom line is they have delivered what they promise and much more. Whether you are professionals like us or a recreational rider; if you want an agency that really gets the horse business you should give them a call. When it comes to horse and farm insurance they are the best. Thank you Corinthian for all your help and support!
Christine DeSimone
Gregory Prince III
WOODRIDGE FARM, INC
Sherborn, MA

Contact A Corinthian Equine Insurance Specialist Today!
Protect your horse, yourself and your property with Corinthian Equine Insurance. Our friendly staff of professionals will work with you, your needs and within your budget to find the right insurance for your needs. Please call us TODAY so we can learn about you and your horses -and tell you about our comprehensive insurance products!
---
Contact: Our Friendly Staff
165 Main Street Suite 214
Medway, Massachusetts 02053
Phone: 508-533-5103
Email:
Website: Click Here To Connect

---