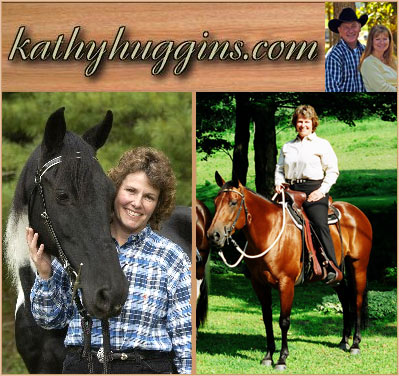 Kathy Huggins Apprenticeships
Kathy truly offers a more in-depth understanding of horse training in one week Clinics packed with in depth information you will not receive anywhere else! This is vital information to help you on your way to horse training.

About Kathy Huggins
What is it about Kathy Huggins that makes her so passionate about horse training? Well, she got hooked on horses when she took her first riding lesson at age 5, so she knows what it means to be horse crazy. In fact, her desire to see people fully enjoying their horses is part of what fueled her interest in training professionally back in 1977. She used conventional training methods then, but was eager for more horse knowledge and she felt sure there had to be a safer, easier way to train. She attended her first John Lyons Symposium in 1988 and found what she was looking for.

She expanded her knowledge by attending John's clinics and symposiums every year since then, including doing an Apprenticeship with John in 1994. In 1998 Kathy completed the John Lyons Advanced Trainer Certification Program, graduating in the top of her class.

Kathy has successfully trained hundreds of horses of more than 30 different breeds. Her people skills are outstanding, and she's helped countless numbers of people have fun as they learn to safely control and yes, train their own horses. Kathy has been a successful and sought-after instructor here at InfoHorse.com for over 10 years!

How Do I Get Started With Kathy?
Most people start by attending a One Week Apprenticeship , then return for more Apprenticeships or a One Week or Two Day Refresher course. You can update your training a little (2 Days) or a lot (One Week).
Think you're not a trainer? Oh, yes you are! Truth is, as soon as you pick up a lead rope or a hoofpick, you are training your horse. You might as well make the training work FOR you!

See how to use John Lyons' methods to make that training time safe, fun and productive for you and your horse.
• Do you feel confident and in control around your horse?
• Does your horse always do what you would like?
• Do you and your horse get along and communicate clearly back and forth? (Yes, I said back and forth. The communication goes both ways to have the best relationship with your horse.)

If you answered, "no" to any of these questions, check out these clinics. 

One Week Apprenticeship - Some call it a vacation with your horse or even "horse camp". No wonder it's our most popular program! Spend a week at this horse training clinic learning, training and playing with your horse in a small group of about 5 students. 

Refresher Clinics - Been to an apprenticeship before? Ready for more? Spend 2 days or a week learning plenty of new and fun things for you and your horse!

Here Are Further Details To Assist You In Your Decision To Work With Kathy...

Q: What is an Apprenticeship?
A: It's a small group of people and their horses, who want to build their partnership or fix problems with their horses. We design the lessons individually for the students in each class. So every class is different!

Q: What hours and days do Apprenticeship Classes run?
A: Classes run 5 days, Monday to Friday, approx. 9 – 5. Horses may come in on Sunday and leave Friday or Saturday after the clinic is over.

Q: How big are the classes?
A: There will be a maximum of about 5 apprentices per class to allow for plenty of individual instruction and answering questions. Each apprentice may bring one helper for free (remember, only the apprentice trains the horse).

Q: Can I bring my own horse?
A: Yes! Your horse needs to be able to lead and to trailer safely. If he can't be loaded safely or you need transportation, you can call Kathy for help in getting him here. For riding work, he needs to be at least two years old. An older horse (mare or gelding) at any level of training, or with problems, is also acceptable. Untrained stallions over three years of age are not recommended.

Q: What if my horse isn't broke to ride?
A: No problem. We can help you get him started under saddle, or if he is too young, we'll teach him exercises that will help tremendously when it's time to ride. Any age horse, from weanling to over 20 years old can benefit from an apprenticeship.

Q: I am new to horses. Can I benefit from an Apprenticeship?
A: Definitely. We help each person advance from their current level. A beginner is not pushed beyond their level and an experienced rider is not held back learning the basics. And don't worry, we won't put you in a class where everyone else has more experience.

Q: I'm not very physically fit and don't want ride for hours and hours. Can I survive this?
A: Thankfully, this is not an endurance contest. It's all about what YOU want and are ready for. Nobody is going to push you beyond your limits. Most of horse training is mental, anyway. So bring your brain and don't worry about the rest.

Q: I had a bad experience and am afraid to ride. Can I still come?
A: Absolutely. You will never be forced to do anything you don't feel comfortable and safe doing. No pressure! You'll see ways to safely overcome fears and control your horse — AND have fun doing it. You may also attend without your horse as a spectator if you like.

Q: Do you take children?
A: Kids age 16 and over are usually ready to be an apprentice. Teens may also enjoy attending as helpers but we have no child (or pet) care facilities.

Q: My horse has some serious problems. Should I bring him?
A: That depends. Some problems can be solved in an apprenticeship and others may require some private training before coming to a class. Talk to us and we'll discuss options to help you and your horse.

Q: Is there a tack shop nearby?
A: Yes, there is one about a mile away and others nearby. When you sign up, we give you a packet with that information and much more.

Q: Can I bring my horse the night before?
A: Yes, most horses arrive on Sunday between noon and 7:00 PM for a class starting on Monday. Arrangements may be made to arrive earlier if you prefer.

Q: Is there space to park my horse trailer for the week?
A: Yes, there is plenty of parking for trailers.

Q: How big are the stalls?
A: Stalls are 12 x 12, extremely sturdy and safe. Roofs are covered and stalls have excellent ventilation. Rubber mats cover the floor and your horse can see other horses if he is nervous.

Q: Do you do apprenticeships at other barns besides at Millville, PA?
A: Sure, I love to travel. We've had apprenticeships at quite a few different barns in several states. Please call Kathy and we'll discuss how to set up a clinic at your place.

Q: What topics will you cover?
A: Each class is individually tailored to the students in that class. Here are some of the topics that have been covered in past classes. Of course, there won't be time to cover everything on the list in one week but it may give you ideas.

Please ask if you don't see your favorite.


Trailer loading
Leading manners
Fear in the rider
Round pen work
Starting or restarting under saddle
Standing to mount
Crossing water
Laying down and other tricks
Performance work (reining, dressage etc.)
Saddle fit
Relax cue
Getting the horse softer and more responsive to cues
Balanced stops
Backing up
Sidepassing and other lateral moves
Collection
Spooking
Barn or buddy sour
Bucking
Biting
Rearing
Runaways & speed control
Headshyness
Pulling back while tied, breaking halters and ropes
Pawing
Head tossing
Driving
Bits – types of bits and how they work
What Do Kathy's Apprenticeship/ Trainer Clinics Cost?
The real question is what do Kathy's clinics SAVE? The knowledge you gain working with Kathy during this week will save you what would have been thousands of hours of personal experience as Kathy is extremely skilled, knowledgeable, and knows what it takes to help you, help yourself, into a successful career. Kathy's prices are very affordable.

What Kathy's Apprentices Say About Their Experience With Kathy...
"Kathy is an excellent trainer and can work with all types of people and horses. She is very good at explaining the lessons and will take extra time to help people understand.' Shelly M.

"I rate Kathy's apprenticeship program very highly and would recommend it to anyone who wants to become a better trainer." Wyatt M.

Kathy is happy to work with all those who are serious about fulfilling their horse-training potential. She looks forward to meeting many of you and to assisting you on your way to excellence.

Contact Kathy Huggins Today!
Kathy Huggins is not only extremely knowledgeable, but will put you at ease right away. She is open to discussing all your questions and concerns. Find out why horse people who take the time to work with Kathy find the experience well worth the time and investment! Call Today.
---
Contact: Kathy Huggins
17 Confer Hollow Road
Millville, Pennsylvania 17846
Phone: 570-458-6490
Email:
Website: Click Here To Connect

---