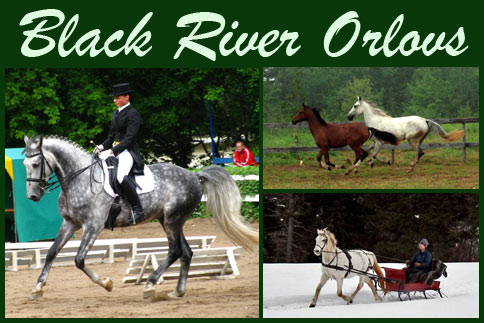 The Remarkable Orlov Trotter
If you are looking for the kind of horse that "dreams" are made of, the Orlov Trotter is your answer.

The Facinating History of the Remarkable Orlov Trotter!
Black River Orlovs found the Orlov Trotter unexpectedly, and the breed has changed their lives and life's work. The Orlov Trotter, like the Russian people, has managed to survive against incredible odds. Through Civil war, two World Wars and Social and Economic upheaval, this magnificent horse has inspired amazing devotion and love in the people who own and breed them. Often at great risk to their lives and those of their families, these Russian horsemen have struggled to maintain this breed in times of war, famine and despair. The aftermath of economic, political and social collapse of the Soviet Union has severely decimated horse populations, and even more so the Orlov. No other breed has inspired such dogged devotion, but despite all of the sacrifices there are fewer than 1500 purebreds surviving today.

230 years of careful selective breeding has given us today a horse of remarkable heart and size. Like many European warm bloods currently used for dressage, the Orlovs were originally bred to pull heavy carriages. In their native land they often had to travel over brutal roads slogged deep with mud or buried under mountains of snow and ice.

What Is The Temperament Of The Orlov?
The Orlovs bond to their human like no other. Orlovs were bred to work hard, be easy to handle, stay sound, and thrive on what little sustenance the countryside could provide. These are horses of durability and endurance. Horses that had poor dispositions, or became unsound were harshly culled from the breeding programs. Long after other horses would have faltered, the Orlov's honesty and courage drives them to continue on, sometimes to their own detriment and even death.

What Kind Of Sports Have Orlovs Been Used In?
Jumping, Driving, Endurance/ trail riding, Racing, Dressage and more! In Russia the Orlovs are now bred primarily for harness racing. However; Balagur, an 18 year old purebred Orlov Trotter stallion, placed 5th in the Grand prix Special (dressage) at the Beijing Olympics. The champion show jumper of Russia has been an Orlov. And there are many Orlovs, nameless to all but their owners, whose calmness and intelligence have made them ideal for the police force and whose beauty, trainability, and devotion have endeared them to circus trainers throughout their native land.

They are athletic enough to excel at any discipline and individuals can be seen competing in dressage, show jumping, endurance, competition driving, eventing and trail riding. But it is their bone-deep kindness and empathy that are the rarest of traits.

The Orlov Today
Orlovs are horses of size and grace. The average height is 16HH, and while the predominant color is grey (Thanks to the large infusion of Arabian blood during the foundation of the breed.) they also come in black, bay and chestnut. They are long legged, giving them an elegant look and a delicacy despite their depth of bone and strength. The legs are dry and powerful, with slight feathering at the fetlocks and the hooves are large, hard and durable.

Large, expressive, obsidian eyes look out from a nobly shaped head. The neck should swan-like and long. Their beauty is surpassed only by their compassionate nature. Possessed of amazing intelligence, they learn quickly and remember easily with few repetitions. There is often an uncanny understanding of what is wanted and needed of them at any given time. This makes them a pleasure to handle and train. When seeing something new for the first time they are more likely to bravely confront it than to flee in fear. Bred to love people, they bond very tightly to their owners. There are accounts of Orlovs pining away after the death of their owners. To own an Orlov is to be owned. They can become extremely sensitive to the moods and emotions of their riders/owners, even reflecting them in self-carriage. Under saddle this makes for a partner of such willingness and awareness that traditional exercises become poetry. Their honesty and work ethic, along with a generosity and need to please make them ideally suited to the novice and yet they have enough spirit to delight even the most advanced riders.

The Survival Of The Orlov Depends Upon Greater Participation and Awareness
This is an incredibly endangered breed. With fewer than 1500 purebred individuals left worldwide a concerted effort must be implemented in order to guarantee their survival. In these harsh economic times, more so in Russia than even here in North America, the danger has never been more imminent. Or a breed of horse more worthy of rescue. The small islands of Orlov breeders and enthusiasts in Russia need to be encouraged to continue to maintain what limited breeding stock remains. Other lovers of this stunning breed need to step forward and take on the daunting task of setting up some small purebred breeding programs here in North America so that more people on our side of the ocean can come to know and love the Orlov Trotter. "Once you experience the magic of an Orlov Trotter, no other horse will compare."

And, Finally, Black River Orlovs
The only purebred Orlov Trotter breeding farm in North America
How our lives were forever changed by that fateful collision with an Orlov Trotter, one of the world's rarest breeds is too long a story to bore you with here. Suffice to say that, meeting Zakon changed the course of our lives and has included us in an adventure that we had never imagined before. The love and devotion we feel for this breed has moved us 6000 miles across Canada to Elmwood Farm, a 125 year old farm on the banks of the Black River in Northern Nova Scotia. Here, on these 200 acres of deep forest and lush fields we thought someday we will find a way to make this the heart of a small breeding program. The two purebred Orlov geldings we have were getting older. A life without Orlovs seemed one of inconceivable emptiness to us.

We'd had Orlovs, nothing else could compare with them. With few Orlovs here in North America and no one breeding purebreds, we felt we had no choice but to try and import some breeding stock. We wanted to try and introduce them to horse lovers everywhere. Black River Orlovs was officially born on March 24, 2008, the day the very first purebred, registered Orlov Trotter was born in North America. Her name is Korifeya, which means "Leading Light" in Russian. Ours is and always will be a very small, family run breeding facility. Each horse is handled, loved and trained on a daily basis. In order to maintain this high standard we cannot manage a large herd. Only a few purebred, registered Orlovs will ever be for sale.

Are Orlovs Really A Breed Apart From Others?
Yes! Throughout my life I have owned or handled many breeds of horses. None of those experiences prepared me for the Orlovs. They are as different from any other breed of horse as you can get and yet still be a horse. They are a horse for the connoisseur. A horse capable of being a friend, partner and soulmate. My life would not be complete without the Orlovs.

It is our hope that through education more people become aware of the Orlov Totter and all their amazing qualities. Those that are truly ready for their horse of a lifetime should consider an Orlov when making their decision. It is a choice that will never be regretted. Invite a little magic and beauty into your life, experience an Orlov.

Contact Black River Orlovs Today!
If you have any questions or comments about the Orlov, please feel free to contact us. Any and all queries are responded to. Or if you just want to view more beautiful pictures of these spectacular horses, please visit us at our website. We occasionally have stock for sale, and have exclusive contacts with Russian breeders for importation and consultation.
---
Contact: Our Friendly Staff
Scotsburn
Nova Scotia, Canada B0K 1R0
Phone:
Email:
Website: Click Here To Connect

---