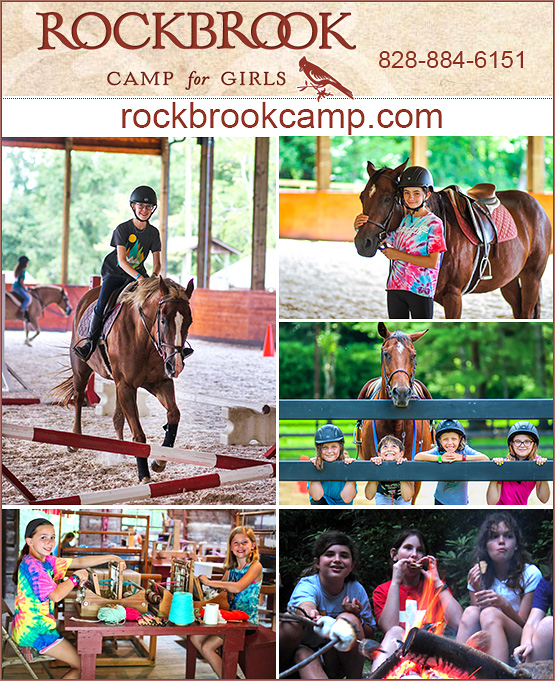 The Rockbrook Equestrian Camp by Rockbrook Camp For Girls
Rockbrook is camp where no matter what you do, and learn to do, you'll have fun doing it, and horseback riding is no exception!

About Rockbrook Camp for Girls
Rockbrook is a traditional overnight summer camp for girls located in the mountains of western North Carolina. Established in 1921, it is one of the area's oldest sleepaway summer camps. Rockbrook provides multi-week overnight camp sessions for girls ages 6 through 16. Each session accommodates 192 campers. Rockbrook is well known for its diverse program of activities, including horseback riding, outdoor adventure, crafts, sports, drama, swimming, and more.

Rockbrook is a remarkable overnight summer camp for girls. With its traditional log cabin and stone buildings, its beautiful forests, fields, waterfalls and rock outcroppings, and its over 200 acres of land, Rockbrook provides a fabulous outdoor experience. Rockbrook offers campers a diverse program of activities centered on both fun and instruction. It encourages self-direction and experimentation, and aims to provide numerous opportunities for building self-esteem and independence.

Rockbrook employs an enthusiastic staff of cabin counselors and highly trained instructors for its activities. The directors and full-time staff of our summer sleepaway camp are educators and professionals who work with children. Rockbrook benefits from a long history of providing quality overnight summer camp experiences for young girls. As daughters follow their mothers who followed their mothers to camp, shared experiences bind the generations. We are proud to be a part of that tradition.

What Are The Rockbrook Facilities Like?
Rockbrook is situated on 214 private acres in the Blue Ridge Mountains. Most of the buildings are original to the sleepaway camp. So, campers live in rustic wooden cabins with bunk beds. Each cabin is just a short walk away from a stone lodge for age group meetings and a bath house with private showers and toilets. Activities happen in many cabin-like buildings throughout camp. Our mountain spring-fed lake also houses our swimming and paddling activities. The camp barn and 2 riding rings are situated on the flatter part of camp where 26 horses live every summer.

Rockbrook Equestrian Camp
The Rockbrook equestrian camp program combines qualified staff, experienced horses, and excellent facilities to create an atmosphere where campers can advance their horseback riding skills, expand their horsemanship knowledge, and enjoy riding with friends. Our horse camp features horses ranging from experienced A circuit show horses, to seasoned beginner ponies, and include a number of horses from St. Andrews Presbyterian College and Sweet Briar College. All of our horses are active in equestrian programs throughout the year.

Our equestrian staff is qualified to teach a wide range of riders. Young beginners play mounted games and get to learn all about their favorite horses, while others may learn to post the trot, or canter or jump. More advanced riders may get to jump through gymnastics or over natural obstacles. Towards the end of each session we have a game day at the barn for anyone who has participated in our horseback riding program. In addition to mounted riding lessons, girls can also join the stable club and learn more advanced horse care skills.

What If My Daughter Is A Beginning Rider?
When campers select horseback riding as an activity at camp, the equestrian director considers their skill, confidence, and size in assigning appropriate mounts, riding groups, and instructors. The overall priorities of the Rockbrook riding program are safety, fun, and skill advancement. Rockbrook's equestrian staff is qualified to teach a wide range of riders. Young beginners play mounted games and get to learn all about their favorite horses, and later learn to post at a trot, or canter and even jump.

Do The Campers Ride Every Day?
The girls ride every day except Sunday. Campers can spend two one-hour time periods at the barn, one in a mounted riding lesson and the other in the "Stable Club" working with horses. The mounted lessons combine 2-4 riders and one instructor who tailors the lessons to skills that match the rider's experience and ability.

What Is The Food Like?
We serve tasty, balanced meals in our dining hall where campers eat "family style" with their cabin-mates. In addition to the hot meal at lunch a dinner, we always have a salad bar, vegetarian option, and a peanut butter and jelly station. Throughout the day, we have fruit and snacks available to keep us going.

What Do Campers Say About Rockbrook Camp?
Rockbrook is near and dear to my child's heart. She has grown up coming to camp, has been on all three lines, and is now an independent teenager, full of confidence, self esteem, and spirit, a true 'Rockbrook girl.'
Parent, Rome, GA

We love the camp, the programs and especially the staff. My daughter could not have had a better experience anywhere else.
Parent, Charlotte, NC

It's quite true that a spirit of Rockbrook does exist, and it's what brought me back year after year. I could hardly wait for summer, knowing that camp and old friends would be waiting. Many of my dearest friendships were made at RBC and a lot of my philosophy of life was formed there.
Former Camper, Tallahassee, FL

Get Your Daughter Enrolled At Rockbrook Camp For Girls Today!
For more information about our camps and to start the enrollment process, please visit our website.
---
Contact: Jeff and Sarah Carter, Directors
P.O. Box 792
Brevard, North Carolina 28712
Phone: 828-884-6151
Email:
Website: Click Here To Connect

---