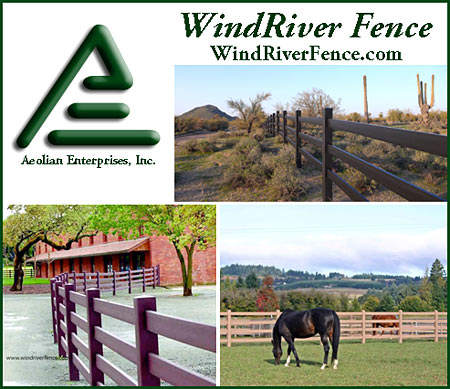 Quality Fences by WindRiver Fence
HDPE (High Density Polyethylene- NOT "PVC"!) Fencing for horses is inherently maintenance free.


About WindRiver Fence Co.
WindRiver Fence Company was founded in 1991 by Ron & William McClintic. Bill knew there was a better, safer product for horses than those currently being offered. All fences to date had limitations. PVC & wood could injure determined horses if they decided to bolt through it. Steel, though durable also had the potential for injury because of it's inflexible nature. Having worked with High Density Polyethylene (HDPE), Bill saw the potential in making attractive, safe and durable fencing out of this flexible, strong and recyclable material.




Why Is HDPE Fence A Truly "Maintenance Free" Fence?
HDPE is inherently maintenance free. The color is integral to the product and it is color fast. So, unlike wood and metal fences, you will never have to paint it. And unlike PVC, it does not get brittle with age or the cold. (The brittleness point for PVC is + 32 degrees Fahrenheit. The brittleness point for HDPE is not reached until -104 degrees Fahrenheit.)

Safe For Your Horse
Stronger Than Wood and PVC
Maintenance Free HDPE
Lowest Cost Over Time
20 Year Warranty!
Safe For The Environment
Made In The USA
How Is WindRiver's HDPE Superior To Vinyl?
Vinyl (PVC) is simply not a livestock product. Most vinyl manufacturers mention this fact somewhere in their literature. Vinyl is rigid and it becomes very brittle with UV rays and the cold. HDPE is not as susceptible to UV and remains flexible and strong in the cold.

How Is WindRiver's HDPE Superior To Wood?
While wood is less costly going in, the "joy" and expense of maintenance just begins. There are two major problems with wood. First, you have to paint it about every two years. Second, posts almost alway rot and must be replaced. Over the twenty year warranty life of our product, WindRiver Fence is the least expensive.

Why Is The Fencing at WindRiver Safer For Horses?
In a couple of words; flexibility and strength. Laurel Roberts of Equine Design and Consulting told me recently that she has seen two full-grown horses run full-tilt at our fence and simply bounce off. In fact, she recommended it to Stanford University when they were looking for the safest fence on the market for their horses.

What Kind Of Longevity Can I Expect With WindRiver Fence?
While our warranty is for twenty years, don't expect it to fail just after the warranty runs out. We have had installations from Wisconsin to Arizona for well over a dozen years and it is still as strong, flexible and colorfast as it was the day it went in.

Is WindRiver HDPE Fencing Affordable?
WindRiver Fence is the least expensive product over the twenty-year warranty and indeed over the extended life of the product. Wood is cheaper going in, but wood requires nearly constant maintenance. It must be painted about every other year. Steel also requires painting at the welds about every five years to keep it from rusting. With WindRiver Fence, once it's installed, it remains beautiful for life.

What Do Horse Owners SAY About Their WindRiver Fence?
Laurel Roberts of Equine Design and Consulting chose WindRiver Fence for Stanford University. We recently ran into her at the Western States Horse Expo. She told us that she has seen at least 2 horses run full tilt at our fence and bounce off it at the Stanford installation. We all wish we had videos!

How Do I Get Started?
You deserve the peace of mind that WindRiver HDPE Fencing will bring you. Beautiful, longlasting, easy to maintain, nearly indestructible and designed with the safety of your horses in mind-- WindRiver offers the best value for horse properties today! Simply call us toll free at 800-269-4672. We are excited to talk to you and hear about your fencing plans.
---
Contact: Our Friendly Staff
P.O. Box 888
Latrobe, Pennsylvania 15650
Phone: 800-269-4672
Email:
Website: Click Here To Connect

---