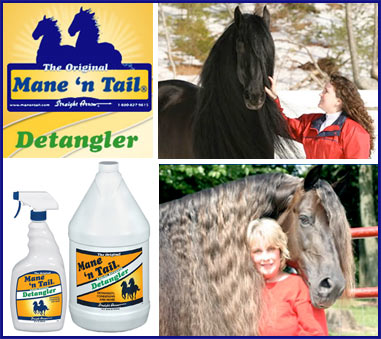 Mane N' Tail Detangler By Straight Arrow Products Inc.
Straight Arrow is offering our original formula, Mane 'n Tail Detangler Spray and Mane 'n Tail Concentrated Detangler & Shine for your horse!


About Our Company
In 1970, our family company, Straight Arrow, introduced Mane 'n Tail Conditioner, a product that continues to be leading edge in terms of quality & effectiveness. This product was followed by Hoofmaker, Mineral Ice & Shampoo. Over the years we have been providing these high quality grooming & treatment products to the equine industry and continue to make all of our products with the same concern for quality and performance as we did when they were made on the family farm.

While we don't make the products on the farm today, our goal remains the same, to introduce new items that will fill our customers' needs and meet that same performance challenge. New items added to the equine line include offerings in the medicated treatment and finishing areas. With the latest being the introduction of Spray-Away, the safe, quick body wash solution that horse owners can feel comfortable using as often as needed.

All additions to the line reflect the same high quality and leading edge performance of the Original Mane 'n Tail. I am particularly proud of my family's tradition "Satisfy the Customer". All of our products are designed to stand the test of that tradition. Straight Arrow remains a "hands on" business and I want to thank all of the horse owners who have supported us over the years. If for any reason you are not satisfied with the performance of any of our products, a refund will be provided. You have my guarantee on it.




Mane N' Tail Equine Spray Detangler
Here are the features of our Equine Spray Detangler:
· Friction free slip for reduced grooming damage
· Conditions and fortifies hair strands
· Keeps hair manageable for grooming and braiding
· Helps achieve and maintain longer, healthier manes and tails
· Works effectively on wet or dry manes and tails
· Pleasant non-fragranced, non-sticky formula
· Available sizes: gallon, 32 oz., 16 oz., 4 oz.

Does Our Detangler Contain Silicone?
Detangler contains no silicone, but has a unique formula for friction free slip for reduced grooming damage.

Does Detangler Condition And Fortify Hair Strands?
Yes, Detangler's conditioning and fortifying formula helps achieve and maintain longer, healthier manes and tails.

Will Detangler Work On Wet Or Dry Manes And Tails?
Detangler works effectively on wet or dry manes and tails.

Is Detangler Ph Balanced?
Detangler is a gentle pH balanced, non-fragranced, non-sticky formula. You'll love the way it works and makes your horses mane and tail feel!

What Sizes Are Available For Detangler?
Detangler is available in a convenient 16 oz. and 32 oz. spray bottle and for economical refills and gallons are also available.

What Do Customer's Say About Mane N' Tail Detangler Products?
My filly's tail was a total knot. I have tried a lot of detangling tricks in the last 30 years. This was the first time that I used the Mane 'n Tail Equine Detangler. I sprayed the knot and had it combed out in no time. I have neck, shoulder and arm problems so it's important to me to have a product that does the job and is easy to use. This stuff is GREAT!
S.M., Boston, GA

First of all, I LOVE your products! I use ALL of them and always get a lot of compliments on how good my horses look. For their hoofs, I have used Hoofmaker and nothing else since it came out on the market. I have Clydesdales and they are known for their bad feet. By using Hoofmaker on a regular basis, my horses' feet are always in very, very good shape. I also use Mane 'n Tail Detangler spray. One of my Clydes does not have a docked tail. The Mane 'n Tail Detangler works really well and a little goes a very long way. When I use your detangler on their feathers, you should see how beautiful it makes them look, especially noticeable when they move. You'll find nothing but Straight Arrow products on my tack room shelf.
A very faithful consumer,
Charlie V, Saint James, MO

Order Your Mane N' Tail Detangler Products Today!
Don't battle with your horse's tangles any longer! All Straight Arrow products are available JeffersEquine, ValleyVet, DoverSaddlery, SmartPak and at most feed and tack stores, but we are happy to get you to our dealers or to help you personally with questions via email or phone calls.
---
Contact: Our Friendly Staff
P.O. Box 20350
Lehigh Valley, Pennsylvania 18002
Phone: 1-800-827-9815
Email:
Website: Click Here To Connect

---