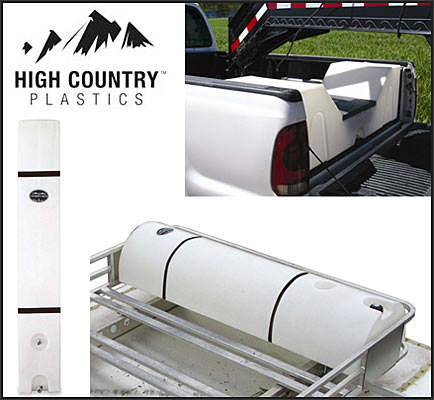 Water Caddies by High Country Plastics
Water Caddies at High Country Plastics ensure your horse has water, (familiar water from your property!) any and every time he needs it!


About Our Company
What you get with a High Country Plastics product is durability, quality, strength, innovation, warranty, a product built to last, FDA approved, safe, and your satisfaction is guaranteed! High Country Plastics, quality products made with safety and convenience in mind. High Country Plastics primary goal is to provide safe and durable products for their customers and animals. We take great pride in keeping their product line creative & efficient to save customers time and money.




High Country Plastics Slant Load Series
High Country Plastics offers Three Water Caddies in the Slant Load Series designed to fit in the corner of Slant Load Trailers which traditionally have a corner that can't be used for storage and amounts to "dead space". The Slant Load Series utilizes that space by storing water while still allowing customers to fully utilize the rest of the tack compartment. The Slant Load Series comes in three sizes, 18 Gallon, 25 Gallon, and 39 Gallon. The 18, and 39 Gallon Caddies feature two drain valves. One is located at the bottom of the caddy that allows all the water to fully drain from the caddy, the second drain valve is located higher up the caddy and allows customers to easily slide a bucket underneath it for convenient filling without hooking up a hose. The 25 Gallon tank has only one drain valve but does have the optional Stand that can be purchased to elevate the caddy off of the trailer floor. The Stand also provides storage capability for miscellaneous items such as brushes, wraps etc.

High Country Plastics Half Moon Series
High Country Plastics offers Three Water Caddies in the Half Moon Series, the Lay Down, Up Right, and Hay Rack. All three sizes have 48 Gallon capacities yet each one is designed for placement in different locations to better fit customer needs. The Lay Down Caddy is designed to fit in the back of a pick-up bed, and conveniently fits on either side of a gooseneck hitch. The Up Right Caddy is designed to stand up right in a horse trailer and can be put virtually any spot in the trailer as long as it has a flat wall to fully secure to. The Up Right Caddy also features two drain valves, one for draining the caddy fully, the other for conveniently fill a bucket without hooking up a hose. The Hay Rack Caddy is designed to fit in trailers Hay Rack or Hay Pod.

The Hay Rack Caddy includes an 8' hose kit and shut off valve to allow filling and draining from the ground. The Hay Rack Caddy is available in the standard Translucent White or Black. The Black will attract heat in warm temperatures giving customers warm water for showering, dish washing or other needs. It's HIGHLY RECOMMENDED that customers utilize sturdy tie down ratchets "not included" too fully secure the Hay Rack Caddy, the strap kit included is not adequate or intended to completely secure this model.

High Country Plastics Water Caddy Accessories
These accessories are a great way to save space and make life more convenient for you! Here are the accessories we offer:

Part # TC-63: Pick up Bed Water Caddy- The Pick Up Bed Water Caddy is High Country Plastics largest Water Caddy featuring a 63 Gallon Capacity. It's an innovative way to haul water while still allowing for easy hook-up to a gooseneck Trailer. It is designed to fit in a pick-up bed either behind or in front of fender well with convenient and easy access to water fill caps located on both sides of the caddy. There are four built in cup holders to hold drinks or spray bottles. It also incorporates a center storage area with a lid for storage of miscellaneous items.
Part # DC-1: Dry Camp Water Caddy & Saddle Rack-The Dry Camp Water Caddy is another unique High Country Plastics design that is a great space saving caddy with it's 2-in-1 water caddy and saddle rack feature. It has a 30 Gallon Capacity and features a sloped top measuring 44" long that will accommodate 1-2 saddles depending upon saddle size. The fill cap is located at the top in the front of the tank and the drain valve is located at the bottom in the front left recessed area that helps protect the ball valve from incidental contact that could damage the ball valve.
Part # BC-25: Bench Water Caddy-The Bench Water Caddy is has a 25 Gallon Capacity with several added benefits. It has four molded in cup holders that can be used to hold beverages or spray bottles. A storage compartment measuring 20" L x 11 1/2" W x 4" D is covered by a hinged lid and provides extra storage space in your trailer. The lid and caddy ae sturdy enough to be used as a step. The Bench Water Caddy also has recessed handles that allow for easy carrying making the caddy very portable when drained.
Order Your High Country Plastics Water Caddy and Accessories Today!
High Country Plastics is featured in most horse catalogs like Jeffers Vet Supply, Dover Saddlery, Valley Vet, Smart Pak Equine and more! We are always happy to answer questions and, if you don't have a catalog, you are welcome to call us to help you place your order.

---
Contact: Our Friendly Staff
1502 Aviation Way
Caldwell, Idaho 83605
Phone: 208.455.8611
Email:
Website: Click Here To Connect

---