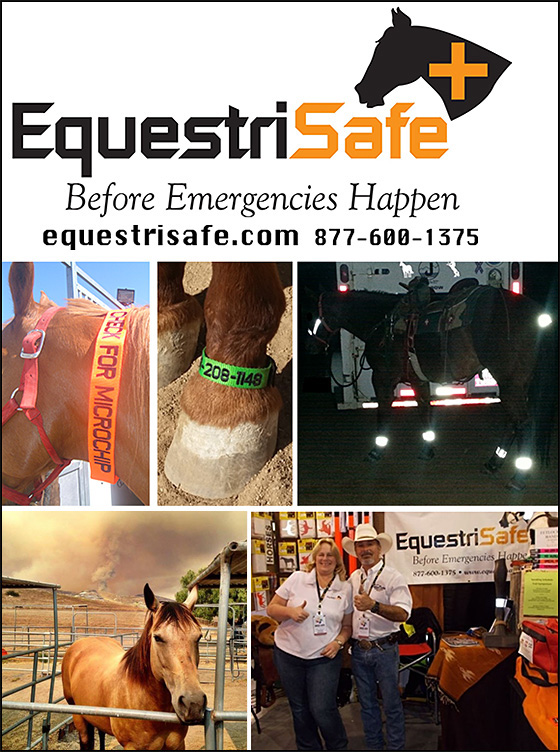 Horse ID Collars and Fetlock ID Bands by EquestriSafe™
Be prepared before emergencies happen with EquestriSafe™ Horse ID Collars and Fetlock ID Bands!


About Our Company
EquestriSafe™ is the brainchild of two friends who came together over horses, learning and friendship. After 6 years of working together on making their horses' partners not only to themselves and each other, they decided that working together in business might just be the next step they needed to take on together. Dedicated to horse safety they began developing a product line and working on enlisting other product manufactures that provide safety items for your horse and you the owner.



When Danger Comes Are You Prepared?
Fire, flood, tornado, earthquake, trail riding spooked horse runaway, the unexpected comes in many terrible forms. You may have to turn your horse loose to escape the danger, but how can you make sure to SAFELY keep your horse identified? Equestrisafe horse identification products are SAFE, easily VISIBLE, RE-USABLE, WATERPROOF, and secure YOUR CONTACT INFORMATION to the horse you love!!!



EquestriSafe's™ Horse ID Collars Will Make Sure Your Horse Can Be Identified!
When seconds count, you want something SAFE, RELIABLE and FAST! Our amazing Horse ID Collars are the best option to keep your horse identified so that you can be reunited when you become separated during an emergency. NO ONE wants to either loose a horse or to have to turn a horse free to escape a flood, hurricane, fire or tornado--- but it happens. Then, the additional nightmare of finding your horse makes a tough situation worse. With Equestrisafe™ your horse will clearly stand out as one that is identifiable so that you can be reunited-- as fast as possible!

* Embroidered Equine ID Collars: Your horse's name and appropriate phone number embroidered onto collar! This collar was primarily designed with boarding facilities or large equestrian facilities in mind, however they can used by individuals as well for emergencies/evacuations as well as camping/hunting and other uses. $34.95- $39.95

* Double Sleeve Collar: Write your own information on a little card or piece of paper and put it in the sleeve! So easy and personalized! Make sure to do this when you GET this collar so that when the unexpected happens it is ready to go. Double Sleeve collar was primarily designed with campers and hunters in mind, however no boarding facility, large equestrian facility, veterinary hospital, recipient mares and foal identification or plasma farms should not be without these hanging in the barn. $25.95- $31.95 (single sleeve available for lesser charge)

Note: Add your embroidered telephone number or other information for added peace of mind. (additional charges will apply)
Fetlock ID Bands
The Original Fetlock ID Bands is a form of identification that is attached to your horse so your horse acan be identified in an emergency or other situations. The Original Fetlock ID Band with the plastic sleeve starts at $22.95- $28.95 for standard which fit 8 ½" – 10 ½ "fetlocks. We also have available Draft size fit 13 ½" – 15" fetlocks along with the embroidered products and new reflective items (coming soon). We will custom downsize at no charge; if you need to fit a smaller pony/mini or donkey we are happy to help.

Note: Evacuation teams can use and re-use the collars when an emergency happens in the area to identify the property in which the animal was transported from during an emergency.

Are They Easy To Clean?
Yes! Just view video below!



Should I Use EquestriSafe™ Products When Trail Riding Or Camping?
EquestriSafe™ has designed our products for Fetlock ID Bands and Horse ID Collars Safety and protection, which should be used if your horse has to be evacuated in an traveling, camping, endurance races, trail riding, hunting season and any emergency situation.

What About Reflective GEAR? Can EquestriSafe™ Help Me With Reflective Gear?
YES!!! Our Reflective Gear helps ensure that when the sun goes down or the fog rolls in, that your horse can be seen by the traffic coming your way. Easy to put on, safe, and completely re-usable, our durable reflective products will make your horse a 'stand out' when daylight is gone!

* Reflective Halter: Worn under your bridle, our Reflective halters are very effective for those who need and want to be seen at night. These halters are light weight 2 ply utility halters with a buckle. All halters are "horse size" and will fit horses between 800-1000 lbs. The 3M reflective 1 inch tape (hi-viz) is sewn to the halter on the cheek pieces and across the nose band for maximum visibility. At only $16.95 every horse owner can afford this additional halter to keep your horses visible at night!

* Reflective Leg Band 2 inches wide (set of 2): Our Equine Reflective Leg wrap / band set are made with light weight polypropylene webbing 2″ and 3M silver highly reflective fabric that reflects white, this set is designed to help people see you coming in the dark up to a quarter of a mile, giving drivers of vehicles enough time to react. Leg wrap set consists of a pair of leg bands (2 total per set). If you need four leg bands, please order 2 sets. Only $18.95-$24.95 for a set of 2.

* Reflective Neck Collar: Our Equine Reflective collar is made of light weight polypropylene webbing 2″ and 3M silver high visibility (hi-viz)reflective fabric, this collar is designed to help people see you coming in the dark, up to a quarter of a mile away; allows vehicle drivers enough time to see you. Add your embroidered telephone number or other information for added peace of mind. (additional charges will apply) Only $17.95- $23.95

* Reflective Trailer Decals: Our Reflective Trailer Decals are both fun and provide added visibility for your trailer. Fun, affordable and "statement -making" - you'll love the additional protection it helps to provide!



What Do Customers Say About Our Products?
I just got our EqustriSafe™ Collars for our staff and can't say enough about the quality! Here in Florida we deal with hurricanes and fires frequently, and it is so nice to know that there is something we can do to help identify our horses should they become lost!
InfoHorse.com

My neighbor's horse took off without her. Had it been wearing a fetlock band the people who found it would have know exactly how to return it. Instead it took a week of searching. I now use my fetlock ID band every time I am on trail whether near my home or not.
Kimberly Dwight, President of Equestrian Trails Corral 138, Palmdale, CA

I have been using temporary ID bands for my horses because I live in an area prone to fires. The problem was that they need to be replaced every 2 weeks. I now ONLY use the Fetlock ID bands on my horses 24/7. I won't allow any of my horses leave my property without at least one Fetlock ID band. I even put a Fetlock ID band on each of my foals within 24 hrs of them being born. I also recently gelded my stallion and forgot about that the Fetlock ID band was on his leg, after all the bleeding, washing, etc. the next day I removed the band and with a little soap, water and vinegar it was back to looking brand new. I highly recommend that everybody get these for peace of mind.
Wendie Hazlett, Curly Bashkir breeder, Acton, CA

I wanted an identification piece so that in the event my horse and I became separated on the trail we would be able to with one another again. I put the fetlock ID band on my horse anytime we go on a trail.
Katie H., Anaheim, CA

Order Your EquestriSafe™ Products Today!
Keeping your horse safe is a vital part of horse ownership. You never know when a fire, flood, storm, or even a situation that would separate you from your horse while shipping or on the trail can occur. Make sure your horse is identifiable for those unforeseen situations. For more information about all of our products and to place your order, please call us today!
---
Contact: Our Friendly Staff
514 America's Way
Box Elder, South Dakota 57719
Phone: 877-600-1375
Email:
Website: Click Here To Connect

---