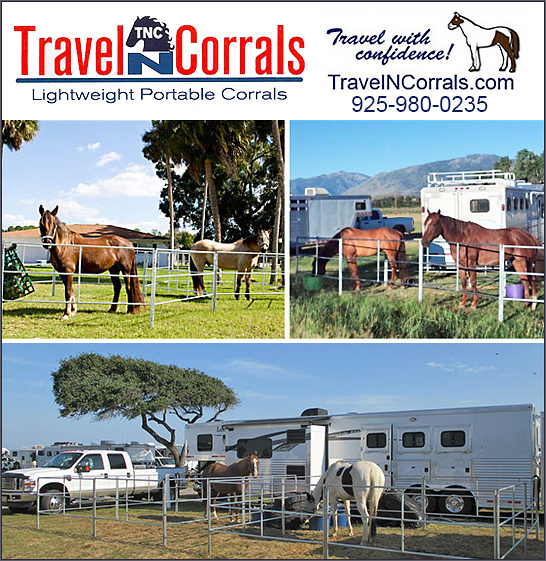 Portable Corrals by Travel N Corrals
If you're searching for the best portable corrals on the market, look no further then Travel N Corrals!


About Our Company
The company began a few years back when the owner, Lynette, decided to travel with her horses once again. After searching the internet it became clear there was nothing available she would feel comfortable putting her horse in. Her husband John designed and fabricated a set of panels for her. Thus began Travel N Corrals. The design is by horse people for horse people. It only makes sense. If you really want the best for your horse for an affordable price, you want Travel N Corrals.



Travel N Corrals
The lightweight Travel N Corral panels will allow you to build either a 13' x 13', 16 X 16 or 18 x 18 single round horse stall right next to your trailer in less than 15 minutes. We also offer Double Horse Corrals in 13 x 13. Here are some of the great features of our Travel N Corral products:

All our individual panels weigh only 15 pounds each and have all the benefits listed below to keep your horse safe and secure. Also it takes only one person when constructing the corral or loading the corral for traveling.


Our panels are notched and welded for strength so they will last for many years versus panels that expand until your horse slightly bends one and the panel will no longer open or close anymore.


Our panels are connected every 7' with a full length 4' steel pipe rod that a horse cannot pull out vs. short pins or Velcro that the horse can work at removing.


Our panels are galvanized steel that will look the same for many years vs. painted or powder coated that can chip or scratch after several uses.


Corral size has proven to be a big factor when we conducted our safety testing and that's why our corrals are the biggest being offered at 13' x 13' round so the horse can circle vs. others at 10' x 10' square that are just too small to leave a horse in for long periods.


We also offer double corrals and portable corrals in larger sizes up to 18 x 18', all with the same safety features described above.


We're confident our panels will hold up for many years-- that's why they come with a life time guarantee for the original owner vs. other panels that come with a 30 day warranty.
What Sets Travel N Corrals Apart From Other Portable Corrals?
First the design. The panel itself is 3 rails with bracing. The rails are spaced specifically to be safe for a horse. 2 rail panels allow the horse to get it's head under and flip the corral. All welds on the panels are notched for strength. The panels connect with our patented system that includes a full length rod interlocking all the way down. When assembled the corral is much more secure and feels heavier to the horse. And last, we offer a lifetime guaranty on the panels under normal use to the original owner.

Are The Portable Corrals Easy To Set Up?
The beauty of this portable corral system is that it was designed for a woman, so that means anyone can set it up. At 15lbs per panel it takes 10-15 minutes to assemble.

What Size Portable Corral Is Best For My Horse?
When deciding what size is best for your horse, there are a couple of things to consider. First, how big is your horse? Does he or she like to walk a lot? The customer always knows their horse the best. The beauty of the system is, you can add additional panels at any time if you want to go bigger.





Travel N Corrals Manufacture's Warranty:
Travel N Corrals feature portable panels that are very lightweight and easy to assemble. We have taken great care and testing to insure the construction of the panels and the assembly mechanisms to interlock the panels to make spacious corrals that are safe and comfortable for your horse.
Our Travel N Corrals panels are guaranteed with a material and workmanship warranty for Life as long as the original owner has them.
While Travel N Corrals are constructed with strength in mind, they are intended for use with tame, broke horses. Corrals are not constructed to be used with unbroken horses, unruly horses, wild horses, or cattle.
Our corrals are built to give your horse safe and lasting use, while offering you the lowest cost per corral in the market, backed up with a life time guarantee. Join our list of life time customers and own the greatest corrals ever constructed.
What Do Customers Say About Travel N Corrals?
I was thrilled with the quality, and strength of the Travel N Corrals when they arrived. Light, yet very strong, the panels were easy to put together and very roomy. I was even able to place them inside the dressing room of my horse trailer (above the gooseneck) for easy transportation. I got the double 13 x 13 so both my large Quarter horse and smaller Morgan could have a stall and was very pleased to see that the corrals were plenty roomy for both. The horses settled in quickly. I would recommend Travel N Corrals to anyone with horses!
Ann Pruitt- InfoHorse.com

Order Your Travel N Portable Corral Today!
Travel N Corrals simply can not be beat when it comes to both safety, beauty, ease of set up, reliability, portability and price! You will love the freedom and security of being able to travel with your horses in a way to truly afford your horses in the best of comfort and safety. Call Travel N Corrals today-- we are excited to talk to you!
---
Contact: Our Friendly Staff
15400 Altamont Pass Road
Tracy, California 95391
Phone: 925-980-0235
Email:
Website: Click Here To Connect

---