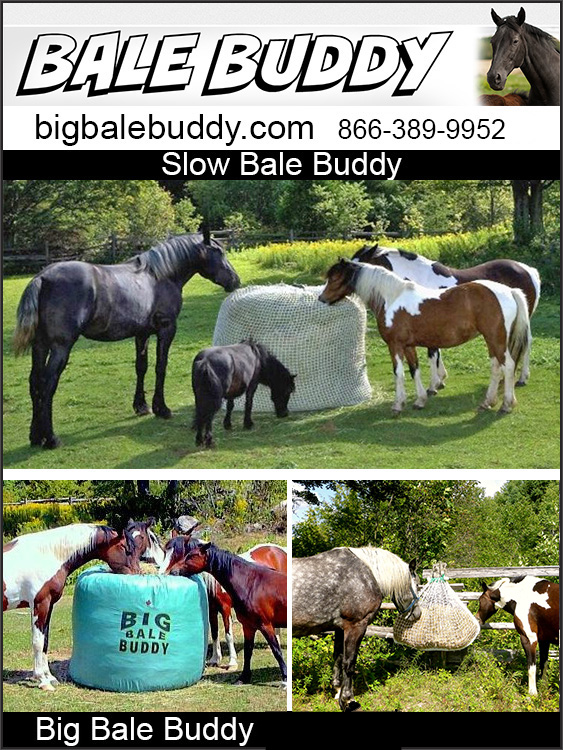 Bale Buddy Hay Feeders by Buddy Incorporated
The Slow Bale Buddy offers a KNOTLESS Net to protect your horse's mouth! The Big Bale Buddy keeps your hay clean and contained until your horses eat it.


Bale Buddy Hay Feeders by Buddy Incorporated
"Buddy Incorporated has been in business since 2004 and specializes in hay feed systems. It is our goal to provide high quality, innovative solutions to feeding hay safely without waste, while making the lives of horse owners easier. We are very pleased to offer unique patented feeders that pay for themselves many times over in saved hay.
It is our intention to operate in the marketplace with honor and integrity. If you have any concerns about our products or the people that sell them for us, please contact us directly and we are happy to talk to you!

Slow Bale Buddy
The Slow Bale Buddy
is the perfect solution for feeding horses round and square bales of all sizes. Made of soft, strong knotless nylon netting with 1 1/2 inch openings, and fastened with a special safety fastener, it completely encloses the bale so that the horses must pull the hay through the holes in the netting to eat. Waste is completely eliminated. Aggressive and anxious horses are calmed by having to graze and forage for their hay. Overweight horses will walk away from the hay without overeating, helping to normalize weight. Slow feeding benefits most horses and is the most natural way to feed. See how our Slow Feeders COMPARE to the competition!
Why Is The "Knotless"Slow Feeder Net by Slow Bale Buddy So Much BETTER For Your Horse?
Knots can tear up gums and damage the sensitive tissues of your horse's mouth!
If you look at the mouths of horses using 'knotted' slow feeder nets-- after just a few weeks or months-- damaged, bleeding gums are often the result. This is not only unhealthy-- but can affect your horse's performance when asked to carry a bit in their mouths!!!
Is The Slow Bale Buddy Even Safe For My Mini's or Ponies?
While not for use with shod horses unless used in conjunction with another feeder, the Slow Bale Buddy is completely safe for use with all horses, (even minis) as the holes are too small to get caught in. When given a choice between free fed hay and the
Slow Bale Buddy
in field tests, most horses preferred to eat from the Slow Feeder. Like the Big Bale Buddy, this feeder is durable and lightweight and will pay for itself many times over in saved hay.

HOW DOES BALE BUDDY COMPARE TO THE COMPETITION?
The SLOW BALE BUDDY
• 100% Nylon Netting strongest, softest, netting material- will NOT cause
wear on teeth or muzzle
• UV Protected because we use NYLON nets- Nylon is naturally UV resistant!
• Not Bleached or Dyed
• Double Serged Edges and Doublebound Reinforced Seams!
• Safety Fastener - NOT Draw Strings! Bale Buddy eliminates unsafe
drawstring closure!
• FULL 1 Year Warranty!

Our COMPETITION
‫
• Poly or poly blends (many knotted) -
not as strong -can cause abrasion and wear to the teeth, muzzle sores

• Not UV protected
or product has coating (animals mouths always against this)

• Dyed-
If it is colored it is dyed

• Single serged edges,
single bound seams

• Rope or drawstring fastener
-danger for unsupervised animals

• Either No warranty or
30 day warranty that does not cover chew holes!

The Big Bale Buddy Is Helping Horses and Their Owners Every Day!
The Big Bale Buddy
keeps your hay clean and contained until your horses eat it. It catches all the high nutrition chaff and makes it available for your horses to eat. Why stand by and see your high quality (and expensive) hay used for bedding when there is an inexpensive, easy to use and safe alternative? Developed to withstand the harsh northern Canadian weather. Does not freeze to the ground and stays flexible in extreme cold. Tough, durable, rot and stain resistant, 1500 denier, woven polypropylene with 2 years (1200 hours) of UV protection. Special weave designed to allow water that gets inside the feeder to seep out while moisture hitting the outside of the Big Bale Buddy will be repelled, keeping your hay drier. Here are some additional features of the Big Bale Buddy:
Removes the risk of leg and neck injuries that can be caused by metal and rigid feeders.
Quickly pays for itself in saved hay. The Big Bale Buddy ensures that almost all your hay gets eaten.
Saves you money every time you feed! Pays for itself in 6 to 12 uses and keeps on saving you money for years!
Feeding large bales without a feeder can waste up to 1/3 of the bale.
Lightweight, easy to use, easy to care for and affordable.
ONE YEAR FREE REPLACEMENT WARRANTY AGAINST TEARING AND MANUFACTURERS DEFECTS
A safe, affordable alternative to pen type feeders; ideal for feeding large round bales to horses, cattle, llamas. bison, deer and elk.
The Big Bale Buddy comes in 3 convenient sizes depending on your needs

Is The Big Bale Buddy Safe?
Yes! The Big Bale Buddy has been on the Market since fall of 2006 and has a 100% safety record. There is no risk of leg or neck injury and It will not rub away the mane like some rigid feeders.

How Much Hay CanThe Big Bale Buddy Save Me?
Using the Big Bale Buddy will ensure that almost all your hay gets eaten. In comparison, when feeding large round bales without a feeder, up to one third of the bale is wasted.



Is The Slow Bale Buddy Safe?
As with the Big Bale Buddy, great care has been taken to ensure that this product is safe for use with your animals. Because the holes in the netting are small (1 1/2 inches) there is nothing on a natural horse that can go through or get caught in the netting. The safety fastener is made out of extremely strong HPE plastic with round edges. If using horse equipment with buckles or snaps, care must be taken to ensure that they do not get caught in the netting. This can be prevented by wrapping the buckle and strap in masking tape so that the buckle is completely covered and secured to the strap.

What Do Customers Say About Bale Buddy Products?
I just wanted to drop a little note to say that the Big Bale Buddy has been one of my best investments. At first it was very difficult to get the Buddy on but now that it is broke in it can easily be a one person job. I purchased one a month or two ago and its wonderful so now I'm investing in another for a second pasture I have. I just wanted to say Thank You and I hope you have a Wonderful Christmas!
Sara Hayes Charters Settlement, New Brunswick

I purchased a Big Bale Buddy in the early summer for my two mares. They just love it. We recommended it to our neighbour and they just love it too! i really like how safe it is for horses. Thank you so much for designing a safe and amazing product.
Julie Rocheleau Woodville, ON

My sister and I recently purchased two of your Slow Bale Buddys at the end of August. We are extremely pleased with them and let everyone we know with horses the huge difference they make in hay usage. As such we would like to purchase two more.
Soutars' Highland Farm


I live in NE Wyoming and love your Slow Bale Buddy. I have three horses who use them and it has made a big difference in their consumption of hay. I am attaching a picture of my mare, I think you will find it funny as it shows the durability of the construction. Thanks for making a great product!
Toni Kawulok
 Gillette, WY
I love your product (the Slow Bale Buddy) and it saves us tons I mean TONS of Hay.
Rich Ferguson, Kokomo, Indiana

I bought my bale buddy this year at Road To The Horse. I got it home and went to the local farmer I purchase my Hay from. I have always used square bales so I was excited to try round bales. I brought out my bale buddy and the old farmer started to laugh and told me I wasted my money . I let him talk me out of using it. On my way home I left a lot of my hay on the road and days later a Huge mess because of all the wasted hay in my field. Next trip I would not let him talk me out of using it.I got home with 99.9% of my hay and my mare fell in love with it. Next trip the old farmer told me again i wasted my money and my horses would have it torn up in no time. Week after week I continued to use the buddy. On one of my last trips another person was there and they saw me putting the buddy over my bale and the old farmer started telling them about his doubt at first but, it had turned out to prove him wrong . All I could do was smile ,at that moment I knew I had made a GREAT purchase. Thank you for a great product.
Pam Holland Clarksville, Tn.

I bought a Big Bale Buddy a couple of months ago and covered the first two bales the way you suggest. Trouble is, my horse Dandy is a messy, greedy eater and he just pulled all the hay out of the top until it was scattered around. The next bale got stuck with the bag over the top and the elastic at the bottom - we didn't have space to tip it over... so we left it that way.

Each day or so we pull it up a bit more from the bottom, rolling it over so the elastic wouldn't creep down and underneath. It works amazingly well; Dandy could not get a grip on the bag to pull it off and has been getting just enough hay to keep him happy! Thank you Big Bale Buddy!
Faith

I have had horses for 27 years, managed barns and now have my horses at home with me. As well as my show horses I also run a rescue (Saving Grace Equine Rescue)- and as such, saving money where I can is always a nice thing. My husband was the one who initially got me to try the slow feeder on the round bales as I was just using the tombstone type or just putting the bale in the field "naked". I couldn't see how the net would hold up...

I am incredibly pleased to say that they have held up brilliantly and
there is FAR less wastage of hay. Indeed, I would go so far as to say the
horses manage to consume 98% of the hay in the slow feeder. My rounds last much longer and the horses pace themselves. None of the problems I thought might crop up, did. The slow feeder is a very useful product and I will certainly be using it for the forseeable future! Cheers and thanks so much!
Janet and Ted Black Dog Farm and Saving Grace Equine Rescue

Order Your Bale Buddy Products Today!
The Big Bale Buddy and The Slow Bale Buddy will save you hundreds of dollars every year on feed and possible veterinary bills. Slow feeding your horse with Big Bale Buddy or Slow Bale Buddy can help prevent or help with ulcers, colic and other feeding related problems. Let us tell you how Big Bale Buddy and Slow Bale Buddy can make your horse's life better-- yours too. Just call today!
---
Contact: Our Friendly Staff
2267 Monck Road
Bancroft, ON, Canada K0L 1C0
Phone: 866-389-9952
Email:
Website: Click Here To Connect

---