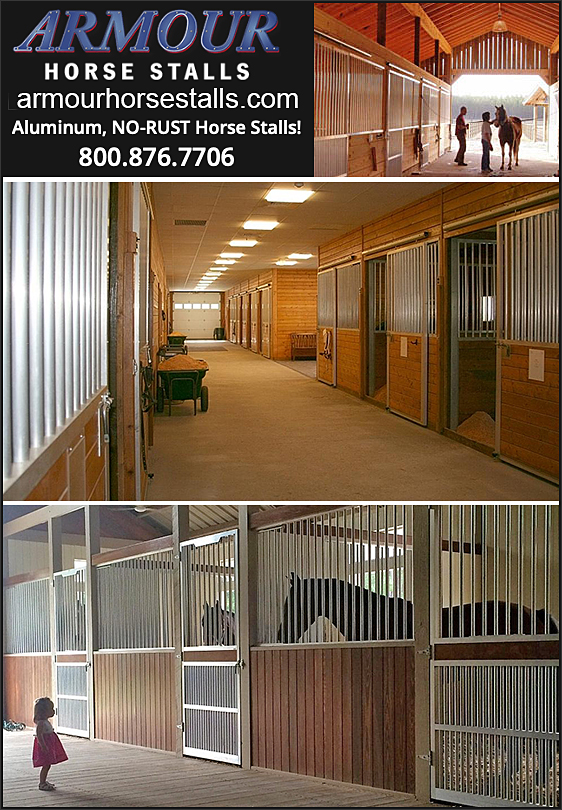 Armour Horse Stalls

Armour Horse Stalls can help you with your barn! Our Stalls are second to none. Quality, Durability, Value and Beauty-- unbeatable combination for every barn!

About Our Company
Armour Horse Stalls manufactures a variety of aluminum horse stall doors, stall fronts, end barn doors, stable shutters and even newest to it's collection: Barn Art. Armour's Barn Components assist builders and individuals with newly built barns or renovation projects. End barn doors, shutters, horse stall doors and alike, arrive fully assembled with the necessary hardware and fasteners for lumber installation. Armour products are NOT KITS, once products are received; installation is achieved with 8-16 fasteners. Some of the Armour barn products are made with or without lumber for those with discriminating taste. Our high quality aluminum equine accessories will illuminate and ventilate any barn structure and our knowledgeable staff is trained to meet each customers needs.



This is an "after" video of the New York State Fairgrounds horse stall renovation. Armour Companies has provided 140 aluminum sliding stall doors and stall front grilles for this project in 2014.

What Sets ARMOUR HORSE STALLS Apart From Competitors?
ARMOUR Horse Stalls has been manufacturing and shipping Full Sized ALUMINUM, non rusting horse stall components for DECADES. ALL components arrive completely assembled and are delivered to our customers ready to install WITH all necessary hardware and fasteners INCLUDED for installation. NO hardware kits to purchase and NO product assembly upon arrival! This is a HUGE benefit for all our clients-- we do the work so you don't have to!

You'll Love The Look, and the Total Ease Of Assembly!
Armour Horse Stalls are uniquely beautiful in appearance and are sure to appeal to equine enthusiasts, equine facilities and barn contractors around the nation. With over 95 combinations of door tops and bottoms, finding an assembled product to suit any situation is easy. Sliding stall doors and hinged gates are offered in various standard sizes and customizing the size if necessary can be accomplished with little or no additional cost!



Is It True That No Preventative Maintence Is Required?
Yes and isn't that GREAT! The preventative maintenance of other stall components are NOT required with Armour's non-rusting, aluminum, Stall Components. Armour horse stalls and gates are assembled by skilled tradesmen and use the highest quality aluminum materials available which enables us to deliver a quality horse stall product on to you, the end consumer.

It only takes approximately 18 fasteners to install an Armour Sliding Door and a 6-12 fasteners to install a front or divider grille. At Armour Horse Stalls , we do the majority of the work for you! Armour includes detailed instructions and has a 24 hour dedicated technical advice hotline, in the event you have a question after hours or weekends.

What Is The "Concealed Welding Technique" That Armour Gates Is Famous For?
Armou Horse Stalls has pioneered our MUCH COPIED "Concealed Welding" technique which is utilized throughout our product line yielding a strong, neat-in-appearance, uncluttered welded connection. Smooth lines make it almost impossible to see where they were welded. Other manufacturers offer horse stall doors and grilles that are "pictured" in an assembled state but require assembly, by you, of loose assorted pieces, shims, rubber or plastic inserts, washers and loose thin gauge vertical pickets (bars).

But I Have An Older Barn and Not All Stall Sizes Are The Same? Can Armour Help?
Often when building NEW equestrian stables or renovating existing barn stall areas its common to have varying measurements for each stall being considered which could possibly require some carpentry in order to achieve a precise fit for the components. Whether ONE stall or SEVERAL ... we routinely manufacture the stall front, divider and window grilles for EACH stall per your measurements to the nearest Eighth Inch which avoids any unnecessary alterations or trimming to Armour products or YOUR stall areas. NO ASSEMBLY REQUIRED!

So, How Does That Work?
Armour will provide confirmed customers with drawings to record the specific stall size required for the project. Measurements taken on the job site can be emailed or faxed to our plant. These drawings will be utilized by skilled tradesmen in the manufacture of the components and then to identify the specific stall location once received back at your barn location. Each component built is identified and labeled for ease of installation and eliminating unnecessary carpentry or block work to fit. No Re-Measuring!

Is It True That Armour Horse Stalls Are Aluminum "NO RUST" Stalls?
YES!! You will be impressed with the beauty, durability, functionality and long lasting protection that our durable NO RUST horse stalls have to offer and all at "factory direct" savings that will keep you smiling for many years to come!
See Our Horse Stall Packages!

The Klepper Package
Cool Your Stalls With "Add a Vent" Grilles. Great for circulation and socialization! Keep a good airflow throughout your barn and allow horses to see each other well. Includes: 8' Tall Sliding Door with Fold Down, Two Front Grilles, Two Vent Grilles, Track, Trolleys, Stops, Latch, Stay Roller and More...you supply the lumber and installation is easy. Starting at only $1,372!

The Aron Package.
A Frame For Your Creation!!
A Frame For Your Creation...and just beautiful for any barn! Included 8' Tall "Gossip" Sliding Door, front Grille, Track, Trolleys, Stops, Latch, Stay Roller, and Optional Trim Package. Starting at only $880!

The Bailey Package Horse Stalls
Beautiful, affordable, durable and long lasting with a little xtra height. Includes: 8' Tall Sliding Door, Front Grille, Track, Trolleys, Stops, Latch, Stay Roller and More...you supply the lumber and installation is easy. Packages starting at only $760!

Economy Horse Stalls
Beauty, Durability and Affordability all in one! Includes: 7' Sliding Door, Front Grille, Track, Trolleys, Stops, Latch, Stay Roller and More... you supply the lumber and installation is easy. Super affordable starting at only $737!

See Our Video On How To Measure Your Stall Grill. (below)
What Other Products Do You Offer?
We offer a wide range of products! Armour manufactures stalls, dividing stall partitions, stall doors, Dutch doors and stall gates from the highest quality materials available in the American metal market. Armour believes American products should be quality, eco friendly and economical. That is why Armour offers a superior ALUMINUM horse stall and sliding barn door product that will outlast its iron counterpart and have less impact on the environment.

Order Your Armour Horse Stalls, & Stall Components, Today!
Our stall products are made of the highest quality materials to ensure longevity and are easy to maintain. We are happy to work with you to get you the stall product that works best for your needs. Don't wait call and talk to us TODAY!
---
Contact: Our Friendly Staff
1370 Saratoga Street
DeLand, Florida 32724
Phone: 800-876-7706
Email:
Website: Click Here To Connect

---