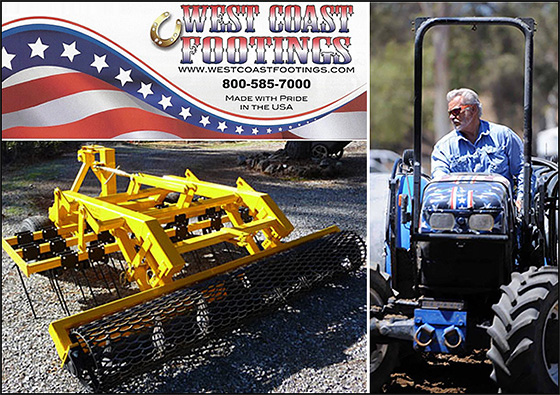 West Coast Footings
See "Tractor Dean" Hendrickson for all your arena maintenance needs at West Coast Footings!

West Coast Footings
Welcome to West Coast Footings, home to all your Arena needs! Whether you are looking for Footings, Footing Additives, Arena Grooming Equipment or Arena Watering Equipment, we have it all! Water on Wheels, for even arena water saturation without puddles!

Build a proper arena base, find the right additive, and keep your horse sound and confident.
New Harrow designs - advancing arena grooming to a higher level!
Arena maintenance made easy with operator friendly Harrows with 100% adjustability for base protection.
Enjoy West Coast Footings parts division website for easy access to Replacement Harrow parts new and used Harrows, and more!
Our Harrows
West Coast Footings have top of the line harrows that will maintain a level surface, including the kick boards. You have total control of the working depth of the air pockets (cush) while the float bar will compress your surface to maintain consistency. These Harrows are excellent for winter and summer maintenance - most Harrows will not do both. Due to its free standing capabilities (on tires), our Harrows are one of the most base friendly, user friendly, and affective arena implements on the market today. Not only do they work up the footing surface - the spring teeth work the footing by adding air to the footing, which is your "cush", to any desirable depth that you wish - the standard float pan is also a leveling device for your horse ring, it is like getting two pieces of tractor equipment for the price of one.

Now, with this expanding line of Harrows and Options, arenas with Specialty Footings, custom sand, felt footings, dirt, sand, or other additives can achieve excellent arena footing. Our ever expanding JDZ Line of Harrows is John Dienhart�s best Harrow design to date; the line currently consists of:


What Sets The Harrows at West Coast Footings Apart From All Other Harrows?

Our favorite feature is the Rack System- The S-Tyne and Coil Tine rack system of the JD Eee Z is a link & lever system, with up and down action, which keeps the S-Tynes at the optimal angle for proper tooth entry, at all times, regardless of depth adjustment.
JD Special Harrow
The JD Special Harrow is equipped with a Tyne bar system which is fixed to the Harrow frame. Tooth depth adjustment is achieved by using the turnbuckle to pivot the S-Tynes bars into position. The JD Special 2 Row Harrow was primarily designed for use in dirt arenas such as barrel racing; and team penning, however, this Harrow has made its mark in the Dressage, Jumping, and Flat Work arenas. This Harrow is ideally suited for those on a budget or private arena facilities.

Harrow Options
JD Harrow Options provide arena groomers with various tools for all types of footing, such as the JD Ripper, JD Screen Roller, JD Paddle Wheel, and more.

Custom Design Is Available... We would Love to Work With You!
We are happy to help you custom design the harrow you need, if you don't see what you want: color, harrow design, etc, talk to John Dienhart, he loves to solve problems!

JD Water Roller
The JD Water Roller is the ultimate in all season maintenance!! In all arenas or pasture maintenance, you need to control the air pockets for winter to summer versatility. By adding the roller (water filled to achieve proper weight desired) to your Harrow, you can tighten up the surface (or compress the air out) which will allow more water to run off. The roller can be pulled by itself or in combination as a Harrow & roller. By controlling water runoff, you will have less percolation - so it will dry faster, hence you can use the arena sooner (less down time).

Consultations
John Dienhart has many years of hands on experience with arena grooming equipment, improving all types of arena issues, building all weather arena bases, and choosing the best possible footing additives available and consultations are available by phone or local on-site consultations within or near California.

We Have A Complete Line of Arena Watering Equipment Available!
West Coast Footings has an assortment of watering equipment to choose from! To our line of Water On Wheels water wagons - which are designed to be built to fit individual facility watering requirements through a selection of accessories and options. We have various watering equipment choices to fit both your budget and your planned usage. When you water, not only will your sand last longer but your horses and riders will be happier!

Order Your West Coast Footing Products Today!
Find out about pricing and options. Horse owners find their products are Top-of-the-Line and will serve you well for years and years to come! You will find the folks at West Coast Footings knowledgeable and friendly. They are happy to consult with you by phone, and look forward to your calls today!
---
Contact: "Tractor Dean" Hendrickson
9808 Oakdale Ave
Chatsworth, California 91311
Phone: 800-585-7000
Email:
Website: Click Here To Connect

---