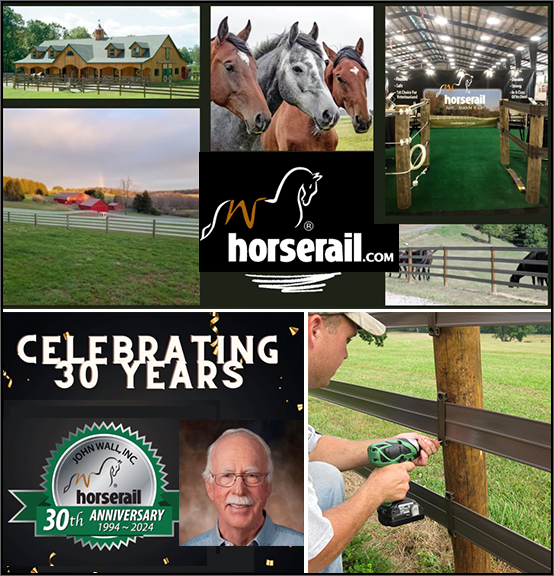 Horserail® Fencing Product Line
Horserail® is a horse fencing product line which is known for its safety and long life.



About Our Company
John Wall's knowledge on the fencing industry comes naturally. John was born and raised on a farm in New Zealand, and it was in his native land where he began working as a fencing contractor and large herd manager. In 1969, he moved to Pennsylvania, founded a fence company and promoted smooth wire fence technology throughout North America.

Through a partnership with "US Steel" (fence wire) and "Koppers Company" (treated posts), John's company grew rapidly, selling through distributors and training fence contractors throughout North America. Using new technologies, John Wall Inc. developed rail fence that stays flat, smooth and straight as a board. The company has also developed superior attachment methods that successfully hold the fence in place while lessening the chance of injury for horse and rider. These new technologies and simplified installation methods combine to offer distributors, installers and owners the safest, most reliable fencing product.

John and his staff continue to experiment and develop new products and installation techniques. The company is based in Carmichaels, PA, USA. Our products are sold through distributors worldwide.

Horserail®
The flexibility, smoothness and strength of this rail not only protects the horse and rider from injuries caused by conventional railing, it also provides for a long lasting, attractive fence that requires little maintenance. Horserail® is designed to be easily installed using the innovative and patented procedures for attaching, joining and tensioning. There is no stripping, crimping or notching needed and the end result is a properly installed fence with no exposed wires. With Horserail you get the aesthetics of post and rail (board), with the added features and benefits of:

Safety- Preferred choice of veterinarians
Appearance- Flat, smooth, straight as a board
Strength & Durability- What is strong enough?
Low Maintenance- No painting, cracking, or splintering to repair
Easy to Install- A unique, patented fence system
Economical- Lowest total cost of fence ownership
Is Horserail® Safe?
Although many options are available to today's fencing consumer, recent surveys have shown that continuous, plastic coated fence rail has the lowest reported number of injuries to animals and riders. Because we know that owners are concerned with the health and safety of their animals, we are committed to producing and distributing the safest products possible. Our fence rail products and their attachment mechanisms are designed and time tested for safety. We provide specially designed hardware for inside mounting of the fence rail, and use new bracing techniques to keep animals and people safe. Our attachment brackets fit virtually flush with the post, so there is less chance for injury. The smooth edged, rounded design of the tensioning spooler, coupled with the flexible surface of the rail ensure a safer atmosphere.

Why Should I Choose Horserail® Over Other Fencing Products?
Comparing Horserail to other materials used in fence manufacturing and other fence types again shows why Horserail "Is in a class of its own!" In fact, the cost of building a Horserail fence will usually be lower than a traditional board fence. Due to Horserail's design and strength characteristics the fence posts can be placed further apart resulting in less money spent on posts and less time installing those posts. One of the most significant features with our product is the reduced maintenance cost, with no broken boards, no splintering, no painting or mold treatment required. If needed, Horserail is easy to clean - a bit of soap and warm water and a quick spray rinse.

How Long Will The Fencing Last?
We use a large plastic supplier who blends in a UV stabilization package in the premium grade polyethylene plastic we buy, and we stand behind their products. Because of this we offer up to a 30 year limited warranty, knowing that polyethylene will usually outperform other plastics.

Will My Horses Crib On The Rail?
Horses have been known to bite or crib, but not excessively. They may bite on it, but only to the wire then they will stop. If it is a continuing occurrence - try adding electrifiable Hottop® or Hotcote® to train your horses away from the fence.

Can I Build The Fence Myself?
Yes, if you follow the directions we provide and have some practical experience, you can successfully build this fence. It may take you a little while to complete, but like anything else, with more experience you become more proficient and faster. Try to learn as much as you can before starting the project. Also, you might consider using the services of a professional installer to drive or set the posts, leaving you to finish the rail.




What Do Customers Say About Horserail®?
We have been using Horserail® products for nearly 17 years now and all fence related injuries have all but been eliminated, we have witnessed horses, such as Marasco, gallop through the fence after being spooked and come out the other side without even a scratch!
Neville Duncan - Oakland Park Stud

Safety has to come first for every farm. The fact that Horserail looks so good as well is a huge bonus! I love it and will be opening more and more paddocks at Rosemont using the Horserail product.
Anthony Mithen - Rosemont Stud

Our recovery paddocks are fenced with Horserail as safety is the first priority at our clinic; we are very happy with them and would highly recommend Horserail to anyone looking for a safe and aesthetically pleasing fence.
Mike Davies - Veterinarian/Belmont Horse Hospital

We have used Horserail exclusively on our new property, for safety, aesthetics, practicality and cost. I would not use any other product and would highly recommend it to anyone.
Gary Mudgway - Grange Thoroughbreds

Order Your Horserail® Fencing Products Today!
Not all fencing is the same! When purchasing fencing for your horses you need to consider the safety, the durability, maintenance and whether or not the fencing you select will add to the value and beauty of the property. With HorseRail® Fencing, all these needs are met- and more! For more information about our rail and wire fencing products, please contact us today to find the dealer nearest you!

---
Contact: Our Friendly Staff
440 West Greene Street
Carmichaels, Pennsylvania 15320
Phone: 724-966-9255
Email:
Website: Click Here To Connect

---