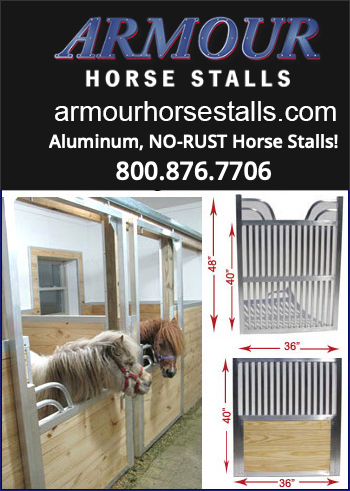 Miniature Horse Stalls By Armour Companies
Our No Rust Alluminum Miniature Horse Stalls are beautiful, affordable, and specially designed for your "Mini"s !

About Our Company
Armour manufactures a variety of aluminum horse stall doors, stall fronts, end barn doors, stable shutters and even newest to it's collection: Barn Art. Armour's Barn Components assist builders and individuals with newly built barns or renovation projects. End barn doors, shutters, horse stall doors and alike, arrive fully assembled with the necessary hardware and fasteners for lumber installation. Armour products are NOT KITS, once products are received; installation is achieved with 8-16 fasteners. Some of the Armour barn products are made with or without lumber for those with discriminating taste. Our high quality aluminum equine accessories will illuminate and ventilate any barn structure and our knowledgeable staff is trained to meet each customers needs.

Our Horse Stalls Are Alluminum "NO RUST" Stalls!
You will be impressed with the beauty, durability, functionality and long lasting protection that our durable NO RUST horse stalls have to offer and all at "factory direct" savings that will keep you smiling for many years to come!

Armour's Miniature Horse Stalls
Armour's miniature stall gates are available in three standard sizes and have the option of a straight top or unique Zephyr Gossip Top. Miniature gates are made with the same quality techniques that are used to manufacture Armour's Stall Doors, Half Dutch Doors or Gossip Gates:

Concealed welds, capped posts, predrilled hinge and latch holes, moisture drainage vents, quality 1⁄8˝ aluminum used throughout, and miter-cut channels to name a few. The aluminum pickets (bars) in the lower portion of gates are 1˝ round tubes and have a "mini-friendly˝ 1˝ between bar spacing. Miniature Stall Doors, Stall Fronts , Grilles and Dividing Partitions are available-- call us for details.

COMPLETELY ASSEMBLED LUMBER WITH ALUMINUM ALL ALUMINUM MITER-CUT FRAME CHOICE OF STRAIGHT OR GOSSIP TOP. ZINC-PLATED LATCHING & MOUNTING HARDWARE INCLUDED

What Other Products Do You Offer?
We offer a wide range of Horse Stalls! Armour manufactures stalls, dividing stall partitions, stall doors, Dutch doors and stall gates from the highest quality materials available in the American metal market. Armour believes American products should be quality, eco friendly and economical. That is why Armour offers a superior ALUMINUM horse stall and sliding barn door product that will outlast its iron counterpart and have less impact on the environment.



Order Your Armour Minature Horse Stall Products Today!
Our stall products are made of the highest quality materials to ensure longevity and are easy to maintain. We are happy to work with you to get you the stall product that works best for your needs. Don't wait call and talk to us TODAY!
---
Contact: Our Friendly Staff
1370 Saratoga Street
DeLand, Florida 32724
Phone: 800-876-7706
Email:
Website: Click Here To Connect

---