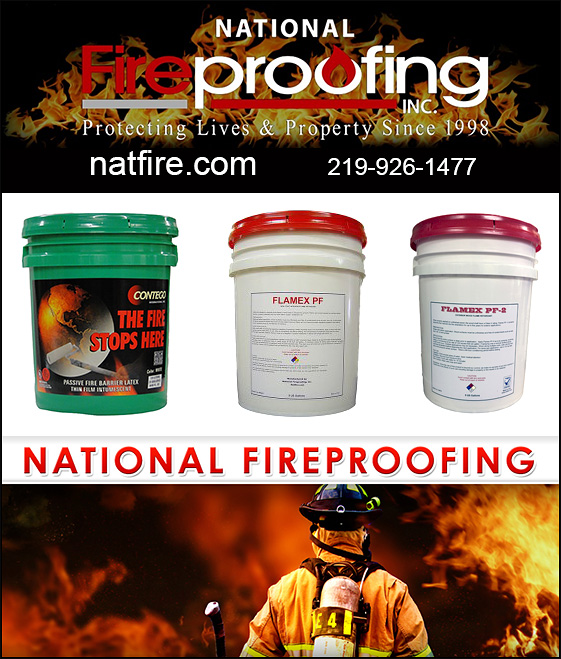 Fire Protectant Products by National Fireproofing Company, Inc.
Save your Horses and Protect your barn from fire with National Fireproofing products!




Is YOUR Barn Fireproof?
The biggest fear many horse owners have-- is fire! Fire claims the life of horses and valuable barns every year. National Fireproofing understands the concerns of horse owners and has a selection of easy to use, non-toxic and highly affective paints and sprays that can actually stop the spread of flames by developing a self extinguishing reaction! Our staff is happy to help you find the right product for your horses and barn so that when you are asleep or away from home, you can rest assured that your horses and property are as safe as possible.



About Our Company
National Fireproofing, Inc. is located in NW Indiana and is a producer and provider of fire retardant sprays and fire stopping items for business and residential shoppers. Our solutions comply with ASTM, NFPA, and UL screening specifications. We constantly invest in the advancement of our fire prevention products variety while using the aim of lowering the dangers of fire on the lowest stage attainable. Our Fire Retardants are highly successful, non-hazardous, non-toxic, and therefore are environmentally helpful.

Because A Few Extra Minutes Could Mean Life and Death To The Horses That You Love!
Our products will extinguish a small fire, but even with a larger fire, our fire retardants can add valuable and life saving minutes before your barn is fully engulfed in flames! How many times would 3-5 minutes more have been the difference between life and death to horses in a barn fire. Give your horse every chance!



Flamex PF (penetrating formula) Can Make All The Difference!
Flamex PF is a clear, highly effective post-treatment indoor fire retardant penetrant. When used on porous wood, it will provide a Class A or B rating. This product is also very effective on porous fabrics. Flamex PF penetrates the material and becomes part of it's molecular structure. When the properly treated material is subjected to an open flame, Flamex PF will reduce the flame spread and / or self-extinguish the flame . Flamex PF is non-toxic and non-hazardous to the environment and simple to apply.

Can I Use Flamex PF For My Interior Furniture, Drapes Etc?
Yes!! Flamex PF is used for interior applications such as: draperies, furniture, paper, straw, redwood, cedar, Douglas fir, etc. When used on textiles, we recommend retreatment every 4-5 years. This product is used widely in schools, restaurants, hotels, hospitals, homes and many other commercial and residential buildings. One coat system. All testing was performed using single-coated materials. Class "A" rated.

Flamex PF-II-- Stopping Little Fires-- BEFORE They Start
Flamex PF-II can help small fires, like a smoldering cigarette near a treated wall, to extinguish, before it erupts into a full flame!

Laboratory tested for exterior durability in accordance with ASTM D5401.
Will not alter the structural integrity of wood as FR pressure treated wood does.
Functions as a wood preservative.
Protects exterior and interior woods such as: covered bridges, cedar shake roof shingles, decking, and structural lumber, utility poles, etc.
Once cured for 48 hours, the treated material may be painted with most latex-based paints.
Product Description:

Flamex PF-2 fire retardant spray is a water-based, post-treatment. Flamex PF-2 is a interior/exterior fire retardant and wood preservative that penetrates the wood pores and bonds with the cellular structure. The penetrant protects the substrate by developing a self- extinguishing reaction in contact with an open flame. When properly applied, the wood shall have a Class A rating. Flamex PF-2 contains polymers that maintain the fire retardation for up to five years for exterior applications. Flamex PF-2 is non-toxic, non-combustible, non-carcinogenic, easy to apply, and contains no PDBE's.

Flamex PF-2 is a Class A rated flame retardant with a Flame Spread of 25 and Smoke Developed of 70 on wood. Since it penetrates and forms a molecular bond with the substrate, the life of the application shall be indefinite for most interior applications. For exterior applications, it is recommended that Flamex PF-2 be reapplied every 3 – 5 years.

Contego Intrumescent Paint... The Closet Thing To A Round-The-Clock Fireman In Your Barn!
Contego Intumescent Paint is a High Solids, full-bodied water-based acrylic latex intumescent paint designed to protect a wide range of building materials including structural steel, aluminum, dimensional lumber, manufactured wood products, trusses, drywall, spray polyurethane foam insulation, HDPE wall panels, concrete, plaster, solid core doors and more. This product may also be used for conduit, decking and cladding. Can achieve up to a 3 hour rating on steel structure and a 2 hour rating on wood.

How Do I Apply Contego?
Contego High Solids is designed to be applied by spray application and should only be applied by brush or roller for touch up purposes only. Contego High Solids should not be applied when the relative humidity exceeds 80% or the surface to be coated is less than 50 F (10° C) or less than 15 F (9° C) above the current or forecasted dew point. The product is best applied when ambient temperatures are between 50 F (10° C) and 95 F (35° C). Once applied and cured, lower or higher temperatures should not be a problem. On combustible substrates such as dimensional lumber, manufactured wood (Oriented Strand Board, Particle Board, Plywood, etc.), Polyurethane foam, and drywall (GWB) a primer is not required but may be useful if:

Dimensional Lumber The wood is very old and/or dry and would likely absorb too much of the Contego coating.

Manufactured Wood The substrate is very old and/or dry or if the resin content is unusually high.

Polyurethane Foam The foam is soy-based or made from other organics that emit a vegetable oil.

Drywall (GWB) The drywall has been previously painted with oil-based (alkyd) paint or if you're not sure.

Note: On structural steel and other metals such as aluminum, copper, brass, or composites, – a primer is always required.

No exceptions have been observed regarding what kind or brand of primer can be used. Even inexpensive shop primer has shown no incompatibilities. However, doing a test patch is always recommended with any new combinations of primer and our product since it is impossible to have tested every product from every manufacturer.

So What Is The Drying and Curing Time?
As with any water-based acrylic latex coating, drying time is always a function of ambient temperature, ambient humidity and how thickly the coating was applied. However, at 60°F (15° C) with a relative humidity of 70%, a 20 mil (500p.) wet coat should be dry to touch within 3 hours, completely dry in 6 hours and dried hard enough to handle in 8 hours. While our specifications call for a 72 hour cure time, the product(Intumescent Latex Paint) is active as soon as it is hard dried.


DO NOT apply additional coats until you are sure the underlying coats are completely dry. Applying additional coats on top of product that still has moisture may cause the finish to crack and, if enough moisture is trapped under a surface film, blistering and delamination can occur. A top coat is recommended and permitted after the total amount of required thickness of Contego has been applied and completely dried.

Product Advantages:

• Non-toxic, nondermatic and noncarcinogenic acrylic latex.
• Smooth, thin, architectural grade finish.
• Top coat with a wide range of paints including alkyds, acrylics, epoxy or polyurethane.
• Big Plus – with HS apply half as many coats with the same coverage.
• Exceptional protection from heat and fire.
• Can be pre-applied to steel and other materials during fabrication and is easy to repair.
• Designed specifically for sprayer application. No special equipment is required. Any qualified contractor can apply Intumescent Latex Paint.
• Interior or exterior application (use an exterior grade top coat for exterior applications).
• Economically priced.
• Fast drying and curing times.
• Cleans up with soap and water.
• 24 month shelf life. Does not need to be periodically reapplied.

Are All Of Your Products Non-Toxic Once They Are Dry?
Yes, all of our products are non-toxic and minimal odor when applied. We understand that animals chew on wood, so after our products have dried they are all completely non-toxic.

How Long Does It Take To Dry?
Every climate is a little different. Drying depends on humidity level and air temperature. Most situations would have a dry time of just within 24 hours..

Does It Change The Color Of The Paint It Is Sprayed On?
If the surface has already been painted, you must use either a fire retardant paint or a fire retardant varnish over it Our fire retardant water based varnish is clear and our fire retardant paint is either black or white (which can be tinted).

How Long Does This Protectant Last?
For interior applications, our fire retardant penetrant coatings are permanent. Our top coat paint and varnish lasts 10 – 15 years. Our exterior coating will last 5 years and then must be reapplied.

Can I Paint Another Color Over The White Contego?
Yes... just allow for proper drying time and you can paint over any color that you like!

Keep Fire At Bay at YOUR Barn and Order Today!
Nothing can replace your horses! Keep your barn or structure safe from the flames with National Fireproofing! Our products save thousands of structures and lives every year. The life you save-- may be your own-- or your horses! For more information about our products and to place your order, please contact us today and let us help you keep your horses safe!

---
Contact: Our Friendly Staff
420 Wagner Road
Porter, Indiana 46304
Phone: (219) 926-1477
Email:
Website: Click Here To Connect

---