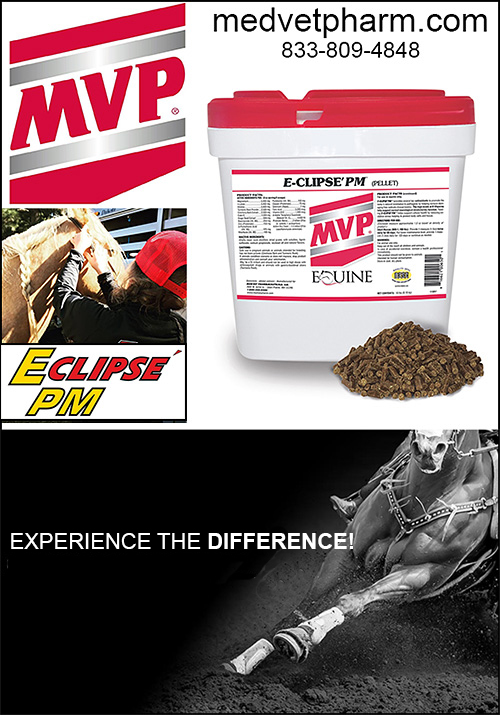 E'clipsePM™ By Med-Vet Pharmaceuticals (MVP)
Eclipse' PM™ provides high level nutritional support recommended to be used in conjunction with an FDA approved, EPM drug treatment of choice during and up to 120 days post treatment or as needed.



About Med-Vet Pharmaceutical
Med-Vet Pharmaceuticals (MVP) has been providing horse owners of all disciplines quality equine health and nutritional products since 1972 - Over 4 decades! Quality products, competitive pricing and outstanding service cornerstone's our goal for "100 % Customer Satisfaction!" While MVP offers a wide variety of products that can be given to any horse, we specialize in supplements for performance horse. MVP supplements can assist with a variety of different functions related to your horse's health—from joint support to calming supplements; gastric support, and everything in between. Whatever extra nutrition your horse may need, MVP has the product to aid in that extra support. Many customers love how quickly they've seen improvements and experienced a difference in their horse.!

Is It True That Med Vet Pharmaceuticals Is An Audited Member of the NASC?
(National Animal Supplement Council)
YES! That means that our formulas are actually tested and PROVEN to have the quantity and quality of ingredients that we claim-- this is an expensive and rigorous process that many companies would run from-- but we welcome! Formula integrity, along with the highest level of quality ingredients has been the mission of MVP products the past 20 years. MVP products are marketed in both the USA and International marketplace. Most quality horse catalogs (ValleyVet, SmartpakEquine, Stateline Tack, United Vet Equine, and others carry MVP products. "MVP - Guarantees 100% customer satisfaction!" Member of National Animal Supplement Council (NASC)

So What Exactly IS EPM?
Equine Protozoal Myeloencephalitis (EPM) can be difficult to diagnose because its signs often mimic other health problems in the horse and signs can range from mild to severe. More than 50 percent of horses in the United States may have been exposed to the organism that causes EPM. The primary causative organism is a protozoal parasite called Sarcocystis neurona, and with much less frequency, another protozoal parasite—Neospora hughesi can also cause this condition Fortunately, only a very small percentage of horses which have been exposed to either of these organisms will ever develop the disease we call EPM.The disease is not transmitted from horse to horse. Rather, the organism is spread by the definitive host, the opossum, which acquires the organism from cats, raccoons, skunks and armadillos and sea otters. The infective stage of the organism (the sporocysts) is passed in the opossum's feces. The horse comes into contact with the infective sporocysts while grazing or eating contaminated feed or drinking water. The definitive or intermediate hosts for Neospora hughesi have not yet been identified. Once ingested, the sporocysts migrate from the intestinal tract into the bloodstream and cross the blood/brain barrier. There they begin to attack the horse's central nervous system. The onset of the disease may be slow or sudden. If left undiagnosed and untreated, EPM can cause devastating and lasting neurological damage.



What SYMPTOMS Should I Look For?
The clinical signs of EPM can be quite varied. Clinical signs are usually asymmetrical (not the same on both sides of the horse). Actual signs may depend on the severity and location of the lesions that develop in the brain, brain stem or spinal cord.
Signs may include:
• Ataxia (incoordination), spasticity (stiff, stilted movements), abnormal gait or lameness;
• Incoordination and weakness, which worsens when going up or down slopes or when head is elevated;
• Muscle atrophy, most noticeable along the topline or in the large muscles of the hindquarters, but can sometimes involve the muscles of the face or front limbs;
• Paralysis of muscles of the eyes, face or mouth, evident by drooping eyes, ears or lips;
• Difficulty swallowing;
• Seizures or collapse (rarely);
• Abnormal sweating;
• Loss of sensation along the face, neck or body;
• Head tilt with poor balance; horse may assume a splay-footed stance or lean against stall walls for support.

How Can Eclipse' PM™ Help My Horse With EPM?
"EPM is an extremely challenging, insidious and unbiased disease that can mildly to severely affect a high percentage of performance horses in my practice and often goes undiagnosed. Full recovery can often be compromised by lack of added immune and neurological support during and post use of proper drug treatment. It's not unusual to experience 30% or more relapses. MVP's new Eclipse' PM™ is a perfect fit for my treatment and recovery program when dealing with the numerous EPM cases I see each year, especially with the Natural Vitamin E for nerve and muscle support! I have used MVP products extensively in my practice for several years and trust the science, quality and integrity of MVP products to do their job as designed" states Dr. Ford DVM, a highly recognized Performance Horse Specialist from Houston, TX

How Do I Use Eclipse' PM™ ?
ECLIPSE' PM™ is recommended to be used in conjunction with FDA approved EPM drug treatments during and up to 120 days post treatment (or as needed) for neurological and immune support. $106.50 for a six pound tub that can last 32 - 64 days.

What Do Horse Owners Say About Eclipse' PM™ ?

I started my gelding on Eclipse PM as he was having neurological deficits in his hind quarters - short stepping, unable to stay collected and would cross-fire. After just a short time of feeding Eclipse'PM he's gained better control and is reaching up under himself better. I'm in awe of the quick results and anticipate getting him back to peak performance for rodeos!!Thanks for developing such great products that produce results and my horses love to eat them!!
Dawn Barrett

My Vet can hardly believe it! My gelding had been experiencing weakness in his hind end for over a year. Vets felt it was a stifle injury but I felt it was more as the weakness seemed to travel throughout entire hind quarters. Throughout this time he became very sensitive to light as well as touching him around the face. Treated him for Lymes which helped a little but nothing significant. I finally convinced my vet to test for EPM, his numbers were quite high/positive, indicative of EPM. We started him on a drug regiment to treat for EPM along with MVP's new Eclipse'PM for nutritional support. We were hoping at best to get him back to normal to where he was comfortable and happy. I have been able to start riding him again which I never thought would be possible (my vet can hardly believe it either). He is our first home bred so he holds a very special place in our hearts – I couldn't be happier with the results we have experienced with Eclipse'PM, I don't feel he would've had as full of a recovery without the added nutritional support.
Alexis

It's been a God-send! We started using EClipse'PM back in March of this year on a problematic/repeating EPM horse, that we were continually having to doctor with the approved drugs we have available to treat full blown EPM. Prior to using E-Clipse'PM,this horse was constantly challenged with the typical symptoms (weight loss, muscle loss, lack of coordination). He now stays in shape, maintains his muscle and feels great all the time
and ready for the Fall Rodeo season! Thank you MVP for this product, it's been a godsend, this horse will never be without it in it's feed

Chuck Dunn


My horse seems to be doing well on this supplement. She had very high titer level upon initial lab work but once started on this supplements she has maintained weight, hasn't had any flare ups through treatment and has had slight improvements in mobility. will continue with this!

Amanda
Order Your MVP Products Today!
No one outperforms MVP! MVP is carried by most distributors that you will find, in your own catalogs. United Vet Equine, ValleyVet, Smart Pak Equine, and more carrying many MVP products. Just so you know, you can find the entire line of MVP products at United Vet Equine.
---
Contact: Our Friendly Staff
14101 W. 62nd Street
Eden Prairie, Minnesota 55346
Phone: 800-328-6652
Email:
Website: Click Here To Connect

---