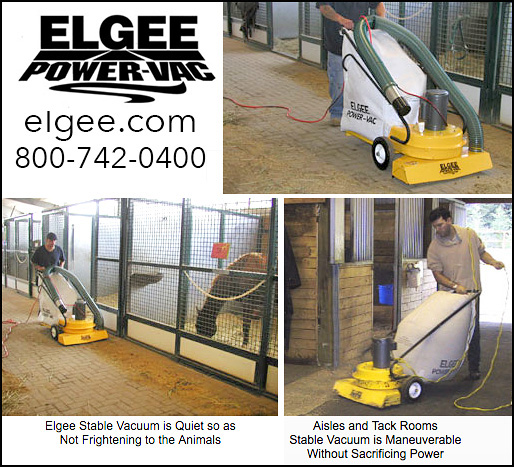 ELGEE Manufacturing
You'll never go back to the inconvenience of a broom- with all it's dust and effort-- again! ELGEE makes aisle clean up a pleasure!



Why Depend On ELGEE For My Barn?
Brooms and small vacuums are inefficient and can stir up dust clouding the air which is not healthy for staff, riders and the animals. Additionally, nails from horse shoes and other metal objects can be dangerous. At Elgee, we understand your needs and can offer the appropriate Cleaning Solution using our Elgee Power Vacuum driven by a powerful 1.5 HP Baldor Electric Motor, 1HP Battery Motor, or the Honda and Briggs & Stratton Gas Motors.



ELGEE Can Save You Money and Keep Clients Happy!
Running a barn is a tough, competitive business! There is always another barn advertising or soliciting for your horses to "come here"! Having clean, beautiful barn is essential to keeping clients, boarders and trainers happy! A Clean Environment is also essential to Prevent Injury and to Ensure Healthy Surroundings.

Many horses, and people, are allergic to dust and allergens associated with hay, shavings, manure and debris that is frequently found in the barn aisle, tack rooms and common areas. Maintaining your facilities for your boarders and patrons is very important for your business— it shows you care about every detail and that will translate to greater care and comfort for both horse and rider.

Is ELGEE Tax Deductable?
If you are running any kind of a business that brings you an income from horses— then the answer is YES! Whether you are a training stable, boarding stable, horse breeding operation, or professional horse person who shows as part of a career, the ELGEE is an invaluable piece of equipment that IS tax deductible under those circumstances.

ELGEE is Dependable, Easy To Use, and Cost Efficient!
Whether the barn or stable is at a small private facility or at a race track, straw, dried caked debris and litter needs to be regularly addressed but it can be time consuming. So the equipment you use must meet your cleaning needs and must be dependable, durable and cost efficient. ELGEE meets all those qualifications! The time it will save you and the beautiful results it offers will more than compensate for the initial cost. You'll never want to be without your ELGEE once you have one!

ELGEE is The Cleaning Solution To The "Barn Aisle Blues"...
Electric, Battery, or Gas Powered Models

Pick up sawdust, straw, grains, manure chips, metals, glass, etc.
Attach the Magnetic Bar Assembly for further collection of metal filings, nails, etc.
Using the Brush Assembly, loosen up dried, caked debris for easier pick up.
With a simple activation, increase the suction when using the Instant Action Hose with the Auto Baffle.
Instant Action Hose reaches into corners, tight areas, hard to reach areas without stopping the unit or switching out parts. Simply pull the hose wand out of the on-board holster and place the hose nozzle where needed.
Ideal on Various Floor Surfaces: Concrete, Wood, Rubber Mat, Pavers
Walk Behind unit, 54" long front to back handle bar; easy to operate and maneuver zero turning radius – in stalls, corridors, storage rooms, tack rooms, etc.
30" & 40" Wide Models enabling wide sweep coverage.
Need narrow sweep width, the 23" Wide model is a customized sweep width and available for Electric Models.
Durable metal housing, frame and impeller can take a beating with most debris and litter encountered.
Impeller design prevents binding of impeller shaft by string, plastic wrap, and alike.
Is ELGEE Quiet?
You bet! Despite all that power, Elgee Stable Vacuum is Quiet so as to not frighten your horses or animals. It's soothing "hum" will soon go almost unnoticed and become a regular part of their "barn life" routine.



Why Is ELGEE Better Than a Broom?
Really? We actually think the answer is pretty obvious and for those of you using a broom now, you know that a broom takes time, is dusty, and labor intensive and having to drag along a wheeled disposal container. Brushing the litter onto the loading dock or out onto the ground solves your immediate need but not very efficient. All of which adds to manual steps, overhead and time.

The Elgee Power-Vac:

proven to be 12 times faster than using a manual broom .
reduces the manual effort thus saving time and money .
provides wide surface cleaning, and with the attached hose, get into tight areas and corners.
provides one cleaning unit for stalls, tack rooms, aisles or alleyways, etc.
picks up more debris with its large capacity collection bag (11 cu ft) .
easily empty debris with zipper collection bag.
controls dust with the screened vent filtered collection bag (not recommended for fine dust or powdery dirt) .
requires minimal maintenance
relatively quiet so as not to spook the horses.
Is ELGEE Easy For Women To Operate?
Yes… we know that many barn managers, trainers and owners are women! Elgee Vacuums are rugged yet light weight engineered with easy tilting, ergonomically designed with zero turning radius for tight corners.

Which ELGEE Model Is Most Popular For Barns?
The model 634-E (1.5HP Electric Vacuum with hose) is the most popular for many of our barn owners and stable managers. Based on your specific needs and environment, one of the other Power Vac models may serve your needs. Visit our Power-Vac Horse Stable Solutions page or visit the Power Vacuum Description page. We are happy to help you with questions….

What Do Horse Barn Owners Say About ELGEE?
Dear Elgee:
The Elgee electric Power-Vac has been a wonderful tool for our large commercial horse-boarding facility. Our barn aisles have rubber safety mats installed over concrete. During the day these mats collect wet sawdust, manure chunks, and long pieces of hay that are very difficult to sweep up with a broom. Our Power-Vac handles everything beautifully! It is easy to maneuver around the barn, it fits through doorways, and it is significantly quieter and cleaner than a blower. Not only does our sturdy yellow vacuum help use keep our barn looking pristine, we save at least 30 minutes a day in labor as well. Highly recommended for horse barns!
Rebecca C. Ph.D. Redmond, WA - Simpatico Stables

Dear Elgee:
Elgee's Power Vac has allowed us to keep DevonWood Equestrian Centre neat and tidy on a regular basis. After our morning feeding and stall cleaning, the staff used the Power Vac to capture all the shavings and grasses that have ended up in the aisle. This is an easy endeavor that requires less that 10 minutes per aisle to vacuum (300 ft long) and makes the facility look especially presentable for our boarders in the morning. The low noise factor of the Power Vac allows us to use it even while lessons are being given later in the day. Best of all, the reliability of this unit has been fabulous and the support from Elgee in providing accessories has been exceptional! This machine saves us hours of tedious labor and gets us up and open for business quickly!
Ginny R.-- OR - DEVONWOOD EQUESTRIAN CENTRE, LLC

Order Your ELGEE By Calling ELGEE and Talking To Us Today!
Thank you for selecting one of our vacuums or sweepers. Because Elgee's goal is customer satisfaction, Elgee wants to ensure that you select and purchase the correct product and configuration for your cleaning solutions. Consequently, we believe it important for you to talk with one of our sales associates when placing an order; thus no on-line ordering. We want to here about YOUR horse operation and learn about your barns. Call us today and we will answer all your questions and help you get the best ELGEE for your barn!

---
Contact: Our Friendly Staff
225 Stirling Road
Warren, New Jersey 07059
Phone: 1-800-742-0400
Email:
Website: Click Here To Connect

---