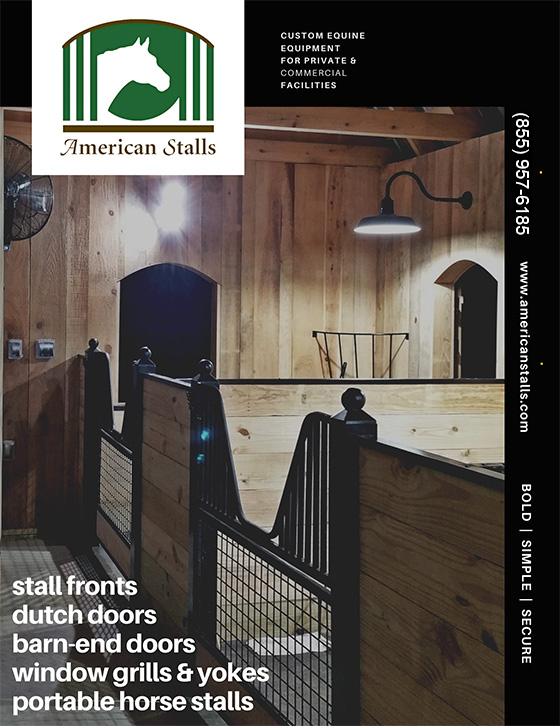 American Stalls, LLC

American Stalls has the quality, durability, affordability and customer service that horse owners across America are looking for!



About American Stalls 

American Stalls began building horse stall equipment in 2006 when a US-based horse show approached our family's steel business to build 1,500 horse stalls. Ever since, we have worked with thousands of barns across North America – building horse stall equipment that stands the test of time. Horse stalls are one of the largest capital investments that your business will make toward your horses' safety and facility's financial health. This is why we design and build equipment that fits seamlessly with your day-to-day life. Our equipment is designed for horse people by horse people. Horse stalls are deceptively simple. They require a firm understanding of steel fabrication, engineering, raw materials, and the know how of optimizing a barn's unique environment. We share our expertise by building quality horse stall equipment that is sure to impress one's friends, family, and customers. Most importantly, our American Stalls equine equipment will serve its primary function – to safely house horses for years to come.



What Sets American Stalls Apart From Other Stall Companies? 

American Stalls provides the reliability and professionalism of a large corporate business, but the personalized customer service of a small family business. American Stalls, a family-owned and operated company, is one of four total family businesses. American Stalls' ownership has 35 years of experience in the global steel business – supplying products to the construction, steel making, mining, electrical, and oil refinery industries.

How Is The Customer Service At American Stalls?
Second to none! At American Stalls, we pride ourselves in mixing our corporate-style professionalism with our concierge-style customer experience. Our team heavily focuses on building personal, meaningful relationships with our clients. When you contact our team, our team member will do our best to get to know you, your organization, your horses, and everything in between. By the end of the process, we hope that our clients feel as though they are part of the "American Stalls family."

Our Custom Stall Equipment Options
American Stalls' permanent horse stalls can be seen at every type of facility – everywhere from a private 4-stall barn to a 1,500 facility HITS Horse Shows.

As horse people, we understand that each barn and equine operations differ in style and preferences. This includes differences in aesthetics, feed preferences, water preferences, and how different barn layouts.

That is why our stall equipment is fully custom built to seamlessly fit into your day-to-day lifestyle. Our custom manufacturing includes products such as stall fronts, stall partitions, window grills and yokes, dutch doors, barn-end doors, wash bays, grooming bays, tack room components, and more. 


Is It True That The Portable Horse Stalls Offered By American Stalls Are The Best In The Industry? 

YES! Since the beginning, we strived to build portable horse stalls that blend with a facility's permanent horse stalls. The goal was to build portable horse stalls that reflect our customers' high standards and reputations.

Our Portable Horse Stalls can be found at the best equestrian facilities throughout the world. Our portable horse stalls lead the industry because of our commitment to design, durability, and safety. All of our Show Series portable stalls feature heavy-duty steel components, premium craftsmanship, and mindful design that promotes safety. Specifications include:

Galvanized steel and a non-toxic powder coat finish provide superior rust protection for 15+ years
All steel bars mindfully spaced 2.25″ apart for optimal safety and ventilation.
Heavy-duty steel that withstands any impact from horses and heavy machine
40oz vinyl that withstands kicks and other impac
Vinyl is UV-stabilized so you can set up your stalls indoors or outdoors.

Note: Although they are termed "portable" and "temporary," our Show Series horse stalls are built to last and safely house your horses. Rest assured, your American Stalls portable horse stalls will serve your horse and facility for years to

What If I Need Miniature Horse Stalls?
American Stalls offers two stall options for our miniature horse friends. 

The first option is to build a fully custom, permanent miniature horse stall. This means fully custom stall fronts and partitions that comfortably house your miniature horses.The second option is a portable miniature horse stalls option. It is a great option both for the private barn owner to the miniature horse breeder to the veterinarian.

Is It True That American Horse Stalls Offers the FIRST EVER Portable Stalls For Miniature Horses?
YES! Our Classic Show Series MINI Horse Stalls and Elite Show Series MINI Horse Stalls are the first ever portable horse stalls specifically made for miniature horses – featuring heavy-duty steel components and mindful design. Our Classic MINI stalls are sure to be your miniature horse's favorite home. Our Show Series MINI stalls are the strongest portable stalls in the equine industry! Our portable stalls are known to deliver safety, durability, and beautiful design for any barn environment.
• Galvanized steel and a non-toxic powder coat finish provide superior rust protection for 15+ years.
• All steel bars mindfully spaced 2″ apart for optimal safety and ventilation.
• We use the same steel thickness on our MINI stalls as our larger stalls – ensuring an exceptionally strong stall.
• 40oz vinyl that withstands any impact
• Vinyl is UV stabilized so you can set up your stalls indoors or outdoors.

Are The Portable Stalls Just As Secure As Permanent Stalls? 

The term "portable" simply refers to the ability to install and take down your horse stalls. Our "Portable" Horse Stalls are built with 14GA and 16GA steel - among other high-quality raw materials. Rest assured, our portable horse stalls are a very safe and durable option for you and your barn. 


How Are Portable Stalls Used? 

Portable stalls have been used by our many customers in unique ways. Many of our Portable Stalls have been put into existing barns and have created temporary holding stalls in indoor arenas so that you don't have to keep trudging back and forth to the barn between lessons or working horses. However, the most common use for our portable horse stalls are to house visiting horses at large horse shows.
 


What Is American Stalls "3 Part Customer Pledge"?

Our customers are at the heart of our operations at American Stalls. Our dedication to their complete satisfaction is outlined below. 

· Quality- We start the process by using the finest raw materials available. All of our steel is cleaned and purified prior to galvanization. After galvanization, our stalls are finished with powder coat finishes as per our customer finishes. Our stall equipment is thoroughly inspected at multiple stages. This means fully complete welds, no sharp corners, and smooth powder coat finishes.

Attention To Detail Is What Sets American Stalls Apart!
It is what produces stunning American Stalls equine equipment:

Safety- Your horses safety is our number one priority!! Our stalls have smooth corners and edges that help prevent injuries. Our recessed latches remain safely tucked in and hidden the playful ones. All grillwork is evenly spaced at no more than 3" apart. This helps prevent horses from getting stuck or cast. Lastly, we work with our customers to design stall equipment that will work best for their horses' specific habits and behaviors. At American Stalls, we strive to produce stalls with the safety of your horse in mind.

·

Satisfaction- We want to manufacture stall equipment that you will be proud to showcase to your friends and family.

Can I Truly Get CUSTOMIZED Stalls With American Horse Stalls?
YES! At American Stalls, we have a saying, "If you can dream it, we can build it." Our quality control and safety measures further ensure your satisfaction. Smooth lines, warm color selections and diligent finishes are just the beginning at American Stalls. We aim to provide you a personalized, step by step consultation. From design questions, color selection and technical drawings; to production and delivery, we are here for you.


What Do People Say About American Stalls? 


SB EQUINE WOODBINE, MD

Thank you American Stalls for the track style yoke door. Our pony, Luna, is very appreciative of the ability to keep an eye on the barn, now that she can hang her head out. Your product and customer service are top notch. Giselle went out of her way to personally deliver the door to my farm. I recommend your company to anyone looking for quality products and excellent service. Thank you again!


Samantha Bilodeau
 
ORLEANS COUNTY 4H CORNELL UNIVERSITY, ALBION, NY

We just set up our new stalls for our 4-H Horse Camp and the kids and parents all loved them. They were very excited about the bars allowing for plenty of airflow as our old portable stalls were solid all the way to the top. The new stalls went together easier too! The presenters at the horse camp were so impressed they asked where we got the stalls from and are thinking about purchasing some of their own.


Robert B.
 
VIKING FARM MILAN, NY

I have sent you a couple of pictures of the stall. It is in my farrier stall, and it is working out really well. I have it attached it to the back wall so the horse can use the window. You have been very helpful, and easy to deal with. I would recommend your stalls to anybody who needs a temporary stall. Thanks again.

Call American Stalls TODAY!

You'll love everything from our product quality to our world class customer service. We guarantee your complete satisfaction! We have several options and would love to hear about your horses! Call and talk to Yash Balasaria today!


---
Contact: Yash Balasaria
10625 Jones Street Unit # 101A
Fairfax, Virginia 22030
Phone: 703-563-9935
Email:
Website: Click Here To Connect

---