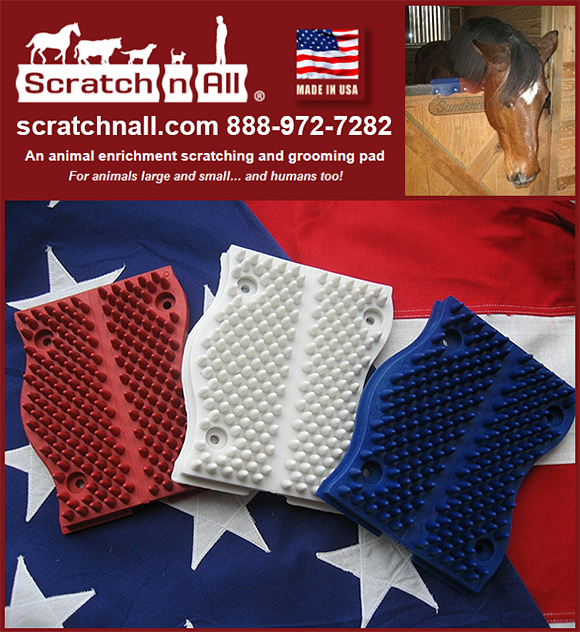 Scratch n All®
Scratch n All® offers a safe and effective way of self-scratching so that the skin, face and especially the eyes are protected, yet satisfied! It touches many key acupressure points... and offers complete relief to your horses- or barn animals!




About Cynthia— Inventor of Scratch nAll®
Devastating Details Of Husband's Will Leads To Invention Of Brilliantly Practical Pet Product:

Crushing revelation in husband's Will left senior entrepreneur financially challenged - but determined to succeed. By combining a lifelong passion for animals with her keen awareness of their seasonal and environmental 'itchiness', this self-made entrepreneur invented a brilliantly practical and safe solution to a challenging problem that plagues horses and donkeys, dogs and cats, goats and pigs, lynx and lions ... and almost everything in between.

Cynthia, the inventor of Scratch n All®, has enjoyed the company of animals her entire life. As part of her awareness of needs and behaviors common to all animals, she knows nearly all engage in self-grooming and scratching behaviors; hence, Scratch n All® was originally born out of the to provide a convenient, safe surface for all animals to satisfy that basic "feel-good" feeling.

To return a portion of that animal devotion, Cynthia gives her time and talents to assist various transport groups which are dedicated to rescuing domestic animals and pets from the certain death that awaits them at high-kill shelters. She and her daughter traveled to Mississippi after Hurricane Katrina to aid in animal rescue efforts there, helping to save the lives of many displaced and abandoned pets affected by the storm's immediate devastation and prolonged after effects. These efforts arise from her understanding that all animals, indeed all of nature, are gifts with benefits essential to both our well-being and basic survival. She agrees that when man tugs at a single thing it nature, it is connected to the rest of the world.



How Long Will My Scratch n All® Last?
How Long Will it Last is a question that is frequently asked. The answer is "that depends." The material is extremely durable and is stable in very high and very low temperatures. This is a product that will seldom need to be replaced so purchasing for the long haul can be considered a good investment. How many animals will use it, how often will it be used, how large are the animals, etc. are factors that need to be taken into consideration. Generally speaking, this product should last and be enjoyed for many years to come. This product is built to last and it is well worth the investment.
Your animal probably has several spots where it scratches. Put a few in each spot. Stack them high or spread them wide. Your animal will find satisfaction and enrichment.

Why Should I Be Concerned About Helping My Horses Or Barn Animals To Scratch?
Because you love your horse and because scratching and grooming is a self-enriching activity enjoyed by all animals, they will rub on any convenient surface or object— even YOU! Door jambs, furniture and posts soon show wear and may even break or splinter; creating rough edges and sharp points that could puncture the skin or cause other serious injuries. The Scratch n All® pad can help prevent injuries to pets and livestock and damage to structures.




Is Scratch n All® Safe?
When compared to the competition, Scratch n All® offers a safe and effective way of self-scratching so that the skin, face and especially the eyes are not harmed. Even though it's very durable, the small nubs on the pad are flexible which are comfortable, satisfying and non-irritating to the animal and it touches many key acupressure points. Compare closely as other scratchers have protrusions which are set far apart, some of which appear to be 1" long. Your animals' eyes are at great risk when these protrusions bend and snap back quickly. Scratch n All® is not made of hard plastic with hard ridges nor does it require heat in order to bend. Scratching on a rigid object can cause baldness as well as bleeding.

Can Scratch n All® Help My Horse On Stall Rest?
Scratch n All® is an animal "enrichment" product. Is your horse on stall rest? As you know they can get very depressed, anxious and particularly miss the other horses, and being groomed by those horses, which is important to them. The Scratch n All® does not replace a horse's best-friends' grooming it but it does enable the horse to groom itself to a point simulating normal herd behavior and thus alleviate some of their distress while being stalled. Consider lining 1 or 2 walls, horizontally at shoulder height and a 1" space in between, where your horse can walk by and scratch its face, neck, shoulder, barrel and rump.

Can I Install Scratch n All® Outdoors Too?
You bet. Posts, fencing, trees can all have a Scratch n All attached— anywhere that can safely take the pressure of an animal rubbing on it — without causing harm. Scratch n All is stable at very high and very low temperatures.

Is It Easy To Install?
Absolutely!! Each 11 oz., 5" x 6" x 1" pad comes with four rust-proof, stainless steel mounting screws and washers to firmly and safely attach the pads to nearly any solid surface. The folding V-notch on the rear of the pad also acts as a channel that prevents moisture from collecting under the Scratch n All® in flat applications which helps protect the mounting surfaces from water damage.

Can I Control The Size of My Scratch n All ® Grooming Spot?
Totally!! The unique four-sided, curved, interlocking design lets you create a grooming surface as large or small as needed. The pads can be mounted individually or in groups flat on walls or corners. A special notched design allows pads to be folded on a 90 degree angle for installation on corners. Your animal probably has several spots where it scratches. Put a few in each spot. Stack them high or spread them wide. Your animal will find satisfaction and enrichment.
'
What If I Have Animals With Sensitive Skin? SOFT TOUCH Is The Answer!
Our MILK Color is softer than than the other colors. If you If your animal has sensitive skin or if you have a small animal, choosing the " Soft Touch" is an excellent choice. It is also a good and safe choice if you have an animal who has suffered an eye injury and wants to rub against something for relief.

What Do People Say About Their Scratch n All® Pads?

I have used the Scratch n All® product for more than 6 years and I cannot say enough good things about it. Durable, satisfying and enriching, my critters love the time spent scratching themselves - and my worry about them rubbing on areas that are not suitable are no more. It is an investment in my animals well being that I am happy to make. Thank you for your vision in creating this wonderful product! - Maria K.

My horses love the scratch n all patch pads. I put the pads where the horses can access the pads with great satisfaction. Its amazing how the horses know what they are for. Very happy with the scratch n all that I had to buy more. Happy horse, happy owner. - SueAnn

I bought my first (4) last year and my mare loves them. I waited until they went on sale again and purchased another (12). If I could afford more I would have bought about 20 or so more to make large scratching areas for my horses. They do not pull out manes or tails on these and the horses seek them out. I love the handwritten notes. All the hardware comes with them and it's all high quality. — Sarah

Having tried other products, I can honestly say this is the best of its kind by far. The little nubs are just slightly pliable which makes them relieve itches without breaking the horse's skin. Also, the pads are very durable, no chance of them being destroyed by a bored horse! Highly recommend. - Elyse

Do You Support an Animal Rescue Organization or Volunteer At One?
Scratch n All has a fabulous fundraising opportunity. It's SO simple, done online, requires very little effort on the part of the organization and reaps good income. For more information on this, please contact us directly by calling 1-888-972-7282 (1-888-9-SCRATCH)

Scratch n All is made in the USA, and is FDA compliant.

So How Much Does Scratch n All ® Cost and Where Can I Order?
The Suggested Retail Price is $15.99 and the cost depends on the dealers. It is important to note that the quality will never be sacrificed for price. You will be greatly impressed with the quality when picking up and touching Scratch n All. Tiered pricing can be found so everyone can afford to give their horses, donkeys, or farm animals a safe, affordable, fun way to scratch away their itches and stress. Order Scratch n All directly at scratchnall.com or online at Schneiders Saddlery! Local dealers can be found on the "Buy Locally" page of the website. The company uses no distributors, sells directly to wholesalers and retail inquires are most welcome. Feed stores will do well because Scratch n All satisfies the need for so many different animals.

---
Contact: Cynthia
P.O. Box 92
Dillsburg, Pennsylvania 17019
Phone: 1-888-9-SCRATCH (972-7282)
Email:
Website: Click Here To Connect

---