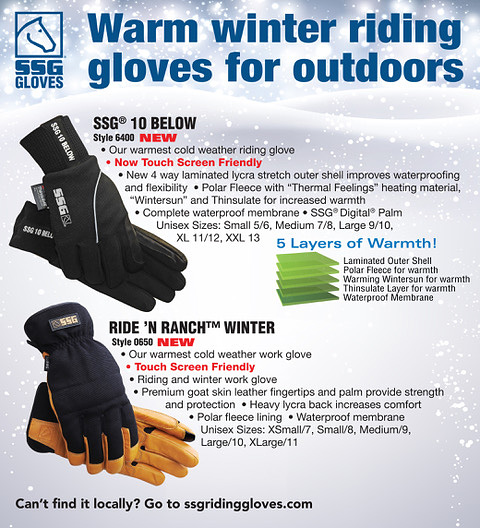 SSG Riding Gloves For Every Riding Discipline!
SSG Riding Gloves has a variety of gloves sure to match your individual needs.



About Our Company
Ed James started SSG Gloves 25 years ago to serve the unique needs of the harness horse driver. An owner of harness horses for the past 30 years, James says drivers started telling him they needed better gloves." You have to listen to what the customers want, and then you have to provide it for them," he says. "Listening the what the drivers were saying lead to the development of the first gloves we ever sold. They needed a glove that would keep their hands warm, but with out any bulk. They need flexibility."

The resounding success of that first glove spawned a sustained demand in the horse industry, where gloves were once considered almost an afterthought of the tack manufacturing business. Before long, SSG began developing gloves for the needs of other potential customers. Working with suppliers around the world, the SSG Glove range now features more than 60 styles to meet the unique needs of diverse disciplines, including show jumping, dressage, all event shows, eventing, rodeo, and polo. There is also a line of general work gloves that are at home on the trails, as well as working around the barn. SSG Gloves is international company with retailers around the world including U.S. , Canada, Ireland, the U.K., Europe, and Australia



What Are The Best Gloves For Warm Weather?
The Best 4 Warm Weather Gloves are:

The Original SSG® ALL WEATHER®
The most popular All Weather® glove in the industry worldwide.
Quality, durability, fit and comfort.
Style 8600
Schooling, Show Jumping, Hacking, Barrel Racing, Carriage Driving, Race Riding or Driving.
• Aquasuede Plus® Palm • Durable, breathable, good grip wet or dry
• Elasticized back for a cool comfortable fit
• Hook and loop wrist closure
• Machine washable, air dry
Sizes: Childs 4/5, Ladies S 5/6, Ladies Univ. 7/8,
Mens Univ. 8/9, Mens Large 10, Mens XLarge 11/12 (Black only)
18 colors: Black, White, Burgundy, Brown, Zebra, Neon Green, Purple, Stars & Stripes, Yellow, Red, Hot Pink, Teal, Royal, Green, Leopard, Navy, Horseshoe, Pink Leopard



SSG® DIGITAL®
DigiGrip™ Square Groove Technology
Part of Eric Lamaze's rise to success!
Style 2100
• The ultimate in feel, grip, breathability and durability
• Digital pattern for increased grip and wear
• Machine washable
Black, Brown Sizes: 5, 6, 7, 7½, 8, 9, 10, 11
Navy, White Sizes: 6, 7, 7½, 8, 9, 10
Camel Sizes: 5, 6, 7, 7½, 8, 9, 10

SSG® HYBRID™
The best of both worlds: Appearance, Grip & Durability.
Style 4200
• Premium cabretta leather back for optimum fit and feel
• Aquasuede® palm for soft touch, excellent grip in wet or dry condition, durable, breathable
• Key area reinforcement
Sizes: 6, 7, 7½, 8, 9, 10
Colors: Black, White, Brown/Tan

SSG® TECHNICAL™
Style 8500
• Superior grip wet or dry
• Coolmax lycra back for improved fit, flexibility and moisture management for warm weather wear
• Aquasuede® palm for feather touch, durable, breathable, good grip when wet
• Key area reinforcement
• Washable
Sizes: 6, 7, 8, 9, 10
Colors: Black, White

What Are The Best Gloves For Colder Weather?

SSG® POLARTEC® ALL SPORT™
FOR COOL WEATHER
Style 6500
• Polartec® Powerstretch®
• Warm & flexible
• Wicks away moisture
• Silicon palm print for grip
• Machine washable (Cool Water)
Try them, you'll love them– Even in your car!
Color: Black
Unisex Sizes: XXS 5/6, XSmall 6/7, Small 7/8,
Medium 9/10 and Large 11/12

PRO SHOW® WINTER
Most Popular Indoor or Outdoor
FOR COLD WEATHER
Style 4300
• Leather with thinsulate® lining for warmth
• Knit cuff
• Spandex gusset for comfortable fit
Color: Black with Black Knitted Cuff
Unisex Sizes: 5, 6, 7, 8, 9, 10

RANCHER™ Winter Lined
FOR COLDER WEATHER
Style 1650
• North American deerskin
• Buttersoft feel
• Exclusive blue plaid polar fleece lining for warmth
• Gun cut finger treatment­­
• Elasticized wrist, easy on & off
Colors: Natural, Black
Unisex Sizes: 6, 7, 8, 9, 10, 11

SSG® 10 BELOW® Waterproof
FOR COLDEST WEATHER
Style 6400
• Proven Waterproof
• Thinsulate & SSG Polar Fleece Lining
• Digital Palm
• Stretch Knit Back
4 Layers of warmth!
Color: Black
Sizes: 5, 6, 7, 8, 9, 10, 11, 12

Do You Carry Specialty Riding Gloves?

Absolutely! We carry Dressage, Endurance, Hunter and Jumping, Polo and much more! Please view our website to see all of the quality gloves we carry.

Buy Your SSG Specialty Gloves Today!

SSG Riding Gloves offer protection, style and security while working and riding your horse. Our gloves are affordable, versatile, long lasting, and come in a vast selection sure to meet the needs of riders today. Once you start riding with them, you'll never want to be without them again! Many Tack Stores and Horse Catalogs like DoverSaddlery, SmartPakEquine, JeffersEquine and more, carry SSG Riding Gloves.

---
Contact: SSG Gloves
P.O. Box 377
North Boston, New York 14110
Phone: 905-727-9203
Email:
Website: Click Here To Connect

---