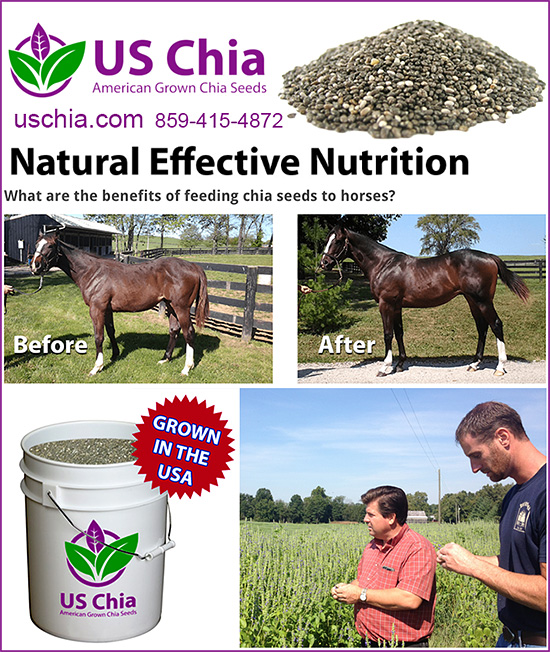 Chia Seeds by US Chia
Chia seeds are one of the healthiest, most nutrient dense foods on earth. US Chia Seeds can help horses regulate insulin naturally and help maintain optimal health in a way that can't be duplicated artificially!



How Did US Chia Come To Be?
The US Chia Story began in a classroom: four students wanting to learn more, to do more, and hoping that one day they might change the world.

When Scott Serdoz of Lexington, KY began the Entrepreneurship MBA Program at the University of Louisville, he had no idea that his job researching new plant varieties would ultimately lead to the creation of a new company. In 2005, Scott began working with chia, a plant native to Latin America. He spent his days on the university's farm, helping explore chia's potential to grow further north than ever before. In 2010, Scott began spending his nights on UofL's campus learning about what it takes to turn an idea into a business.

Scott then teamed up with classmates Jacy Cruz, Keith Starling, and Zack Pennington to move the research into the marketplace, and in 2011, Kentucky Chia was formed. We went on to win top honors at local, State, National and International, business plan competitions with our plan to produce chia seeds in the US as a feed additive for horses. After completing our MBA program in 2012, the Kentucky Chia team was enthusiastic about launching the business and Zack Pennington was selected as the company's CEO.

In 2013, Kentucky Chia began producing its own chia seeds. We knew that the real world would be unpredictable (especially in the agriculture business) and that every mistake would be more costly producing on a large scale. We partnered with top USA producers who shared our vision and were equally excited about the opportunity to bring a new crop to the United States. After successful production runs in both Kentucky and Arizona, we officially changed our name to US Chia to reflect the scope of our operations and to emphasize the value and pride we take in producing our products in the United States.



What Are The Health Benefits Chia Seeds Offer?
Allergies: The high Omega-3's found in chia help to boost the immune system and reduce swelling, giving horses relief from allergies.

Breeding: Chia seeds provide good nutritional support for both broodmares and stallions. Learn more about

Calming: High in Magnesium, chia seeds have a natural calming effect on horses

Digestion: Chia seeds help to optimize the digestive tract, and are great for ulcer and colic prevention.

Insulin Resistant: Chia Seeds are ideal for horses who suffer from metabolic disorders as it has a natural effect to help support normal insulin levels in the horse.

Hydration: Chia seeds keep your horse hydrated and retain electrolytes, promoting faster recovery times and increased longevity.

Joints and Muscles: The anti-inflammatory properties of chia seeds help reduce pain and swelling. As a complete source of protein, they also build muscle and topline.

Skin, Coat, Hoof: Chia-fed horses have healthy skin, glossy coats, and stronger hooves. Laminitis symptoms may also be improved by feeding chia.

Healthy Weight For Fat or Thin Horses:Whether your horse needs to gain, lose or maintain weight, chia seeds can help them achieve the proper body condition.

Do I Need To Soak Or Cook The Seeds Before Feeding?
No! Chia seeds have a soft seed coat, meaning they require no soaking, grinding or cooking prior to feeding and are very palatable for for horses. You can feed the seeds dry as a top dressing with your current feed.

What Is The Serving Size For My Horse?
A maintenance dose is just 1/4 cup (1 scoop) of US Chia Seeds each day. If your horse has not been on a supplement program, you can feed a loading dose of 1/2 cup (2 scoops) of US Chia Seeds each day for 2 weeks.

Note: This dose is based on an average horse of 1,000-1,200 pounds. If you have a pony, you can feed a slightly smaller amount, or slightly more for a larger horse or draft. For miniature horses, feed 1/8 cup (1/2 scoop).

What Is The Serving Size For Cats or Dogs?
The recommended maintenance dose for cats and dogs is 1/2 teaspoon for every 5 lb. You'll love the way it helps your dog, just as it does your horses!

What If My Horse Is a Picky Eater?
You're in luck. With their mild, nutty flavor, most horses seem to love US Chia Seeds. Some customers have reported feeding chia seeds as a treat, and their horses eat it them straight from bucket. US Chia also offers a 100% money back guarantee. If you or your horse are not satisfied with US Chia, we'll issue you a full refund. If you are interested in obtaining a sample, we'll be happy to send you a single serving to test; just call us for details.

Will US Chia Seeds Conflict With My Other Supplements?
NO! Chia seeds are a natural food additive and will not conflict with other supplements. Because it contains many of the same nutrients as other supplements, it may actually replace several supplements in your current feeding program.

Will US Chia Test Positive For The USEF?
NO! According to the USEF, "Chia is permitted under the Therapeutic Substance Provision of the USEF Equine Drugs and Medications Rule. A medication report form does not need to be filed in connection on its use." Chia is a natural food, not a drug!

What About Pregnant Mares?
Yes, chia seeds are completely safe during pregnancy for both humans and all animals, in fact they are actually beneficial. Chia helps replenish lost nutrients during gestation, as well as boost energy. Additionally, it provides many of the nutrients critical to the healthy development of babies.

Are US Chia Seeds Low In Starch and Helpful For My Insulin Resistant Horse?
Yes. Chia seeds are OK (and encouraged) for insulin resistant horses, horses with PSSM, Equine Cushings Syndrome or other metabolic disorders!

What About Horses With Azoturia (Tying Up Syndrome)?
For a horse with RER (Recurrent Exertional Rhabdomyolysis, also known as "tying up"), the most important part of their diet is having adequate electrolytes, vitamin E and selenium. In recent studies, increasing dietary fat consumption and decreasing starch has proven beneficial to horses with RER. Chia seeds are very low in starch, and contain approximately 20-21% crude fat. The high concentration of alpha-linolenic acid can help to reduce systemic inflammation and may support horses prone to RER.

Another cause of tying up is Polysaccharide Storage Myopathy (PSSM), which is managed entirely by diet and exercise. In short, the diet must be very low in starch and sugar (ideally less than 15%), with fat used as a major energy source. Exercise is important, but changes must be made very slowly. When a horse has time off from exercise, reintroduction to a work routine should be done cautiously and subtly. While scientific studies in horses are limited, Omega-3 fatty acids, such as that found in chia seeds, are often recommended for the anti-inflammatory properties to help support muscle condition in the case of PSSM, and can be part of an overall balanced diet.

Note: Studies show chia seeds have antioxidant capacity and may be supportive of horses with any sort of muscle myopathy.

But I Am A Non-Profit With Many Rescue Horses!
Great! We offer a 30% discount for non-profits and horse rescues. We're thankful for all that you do to help horses in need. We're happy to be able to help you, too! Please submit a Nonprofit Pricing Request and we will get you set up.

Is it True That Shipping Within The USA Is FREE and Autoshipping Is Available?
YES!!We offer free shipping everywhere in the United States… and usually ship within 24 hours. Auto-shipping is available!! International shipping is not free of charge, but the lowest possible price we can give for a timely arrival to your country!

What Do Horse Owners Say About US Chia?
From start to finish I love my experience with US Chia. My order went out almost immediately and my horse loved her Chia Seeds-- licked up every one (I think she liked the crunch). My beautiful Morgan is borderline Insulin Resistant and I have noticed a difference in her weight since starting on the Chia Seeds. her coat is glossy and I have to say I am very VERY pleased with the difference that Chia is making for her!
--Ann Pruitt-- InfoHorse.com

Order Your US Chia Seeds (FREE SHIPPING) Today!
Starting at only $44.99 for a 5 pound bucket with larger economy sizes available, every horse owner can afford the powerful super-food benefits that Chia Seeds have to offer your horses and dogs! We love to talk "Chia", call and talk to us today!

---
Contact: Zack Pennington
1500 River Drive #115
Louisville, Kentucky 40206
Phone: (859) 415-4872 or 1-844-8US-CHIA (844-887-2442)
Email:
Website: Click Here To Connect

---