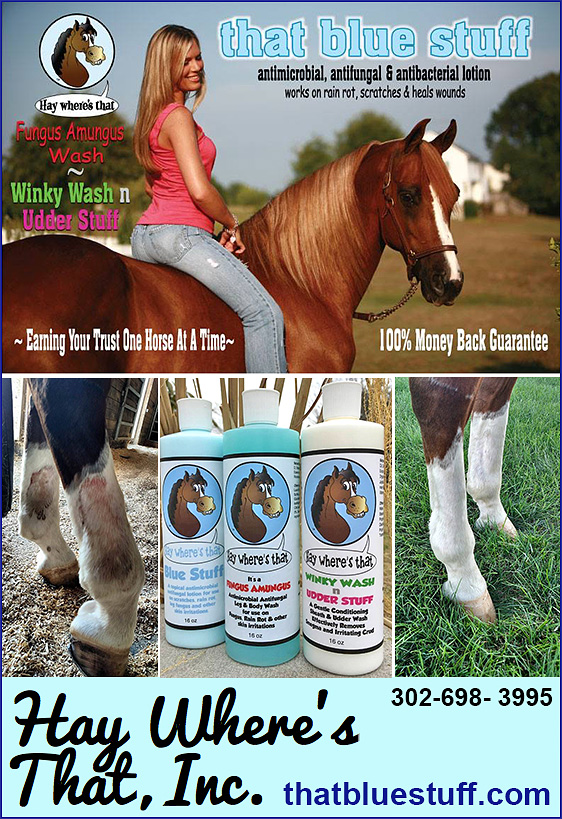 That Blue Stuff, Fungus Amungus, Winky Wash n Udder Stuff, by Hay Where's That, Inc.
That Blue Stuff Lotion, It's A Fungus Amungus Shampoo and Winky Wash 'n Udder Stuff Sheath and Udder Cleanser for horses keeps your horses feeling great!



What IS "Hay Where's That Blue Stuff" and How Did It Get It's Name?
"Hay Where's That Blue Stuff" was developed by Tina for use in their standardbred stable. It was too expensive to buy the overpriced and ineffective products for the thirty horses in their care. She decided to make her own product. She would bring the blue stuff in plastic containers to the barn. The staff would yell down the barn aisle, "Hey where's that blue stuff?" After many request for the product, they decided to bottle it up and sell to other horseman. This happened with all positive feedback!!!

Note: Fellow horseman ask to use the product when Tina would bring it to the barn. They had seen the remarkable results on her horses that had scratches and rain rot. They thought it was a great product to work with and safe for the horses. After years of satisfied horses and happy horse owners, Tina decided to bottle it up— and she knew just what to call it!

What sets That Blue Stuff Apart From Competitors?
IT WORKS! That being said--That Blue Stuff is a topical broad spectrum antimicrobial, antifungal, antibacterial lotion for use on
* Rain Rot
* Scratches
* Fungus
* Cuts
* Abrasions
* And other skin dermatitis.

Is That Blue Stuff Safe For Daily Use?
That Blue Stuff has a clean odor, is non-toxic and can be used daily with no negative side effects. The application of the lotion is simple, just brush off and apply, no need for pre-washing. The unique blend of essential oils in conjunction with Chlorhexidine work to heal the skin from the inside out.

How Do I Apply It?
That Blue Stuff Lotion can be applied directly to areas of concern, no need to pre-wash. It is recommended that the areas is not clipped or scrubbed. The lotion is not greasy and soaks in to the skin, healing the area from the inside out…
only $26.95 and well worth it!

It's A Fungus Amungus is a shampoo designed to treat skin conditions such as rain rot, scratches or dandruff but gentle enough to use daily or even as a shampoo for healthy horses. Fungus Amungus can be used diluted for a body wash or applied concentrated in areas of concern, do not pick scabs or scrub the area and rinse off completely…. only $19.95

Winky Wash n Udder Stuff sheath and udder cleanser has a lotion consistency and applies very easily; wet the area, apply cleanser and rinse. Only $18.95 and makes sheath and udder cleaning a breeze!

What Are The Ingredients In These Amazing Products?

Hay Where's That Blue Stuff?
Extracts of Avocado, Chamomile, Lavander, Sage, Hemp Oil, Aloe Vera, Vitamin E and other Natural Proprietary Blends.
Other Ingredients: Water, Propylene Glycol, Stearic Acid, Cetyl Alcohol, Glyceryl Stearate, Witch Hazel, Dimethicone, Allantoin, Carbomer, Methylparaben, Disodium Edta, Triethanolamine, Imidazolidinyl Urea, Propyl Paraben.
Active Ingredient: Chlorhexidine Gluconate.

It's a Fungus Amungus
Natural Ingredients: Vitamin A, Vitamin D, Vitamin E, Hemp Oil, Grapeseed Oil, Essence of Lemon oil, Lavender, Rosemary, Avocado Oil and Chamomile.
Other Ingredients: Water, Ammonium Laurel Sulfate, Ammonium Laureth Sulfate, Lauramide Dea Laurel Glucoside, Disodium Edta, Methychlorisothiazolimine, Methylisothiazolimine, Citric Acid.
Active Ingredient: Chlorhexidine Gluconate.

Winky Wash n Udder Stuff
Natural Ingredients: Grapeseed Oil, Chamomile, Grapefruit Oil Extract, Sage, Hemp Oil, Lavender, Organic Oils of Coconut, Olive and Jojoba, Organic Aloe Vera, Rosemary Extract, Avocado Oil, Vitamin E.
Other Ingredients: Witch Hazel, Water, Dimethicone, Glyceryl Stearate Carbomer, Allatoin, Propylene Glycol, Methylparaben, Disodium Edta, Imidazolidinyl Urea, Propyl Paraben, Cetyl Alcohol, Triethanolamine.

So What Do Horse Owners Have To Say?
This product is wonderful! My horse Trinity had really bad rain rot and I have tried everything. Then I saw That Blue Stuff and decided to give it a try. All of his rain rot was gone within 10 days. I recommend everyone try it.
Dana

My warmblood gelding's back was covered in rain rot. We were scheduled to leave for a show in 14 days. I tried everything to get rid of it, nothing was doing the job. I finally decided to try that sample I received (Blue Stuff). After 5 days of treatment, the rain rot was gone. By the time the show rolled around most of his hair had grown back. Thank you Blue Stuff!
Erin (horse trainer)

Order Today- and Be Prepared BEFORE Skin Problems Arise!
If you have horses, the day is going to come when you see scratches on the heels, or rain rot on the withers or face- and you are going to have to keep that sheath or udder clean! Don't wait for infection, swelling-- or for your horse's coat to fall off! These amazing products absolutely work and they take the worry away— best of all, they make your horse feel great! Call us today or find us at ebay and Amazon too!


---
Contact: Our Friendly Staff
10 Bob White Place
Wyoming, Delaware 19934
Phone: 302-698-3995
Email:
Website: Click Here To Connect

---