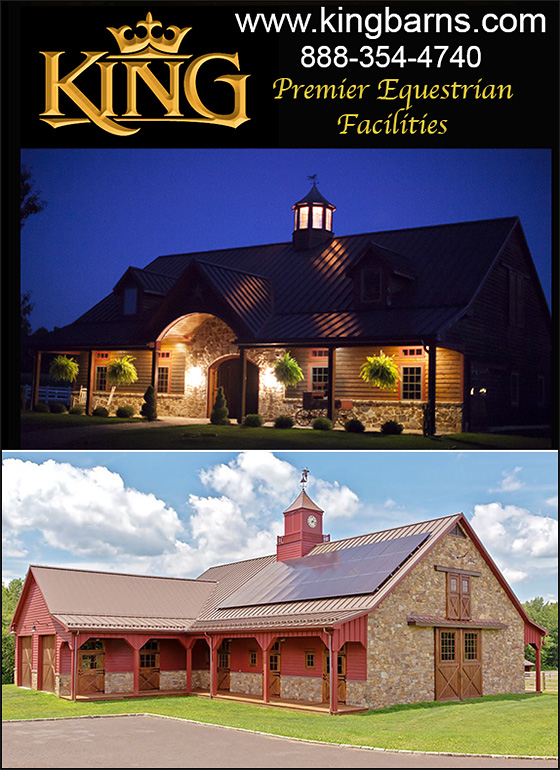 Custom Barns by King Construction Company
King Construction has been designing and building fine custom horse barns, arenas, and outbuildings for nearly four decades. As experienced barn builders, we know what it takes to bring your vision to life!



About King Construction Co, LLC.
Nearly 40 years of excellence! King Construction, LLC. is a family-owned business, begun by the King brothers John, Elmer and Merv in 1978. The Kings are skilled carpenters who have a talent and ability to put together stunning barns -- in the early years, they were in the field on a daily basis and doing all the construction work themselves. Word quickly spread about the quality of the buildings, and soon their business expanded to the point the Kings had to move into the office to manage the the operation. But, occasionally, John & Merv can't resist getting back out to a job site to spend the day building alongside the crew. Elmer runs the family farm and works with the business when he's needed.



Why Should I Own A KING Barn?
King is more than just a "family" name, it is reflected in the very workmanship, style and beauty of these stunning barns. From the design to the finishing touches, owning a KING barn will be a source of joy, and pride for you and your family for decades to come. There are many reasons why you should partner with King for the design and construction of your barn, arena or outbuilding project. You're about to make a very important investment, and you want the finished product to be as close to perfect as possible . . . you want your money's worth.

People who have accomplished work worthwhile have a very high sense of the way to do things. They have not been content with mediocrity. They have not confined themselves to the beaten tracks; they have never been satisfied to do things just as others do them, but always a little better— O.S.Marden

* King Barns Are Well Established
We have been in business for nearly four decades; we have grown our business through sound management practices and honest representation. This means you can have complete confidence that your deposits and payments are secure and properly applied, and that we will be here if you need us, long after your project has been completed.

* Our Barns Are Truly Custom
We have been building quality horse facilities since 1978, and no two are exactly alike. If you want special design elements to match your house, or if you want a custom-designed stall, cupola or door, we have our own shops and our own craftsmen, so we can build those custom items for you.




* We Are Full Service
We provide complete architectural and engineering services for everything we build. We have extensive knowledge of the building codes and what will be required to get a building permit in your area. We can handle your project as a turn-key, or collaborate with your architect and with your own trade subs.

* Our Staff Is Very Responsive
We are dedicated to exceptional customer care, support and service before, during and after the completion of your project.

* We Are Fair
We provide more detailed specifications and a full listing of what is not included. We do not take short cuts with the quality of our material or with our construction practices. We will not under-price your job with the intent of making it up through change orders. We believe all our customers deserve fair and honest treatment, so we price all of our projects using the same cost basis, whether the customer has limited means or an unlimited budget.

* We'll Give You MORE Value For Your Money!
Our Amish and Mennonite heritage forms the framework for every King building. We use the highest quality materials, fine details and expert craftsmanship on every project. Sometimes that means our bids are not as low as others, but despite what others may claim, ours vs theirs it is NOT an "apples to apples" comparison!

* Our Finished Product Is Truly Superior!
Our finished product is truly superior in appearance, durability and longevity. Our buildings will add value to your property, and they will maintain their value -- they will remain an asset long after those others have become a liability.

Note: You will need someone who's knowledgable to help guide you through the process, and you want to be able to trust the people you're dealing with. So, as you consider your options, please consider what really sets King apart from all of the others, and why you should choose King!



What Our Our Most Popular Styles?
King Construction custom designs barns to fit the specific needs, desires and budgets of each of our clients as an individual. Absolute care and dedication is given to each and every client. However, we do have some styles that have become more popular over the years…

* Timber Frames
Timber Framing is a simple but elegant building system using large wood posts and beams that are carefully fit together with interlocking joinery- mortise and tenon joints secured with wooden pegs. In addition to their aesthetic appeal, timber framers are very strong. The open architecture of the timber frame allows great natural light from the dormers and skylights. Timber- frame construction techniques have been in use for hundreds of years throughout the world, initially brought to North America by European settlers. This is a very popular barn style for us and one of our favorites. It adds so much detail and gives the barn an open feel atmosphere.

* Large Facilities
Large Horse Barns— serve as the anchor for professional training, boarding, showing or breeding operation. In addition to the barn, these farms usually require multiple facilities to support the enterprise. Most require an indoor arena, and they often need groom's quarters, equipment garages, hay and bedding storage, breeding rooms, foaling stalls, manure handling facilities, covered walkers, treadmills, round- pens, loafing sheds and run-ins. These are high- activity barns with busy schedules. It's sometimes a very complex set of needs, but we have done so many large horse barns and support facilities for a wide range of disciplines, so our experience can give you the insight and guidance you're looking for. Horses are our business too. We understand the important of light, ventilation and the many structural elements needed to keep them safe, healthy and preforming their best.

* Indoor Arena Barns
It's an excellent idea to have an indoor arena for the comfort of the horses as well as the humans who are involved in their care. Whether you have extremely hot summers or blustery cold winters, being able to exercise horse's year- round is crucial to their well- being and fitness. Whether you prefer the wide-span of a steel- framed riding arena, the beauty of laminated wood, or the practicality and affordability of a wood truss indoor arena, we have the knowledge and experience needed to build it right. Like our barns, our arenas are individually designed and can be fully customized to complement your facility. King Barn's like to add skylights, dormers, or large windows around the arena to add extra light and ventilation. Natural lighting means no requirements for lighting during the day, thus lowering energy consumption and cost. Such arenas respond to the climate, meaning they stay warmer in the winter and cooler in the summer.

* Small Barns With 1-6 Stalls
Our small barns range from 1 to 6 stalls and they're no less important to us.. in fact, they're often among our most memorable projects. Small barns are very personal spaces, and frequently the realization of a dream that has been long in coming. They're not only a place to spend time with your horses; but are a gathering spot for family and friends. Small horse barns have special design considerations. They are usually on smaller properties and need to complement the architecture of the home. Because the footprint is small, it's important to utilize every square foot for its best purpose, while providing some space to relax between rides. Small barns often consist of stalls, a tack room, wash stall, feed room and occasionally have a bathroom or laundry room.

* Bank Barn- With A New England Flare
The appeal of the bank barn is its practicality and function began in New England. You can transfer a hilly landscape into a building useful site. When designed correctly, a bank barn can adapt to serve the need of a horse barn. King- designed bank barns are true to their history and practicality, but are updated for modern function. King Construction has designed, built and restored many bank barns during our 38 years in business. You can rely on us for sound counsel regarding your project, and we provide complete architectural and engineering services for everything we build. We can custom design or retrofit your bank barn to provide stabling and support services for your horses. And, if you need other facilities, we also design and build a variety of accessory buildings, such as covered walkers, round- pens, hay & bedding storage, manure transfer or composting facilities.



Can King Construction Help Me With Code and Building Plans?
You bet! We've had extensive experience with various code requirements in many states and local municipalities. As we begin your plans, we'll verify your specific code requirements; then we will prepare, review, and seal the construction plans for your building permit. In addition to construction drawings, we can provide three-dimensional color renderings. These can be very useful in a town that has an architectural review board, or if your neighbor is nervous about what your horse facility will look like.

Note: Be Sure To Watch Us On Instagram and Facebook for the latest in what we are doing and building!!

Call King Construction Today For The Barn You'll Be Proud To Show!
Even if your project is located outside of our building area, you can still have a King-designed barn or arena. We offer design and building plan services to help you create the ideal barn plans for your project. With nearly 40 years of equine facilities experience, we can guide you through the planning phase with sound advice about key elements. Our in-house design team will work with you to create a building that will match your needs and your budget. Call us today!


---
Contact: Our Friendly Staff
525 Hollander Road
New Holland, Pennsylvania 17557
Phone: 1888-354-4740
Email:
Website: Click Here To Connect

---