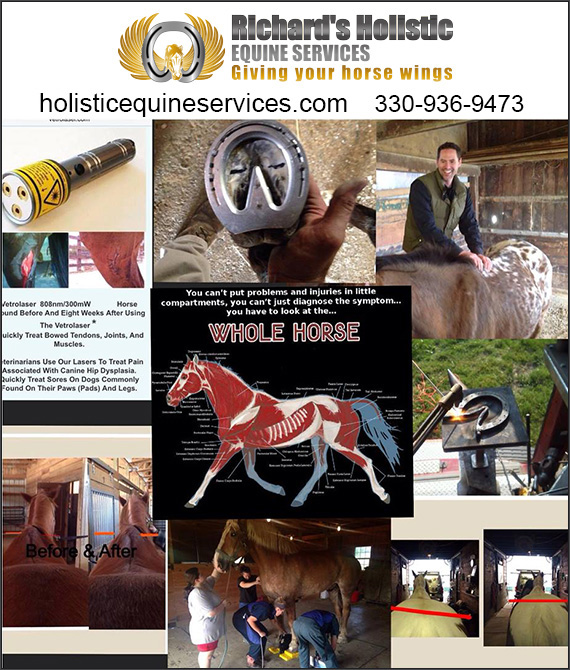 Hoof Pro PEMF by Richard's Holistic Equine Service
Treat Laminitis and Founder with Richard's Holistic Equine Service

About Richard Armentrout
Richard Armentrout, owner of
Holistic Equine Services
, is a Certified Journeyman Farrier and Accredited as a Professional Farrier through the AAPF(American Association of Professional Farriers) In order to stay in good standing this association requires 27 Continuing Education credits each year. Richard continues to strive for excellence by exceeding over 100 CE's every year. Certified Journeyman Farrier and Accredited as a Professional Farrier through the American Association of Professional Farriers. Now in his 12th year of shoeing he brings his knowledge and expertise to you. Richard has interned with the renowned farrier, Dr.Esco Buff to learn how to successfully treat laminitis and founder. He also is trained in identifying and addressing body imbalances in Limb Length Disparity cases. Richard continues to be mentored by Esco and has logged 100's of hours of clinic time with Esco.
Is It True That Richard Has Studied Chiropractic Methods?
Yes. Richard has studied Equine Chiropractic for the lay person with Dr. Kamen, in order to better understand body imbalances. He delivers a holistic approach to each case by taking a step back and looking at the whole horse not just the foot or leg. Richard recently made a major investment in his practice by introducing EquiPulse PEMF ( pulsed electro-magnetic field therapy) to his services. This non-invasive therapy promises to have a dramatic impact on soft tissue healing and injury prevention. Richard works in cooperation with the client, veterinarian, and chiropractor to assure a positive outcome. He will also be glad to discuss with you supplementation, proper nutrition, and hoof care.
Why Is Taking A "Whole Body" Approach Important?
The term "whole horse" means taking a holistic viewpoint.
A holistic viewpoint is based on the law of nature which implies that a being is a whole made up of interdependent parts. When one part is not working at its best, it impacts all the other parts of the being. It simply means looking at the whole picture in order to restore soundness and wellness to the horse. A holistic approach is important because it considers anything and everything that could affect a horse's health. It means asking WHY the lameness is occurring, WHAT is the original insult or root cause, and HOW can we treat the cause as well as the symptoms, not just the symptoms.
How Do I Know If My Horse Needs Richard's Services?
Richard is specially trained to identify and help Limb Length Disparity cases. He successfully treats laminitis and founder in the acute or chronic stages. He works in collaboration with you and your vet for a complete team approach. Other related hoof concerns such as Navicular, Abscesses, Hoof imbalances, hoof cracks, crushed heels, hoof heel height differences, rotational deformities/deviations etc. It also means that recognizing that many lameness problems are either directly caused by or made worse by uneven body weight bearing. palmer-heel pain issues,navicular issues, suspensory strains in one leg, club foot (not club feet),etc. Richard's Holistic Equine Services is experienced, educated and prepared to help your horse find the most successful outcome.
Richard's EquiPulse PEMF Services Include:
PEMF help horses suffering from soreness in the back, from stiffness, arthritic conditions, ligament, tendon, muscle or bone injury, decreased range of motion or poor circulation.
As the latest drug free, non-invasive, therapeutic modality on the human and animal market, the EquiPulse does all the following:
EquiPulse accelerates the healing of ligaments, tendons, muscles or bone injury by regenerating damaged and diseased tissue. EquiPulse therapy enhances the synthesis of protein in the cells, allowing the body to take advantage of all the protein available.
EquiPulse therapy improves circulation, not by increasing heartbeat or blood pressure, but by opening and dilating the arteries and capillaries. This also reduces edema (swelling).
EquiPulse therapy increases the cellular level of oxygen absorption. Studies have shown that oxygen partial pressure can be increased by 200%. This reduces pain associated with lack of sufficient oxygen. Also, insufficient oxygen in the cells causes lactic acid buildup under strenuous exercise.
EquiPulse therapy is particularly effective in getting to deep muscle soreness because of its deep penetration.
How Far Does Richard Travel?
Richard's Holistic Equine Services operates Ohio state wide and will travel out of state as needed. Richard is available for consultations,evaluations, and clinics. Travel fees apply based on mileage.


How Many PEMF Sessions Does A Horse Usually Need Undergoing Treatment?

Since there is no evidence of negative side effects for extended use of PEMF, the treatment limits would be based upon results.
A human will tell you that they feel better and that a problem area feels good and no further treatment is required. Obviously, a horse cannot communicate this. Thus, it a decision needs to be made by the owner, vet or trainer. Each horse's extent of pain or injury is unique. Therefore, there is no set treatment protocol for anyone or any one issue. Long-term chronic pain may require a dozen or more treatments, spread out over an extended time period.
PEMF will almost always accelerate healing, however the rate of acceleration is generally related to the severity and extent of the injury. In many cases pain relief and/or increased range of motion is immediate, however these issues may return in 24 hours, in 2 days, or in 2 weeks. I.E. Pain relief by treating hindquarters may occur after one treatment, but returning to the activity which aggravated the condition in the first place, then more than likely, the condition or pain will quickly return. Many people and horses continue treatment after an injury has been resolved, as a matter of maintenance. This is more so with athletes, whether it is a human or horse.
How Can Richard Help Me If I Have Limb Disparity? (Body Imbalance)
Limb length disparity (LLD) is an observable body imbalance and physical deviation that manifests itself in a structurally and/or functionally different limb length, and more than likely has been created due to congenital, hereditary, injuries, environmental, muscular and/or spinal problems (Esco Buff, PhD, CF, 1999).
If My Horse Has Limb Disparity Will That Really Affect My Horse?
Long term imbalances will not only contribute to chronic pain, but lead to problems causing postural changes in the body from the neck to the back and down the limbs to the foot. Long term problems can result in the following:
* Palmer heel pain
* Navicular syndrome
* Hock and stifle issues on one limb
* Bowed tendons on one limb
* Suspensory strains in one limb
* Pain in the back, hips and knee problems
What Are Signs That My Horse Has "Limb Disparity"?
* Mismatched feet
* One more clubby than the other
* Different heel heights and angles, crushed or under run heels
* Scapula height differences
* Chestnut and knee height differences
* Hip hiking on one side - Difference in hoof beat cadence at the walk
* Horse having difficulty taking the lead to one side
* Gait problems
* Saddle slipping to one side
* Unexplained behavioral issues
* INTERMITTENT LAMENESS ISSUES


What Do Horse Owners Say Who Have Worked With Richard?
"Your clients and friends should know these horses have been seen by multiple vets and farriers and this is the best they have been so far. And you actually seen something in Cutter that no one else did as far as his unevenness.. He even holds his head different when he walks like he is more comfortable. I can't thank you enough for being so thorough with them." K.Kovar
"Thanks so much Rich Armentrout. I lunged her on Friday and what an amazing difference in her balance and reach. No tripping and she was able to canter in both directions with ease. I am so happy. That's more improvement in one week then in 6 months. She must be feeling so much better. Can't wait to ride her." L.Greer
The PEMF worked great for my big TB! Very butt high and always has had a weaker hind end! Big SI that sticks out and had Rich out to do an EquiPulse session over that area both sides! I rode the next day and my horses back end felt fantastic!! Almost the feeling of just having their hocks injected!! Great service" C.Long
Top notch addition to any training program (PEMF)- keeps the horses and riders looking and feeling their best! K.Coleman-trainer
How Can The EquiPulse PEMF Energy Help My Horse With Hoof Related Lameness Problems?
When in use, the majority of PEMF Energy is delivered from the center of the Mag Disc directly into the Frog. No other PEMF system is capable of safe and solid anchoring of a PEMF device from under the hoof. As a result, there is a significant increase in the thermal temperature throughout the sole of the hoof and the frog, evidencing tremendous increases in blood flow within the entire hoof cavity. When employing the Hoof Pro System (special device that attaches to the EquiPulse), the treatment cycle, per hoof, is approximately 15-20 minutes. When used with our higher powered PEMF devices, treatment duration per hoof is reduced to a maximum of 10 minutes.
Richard Has The Knowledge You Need To Help The Horse You Love— Call Him Today!
Your horse is worth a call to Richard today. Don't suffer with mysterious lameness problems or life threatening conditions like founder and laminitis. There is a natural, holistic solution to so many of the problems your horse has.
Call Richard today— you'll be in great hands and so will your horse!
---
Contact: Our Friendly Staff

North Canton, Ohio 44709
Phone: 330-936-9473
Email:
Website: Click Here To Connect

---