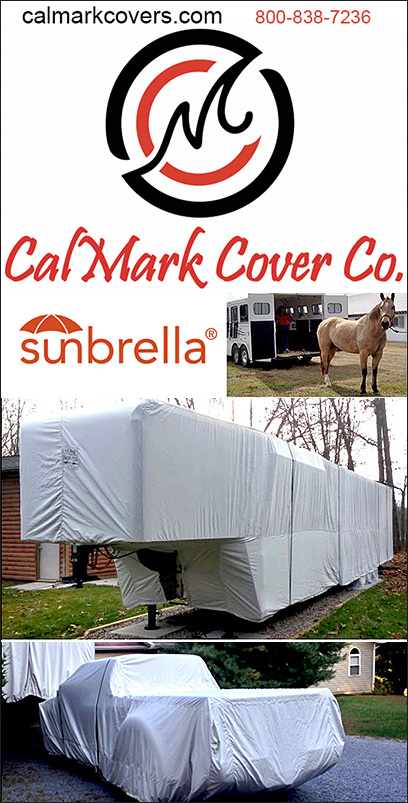 Horse trailer and truck covers by CalMark Cover Co.
CalMark Covers protect your Horse trailer & Truck from the harsh outdoor elements!



About Our Company
In 1982, Art Miller, founder and President of CalMark Cover Co., operated out of a small 1700 sq.ft. building in Oxnard, California, with one simple goal: "to provide customers with the BEST quality custom cover in the industry, for Recreational Vehicles, Campers, trailers and anything else he was asked to create a cover for! "

Fast forward to 2011, Arts daughter, Natalie, has taken the helm at CalMark Cover Co. Inc. to continue her Dad's hard work and continue to offer the best Cover in the industry! Natalie embraces the challenge to grow the business, with a vision to add new techniques, new designs and a commitment to excellence, without compromise to materials or ethics!

Special Note: New Equipment & Techniques embraced! CalMark now uses a Geometric 3D Design System to uniquely and precisely model every Horse Trailer, RV and camping/travel toys, such as quads, motorcycle's, dirt bikes etc. Once your cover has been designed the CalMark crew now

utilize pattern cutting automation to ensure a perfect fit.





Calmark Covers Co.— When It Comes To Protection— We've Got You Covered!
CalMark Cover Co., manufactures custom made covers for all makes/models of Horse Trailers, ​Travel Trailers, Truck Campers, ​RV's, ​Camper Shells, etc. Every customer's order is hand made from dimensions/measurements YOU provide to us, to ensure a customized and secure fit.

We request that YOU measure your Horse ​Trailer ​, Truck or RV etc, at the time you are ready to order. DO NOT use manufacturer specs. We have found that specs can vary slightly (and in some cases greatly) from their published specs.

All CalMark covers come complete with:

• Exclusive FSR roof construction for longevity/strength
• ONE zipper door entry
• Invisible backed zipper to prevent scratching
• Double stitched seams for strength
• Ample oxidized grommets & ​ ​ tie down straps with quick/easy release buckles
• Extra fabric patches and glue repair kit

How Do I Know If My Horse TRAILER Needs a Cover?
Horse trailers can cost several thousand dollars. Even used horse trailers represent several thousand dollars and you don't want to see your new expensive investment turning into rust in the rain or humidity- fading in the sun. More than the "looks" of the trailer, it is dangerous to have a rusty trailer for your horses. Floors, windows, doorways can become potential hazards. Making sure that your trailer stays protected is vital for ​both ​the ​beauty of the trailer and safety of your horses. At the very least horse trailers do well to have a cover to protect the finish of the trailer. It also means a lot less time with waxing and polishing. It helps to prevent the streaking that occurs from dirty rain. A cover helps to prevent peeling decals and hardening/brittle rubber joints/parts. A cover helps to keep your investment in admiring condition, especially in the event you should ever want to sell. Bottom line your CalMark cover will save you money!
​


What Advantages Does a Cover Offer My Truck? ​
Anyone who has purchased a truck understands that a good truck is a huge investment anywhere from $30,000 - $125,000. Even the best built truck will suffer if left in wind, sun, heat and humidity over time. Keeping the exterior finish of paint or metal protected from the elements is important and protects it from the oxidization that occurs from sitting in the sun. Sunbrella® fabric Truck Covers protect your investment from the elements. Pride of ownership is the result of a good quality cover and the investment it covers. Bottom line, we can keep your paint and leather interior protected from the elements— and help you keep that truck looking great for many years to come!

​ What Sets CalMark Covers Apart from The Competition? ​

CalMark covers are made from Sunbrella®, the best fabric in the industry for long term outdoor protection.
CalMark is 100% USA, labor and cover components.
CalMarks outstanding personalized customer service, from the ordering process to the design and completion of every cover, sets us apart from our competition.
Every cover ​is ​ customized to each customer's needs or designer trailers ​, nothing is a universal fit ​.
Many of our cover components are military grade with excellent longevity in long term, all weather exposure.
Why Does CalMark Cover Co. Use Sunbrella® Fabrics?
Sunbrella® is founded on the belief that fabrics should be both beautiful and functional. They began in the 1960s with the challenge of creating an awning canvas with a substantially longer lifespan than cotton. Sunbrella® has become widely adopted for shade structures, marine canvas and upholstery fabric for both outdoor and indoor applications. Their textiles are made with close attention to design detail, and engineered with robust performance characteristics that provide resistance to fading and degradation from sunlight and chemical exposure. The fabric is tactile yet durable, has industry-leading environmental characteristics, is easy to care for and offers long life – wherever it's used.

Note: Each yard of Sunbrella® performance fabric is a product of a global support team committed to producing only the most exceptional performance textiles you can buy.

Sunbrella® Fabrics are:

Water Resistant
Breathable
Mold and Mildew Resistant
100% Non Abrasive
USA made acrylic woven fabric
Sunbrella® is well known for their superior design against all weather conditions
Sunbrella® is the ONLY fabric that is specifically designed for continuous outdoor sun exposure and all climate conditions
It will hold up against the outdoor conditions and ultra violet exposure from the sun, like no other fabric!
Would You Like To Get a "Fast Quote"? It's FREE and Easy To Do!
We know that most people are on a budget, but protecting a major investment like your Trailer or Truck will SAVE you so much stress and money in the future, that you will never want to be without your CalMark Cover again! Just visit our FAST QUOTE page and fill in the simple information and we'll get back with you ASAP!!

How Long Should I Expect My Cover to Last?
CalMark Covers have an incredible 6-year warranty; however, many customers have gotten extended life out of their cover. This is influenced by weather conditions and taking care of the cover by padding sharp edges and keeping the cover hosed off from dirt and debris.

What Options Are Available To Help Customize My Covers? ​
CalMark will make sure we get the right measurements for every trailer or vehicle. No effort will be spared to ensure we get a perfect fit for your valuable trailers and trucks. We can accommodate most customized needs to fit any additional goodies you may have attached to the top or sides of your Horse Trailer or truck. We can add additional doors wherever you need them.

The customer favorite:
​The option of an additional ​zipper door ​ ​for your convenience, to access your Tack storage area when the trailer is covered. CalMark also offer hitch covers and tire guards ​.​

How Long Does It Take to Get My Custom Cover Once it is Fully Ordered? ​
Remember, we custom make every order. While every effort is made to get you your CalMark Cover as quickly as possible, every cover we send out has a unique, design to manufacturing time frame, ​depending on style and requested customizations. However, in general, from the time the order has been placed to ship-out date, most covers take about 2-3 weeks… and, we promise we are worth the short wait!



Doesn't Your Horse Trailer and Truck Deserve The Protection Of That CalMark Can Offer?
We know you want it— we certainly know you need it. Just pick up the phone. Or staff is friendly, knowledgeable and ready to help. We know you may have additional questions so give us a call and talk to any of our staff and we will help you get started on creating the perfect custom cover so you can protect what is yours! Call us TODAY!


---
Contact: Our Friendly Staff
2041 Cabot Place, Unit D
Oxnard, California 93030
Phone: (800) 838-7236
Email:
Website: Click Here To Connect

---