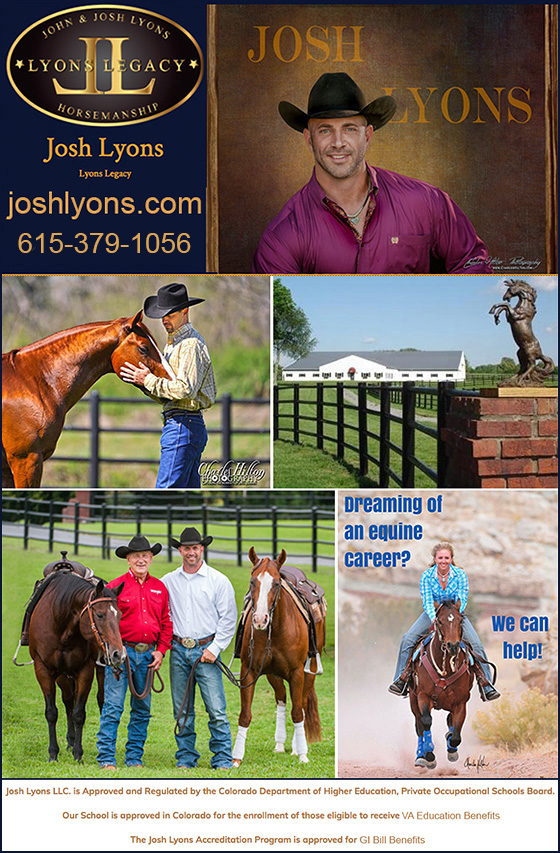 Josh Lyons Horse Training Certification Program
Josh Lyons has continued to build upon his father's methods to become a premier horse trainer and clinician. His understanding of the equine mind is unsurpassed.

About Josh Lyons
Josh Lyons is one of the most naturally talented horse trainers and clinicians in the world. Josh Lyons has spent over25 years working alongside his world-renowned father, John Lyons, to develop the "world's most trusted horse" training tools available today. Josh's proven theory is used by people around the world, from the most basic rider to the advanced professional trainers and clinicians. Josh has earned a place among the top trainers in the industry by applying a simple philosophy "Knowledge and motivation are the only tools you need to bring to the barn with you".
Josh excels as a mentor, clinician, and father. He is very passionate about reining and actively competes in the NRHA. Josh is a very devoted husband to his lovely wife Jana, and father to their four very active boys who are growing up extremely fast. Josh has been riding, training, and developing horse training aids all of his life. His equine career spans a wide variety of disciplines and events. He has worked cattle on a ranch in Colorado, participated in the PRCA (Professional Rodeo Cowboys Association) riding saddle broncs and team roping, is trained in classical dressage, and has qualified for the open finals in the NRHA (National Rodeo Horse Association) Futurity.



Are Josh's Training Methods Humane?
You BET! Josh loves his horses and respects them as partners and friends. He wants to help you develop a close and trusting relationship with the horses you ride. The core of Josh's training program is a cruelty free, conditioned response training program that provides an in depth understanding for the horse while teaching the handler how to safely and effectively work with their horse. This "Trust not Trauma" approach allows the handler to become a trainer and the horse to respond in a positive way to the cues given. This longstanding, proven approach provides confidence for the horse, the rider, and the trainer. Josh has been able to share his knowledge with thousands of people worldwide and he is committed to helping you and your horse.



What Programs Does Josh Lyon's Offer?

Certification Program— Want A Truly Rewarding Career With Horses?
* The philosophy of the John & Josh Lyons Certification Program is truly in a league of its own. The uniqueness of the program allows the students to build on their own internal strengths and training techniques. The format of the program is ever evolving to give each student the most current and up to date training techniques available. This ensures the lessons are taught in the safest way possible in an effort to protect the horse, rider and trainer.

* This program will help you develop the leadership skills needed to own your own business and give you direct insight on how to develop a business plan so you can become a clinician, teacher, or riding instructor. Furthermore, Josh will teach you how to seek and develop sponsorship opportunities, advertise, and market your business. John & Josh Lyons have spent years developing a trusted brand and are waiting to help you get started turning your passion into a successful career.

* Many of our students have changed their entire life and lifestyle. We have had the unique opportunity to transform the lives of firemen, teachers, veterans of the armed forces, mothers, fathers, lawyers, and many people who have never worked with horses before. All of our students are seeking a better way to become one with the horse. Each one is following a dream to become close to the animals they love and respect, while helping other horse owners have

Accreditation Program— Take Your Already Winning Performance To The Next Level!
* Developed for those who have a solid foundation with their training or are Josh & John Lyons Certified trainers looking to take the next step in their education. The structure of this program is to improve the training techniques needed to go to the show pen or train for higher level performance based clients.

* For most of our students this is reining, dressage, cutting, jumping, western pleasure, ranch horse versatility, mounting shooting, or extreme cowboy events. The program is designed as a four-week hands on course working personally with Josh to obtain the skills necessary to reach your desired goal. Students will start the program preparing their horse with exercises to improve softness and collection imperative to performance.

* Each student will learn various ways to teach conditioned response cues to achieve the higher-level performance elements they need to be competitive in their chosen discipline. Each trainer can expect that they will collect several exercises necessary to control every aspect of their horse's performance. The exercises will be broken down into easy to understand pieces so you and your horse can easily understand what is being ask of both of you. This is the most extensive training program available for finishing both horse and rider.


About Our Training Facility
Our Training facility in Cross Plains Tennessee is centrally located for easy access from anywhere. We are happy to welcome you for clinics, private instruction, or for any of our training programs. We have both large indoor and outdoor riding arenas that are safe and easy to use. Our indoor arena is treated to control dust and we have provided acceptable footing suitable for training reining horses.

Where Will I Stay During My Certifications?
We have the ability to offer overnight electric hookups for trailers and there are multiple accommodations very close to us in White House, Tennessee if needed. Our front office is happy to help you find anything you need while visiting us.

What About Financing-- If I Need It?
In house financing is available and we make every effort to help you to qualify! We want to help you every step of the way. Don't hesitate to call our office and let us help you!



What Are Horse Owners Saying About the John & Josh Lyons Certification Program?
Richie Wingfield says:
I went through the John and Josh Lyon's Certification Program in hopes of living my dream to become a professional horse trainer and clinician. After being accepted into the program I went to see Josh for the first time and instantly I knew I had made the right choice. Josh's ability with horses and people is unmatched. The knowledge and credibility he gives has turned my certification into a credible business. My first year out of the program led to clinics, private lessons, and apprenticeships as far away as England. So many doors have been opened thanks to the certification program. Your knowledge and understanding of horses after the certification program is amazing. From beginning to advanced techniques the work was made so simple thanks to Josh's ability to break things down into simple tasks.

Kim Robitaille
What we learned in CO in the Certification Program was far more than how to be a better rider or even how to be a better teacher. We learned how to be better people, how to inspire others, how to listen to others and how to be better communicators. The Certification Program goes so much deeper than horses….it is about people…and horses. Certification through the John & Josh Lyons Certification Program has enabled me to make a living in the horse industry. I graduated and nearly 7 years later I am still supporting my family with the income from my horse business.

The education and credential provided by the program offered me unique capabilities and opportunities, not offered through traditional colleges or universities, that enabled me to get started with my horse business immediately upon graduation. I feel very blessed to have the opportunity to earn a good living in a line of work that I love. Feel free to contact me if you would like to understand more specifically how the John & Josh Lyons Certification Program has helped me.

Phillip Elder
As I look back on my Certification/Accreditation experience, I see it as the most significant Equine experience of my life. It was not only time on task with the most knowledgeable horse trainer in America, but it was both specific to the trainer's needs and a huge challenge. It was rewarding far beyond what I anticipated and was worth every penny spent. It was not just an event, but rather the beginning of a journey, a quest for excellence. It planted the seeds for a more profound understanding of the most noble of God's creatures, the horse. Among the many lessons we learned how to become introspective enough to be critical of ourselves so we could continue to learn especially if we have expectations of continuous improvement. The Cert/Accreditation Program is many things, but right at the top of the list is the total support and unlimited access to Josh Lyons. Very unique. I am grateful to Josh and Jana Lyons for their persistence and patience and for their dedication to this industry for years.

Don't "Sit and Dream", Pick UP That Phone and Call Today!
Jana and I have been able to live our dream and we want to help you live yours! We go the extra mile for each of our students and can give you a solid foundation upon which you will be able to build a successful career. Call us today and we'll help make your dreams become a reality. Stay safe…. and may all your rides be good ones!!
~Josh and Jana Lyons
---
Contact: Michele - Event Coordinator
8714 County Road 300
Parachute, Colorado 81635
Phone: 970-309-8838
Email:
Website: Click Here To Connect

---