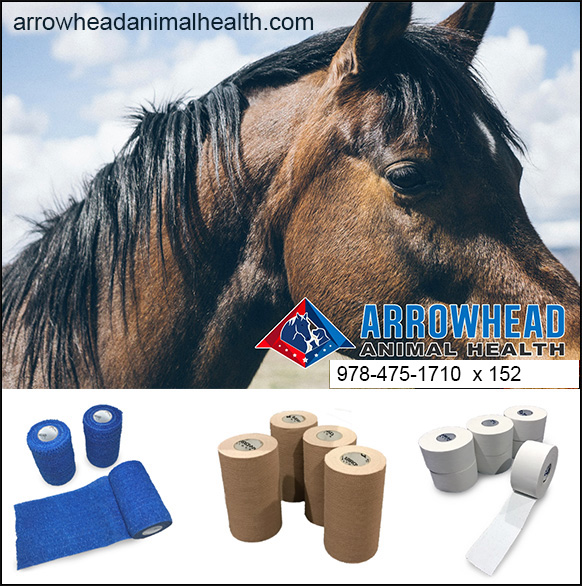 Arrowhead Tapes and Wraps by Arrowhead Animal Health
Arrowhead Animal Health is taking wraps to a WHOLE NEW LEVEL that lead the industry in stick, self-stick, break strength and unwind, with over 30 years of experience manufacturing premium adhesive and cohesive tapes in the USA.



Who Is Arrowhead Animal Health?
Arrowhead Animal Health is a new name, but behind it is over three decades spent becoming world-class experts in vet tapes, animal tapes and wraps. We are a division of Arrowhead Athletics - an industry-leading supplier of Performance Tapes & Wraps to athletes and teams at all competitive levels, worldwide, for more than 30 years. We aim to bring our extensive experience in offering premium cohesive vet tapes and adhesive tape products to all species - large and small mammals, for all practices ranging from equine health to family pet care. We have an amazing selection for equine hoof taping as well as tape that won't stick to animal fur.

Why Are Arrowhead Tapes and Wraps Superior To The Competition?
Arrowhead has 30 years in the sports tapes and wraps industry. We make our tapes right here in the USA because we want to ensure our products provide a superior performance experience. Our wraps are stronger, have more self-grip, and are more stable than others on the market. As the manufacturer, we can offer factory-direct pricing on tapes and wraps, and we have complete control over the quality and consistency of our tapes because they come directly from our facility. We also offer unique performance characteristics in our tapes and wraps, such as world-class and food-grade chew deterrent cohesive tape, performance-focused cooling wraps, and specialty products such as hoof and foot pad tapes for mini horses and ponies.

Is It True -Arrowhead Wraps Resist Water So They Don't Fall Apart When Horses Get Them Wet?
We've all seen it happen. You wrap your horse's hoof or leg, turn them out in a damp pasture, only to see the wraps fall apart, lose their "stick" and come right off the horse, undoing all your hard work and effort to keep protected and clean. With Arrowhead cohesive wraps, their special cohesive layer coating is impervious to water which means they do not fall apart or lose their self-stick ability when wet, whether due to water or perspiration from heat. Our wraps will not absorb water thanks to our unique, cohesive chemistry. You can count on Arrowhead wraps to last longer, whether wet or dry. These wraps are perfect for wrapping torn horse shoes, postoperative wrapping, and protective wrapping during transport. You can also use our wraps for positioning splints, stirrups, bits, patches, medical products, and gauze, and feel confident that your wrappings will stay dry.

What 3 Styles Of Wraps Are Available Through Arrowhead?


* Cohesive Wraps: Arrowhead Animal Health has developed unique coating and manufacturing technology, to create a stronger, better-gripping and longer-lasting line of cohesive tapes, wraps and bandages for animal care. Cohesive tapes have no 'sticky' adhesive, so they will not pull on fur. They are commonplace in all vet practices, stables, boarding houses and animal clinics. Whether our gold standard Arrow Vet CO bandage, our extra-sturdy ArrowFlex Cohesive wrap, or our completely unique low-profile Thin-Flex CO, these tapes are perfect for sticking to themselves but not to the animal.

* Rigid Adhesive Tapes: Rigid Athletic Tape, a standard in sports medicine and surgical care for decades, still has to perform with quality and consistency, and not all adhesive tapes are created equal. Arrowhead has spent decades perfecting multiple cloth constructions and adhesive chemistries, and has succeeded in producing adhesive tapes used by professional athletes and Olympians for decades. Arrowhead Animal Health uses the same technology and expertise to offer top-quality rigid tapes for vet use. Our tapes lay flat, and have a soft, supple feel and a consistent tear and unwind. Where other tapes may be hard to use for the last few feet, ours is not. Where other tapes may break under pressure, Arrowhead Animal Health tapes have some of the highest break strengths on the market.

* Stretch Adhesive Tapes: Arrowhead Stretch Tapes in Animal Health: Stretch tapes may not be as common as self-stick cohesive tapes in Animal Health, but they are still a fundamental piece of the caregiver's toolkit in small and large animal situations. Whether being used during surgical procedures or as a therapeutic support for joints in areas where cohesives could fall off, stretch tape in veterinary care offer a balance of strong support, grip, and flexibility for range of motion.


Are Arrowhead Wraps Really COOLER Than Other Wraps?
Arrowhead Cooling Compression Stretch Bandages are seriously cool. We've created a unique cooling stretch wrap to which is an effective, easy-to-use heat relief system. This cooling wrap uses simple ingredients to creates a cooling effect that will last for several hours and offer fast relief.

Does Arrowhead Make a NO CHEW Bandage? How Does That Work?
We created the Arrowhead NO-CHEW Cohesive Stretch Bandage with our innovative, human food-grade chew-deterrent chemistry, which is engineered to prevent animals from unraveling tapes or re-injuring themselves. It provides the same self-grip technology as our standard Arrow Vet CO wrap, but with a pleasant cinnamon fragrance that provides an additional deterrent from chewing. Our chew prevention chemistry has been tested on small and large mammals, and provides safe, effective protection of sensitive or healing areas that are accessible by a patient's mouth.

What Is Their PERFORMANCE Bandage? How Does That Help My Horse?
Arrowhead is excited to debut a Custom Cohesive Bandage that offers a cooling effect through neutral chemistry that avoids using any substances considered controlled by racing or performance regulations. This cooling bandage not only helps reduce heat exposure but also helps to evacuate heat from an overheating or heat-stressed animal, helping muscles and circulation cool down without bulky ice packs. We have had tremendous responses from the competitive racing and showing community, and from anyone who wants to help support the performance or well-being of animals in hot conditions.

Is Arrowhead's Cohesive Bandage Really Outperforming The Competition? How?
We've received overwhelmingly positive feedback from the field. We've sent tapes to farms, veterinary clinics, farriers, and trainers to put the Arrowhead Cohesive Bandages to the test and we have consistently heard that our tapes are more durable, have a stronger break strength and self-grip, and last much longer compared to competing brands. People tell us that our tape stays softer on the roll, unwinds easier, and sticks to itself with better grip. We also hear that it smells better than competing brands, and our chew deterrent chemistry is superior to anything else on the market today.

Once You Use Arrowhead, You'll Never Use Any Other Wrap. Call and Order Today!
Better in every way there is to be better and at similar pricing to the inferior wraps you have been using all along, why wouldn't you switch to Arrowhead? Cooler, Stronger, Stickier, Healthier— and they don't quit until you are ready for them to come off. We are proud to be an American manufacturer. Call us today and tell us about your horses!


---
Contact: Our Friendly Staff
220 Andover Street
Andover, Massachusetts 01810
Phone: 978-475-1710 x 152
Email:
Website: Click Here To Connect

---