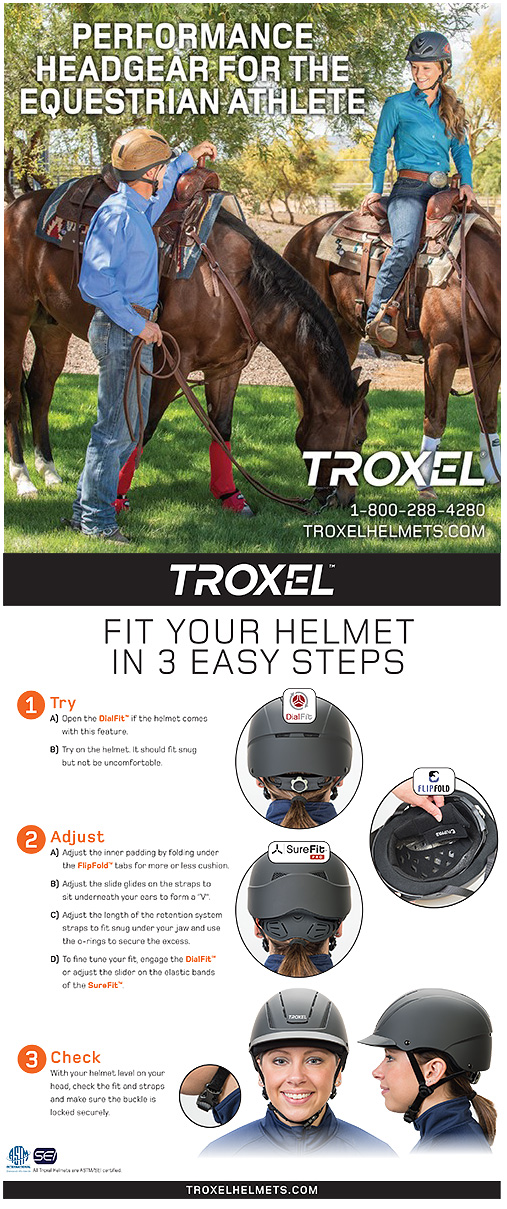 Troxel Helmets


TROXEL is the world's leading provider of ASTM / SEI Certified Equestrian Helmets, having provided over four million helmets to the equestrian market.





If You Aren't Riding With a Helmet on, You Shouldn't Be Riding!
Few things in life can equal the joy and thrill that riding your horse can provide. But experienced riders know that even the best trained, most willing equine partners, can have a bad moment and loose a rider to a fall. Leaving your head unprotected is taking a risk that can have expensive and long term consequences. No one understands design, protection, function and elegance like Troxel. Since 1992, Troxel has been providing leadership toward reducing equestrian related head injuries and deaths. Ride with Troxel and you can ride with confidence!

Why Should I Choose a Troxel Over Other Helmets?
Here are some of the reason's choosing a Troxel Helmet is the right choice for any rider:

Pioneered Helmet Safety: Troxel was the first to develop a light-weight vented ASTM/SEI certified equestrian helmet.

Physician Developed: Troxel is the only physician-developed equestrian helmet line. Since 1992, Troxel has been providing USA leadership towards reducing equestrian related head injuries and deaths. Dr. Timms' background as a specialist in critical care, and as a research professor at The Scripps Institute and University of California, provides the foundation for Troxel's advanced research and innovative products.

Expertise: Dr. Timms has served on the board of the National Brain Injury Association, and was an expert consultant to the State of California Department of Public Health on all injury monitoring and prevention efforts. Today, Dr. Timms is a member of the ASTM committee on head protection and consults Troxel's research and development efforts.

Comprehensive Collections: Troxel offers helmets and accessories for all riders, English and Western alike.

We Do Our Research: After producing superior English and schooling styled helmets for many years, and studying statistics on horse related head injuries, Troxel realized that the number of people using helmets in Western and Trail riding was significantly lower. This prompted Troxel to begin creating helmets for western riders specifically.

Ahead of the Curve: Troxel is the first company to put their research and development team to work for Western and Trail riders. With the introduction of the Dakota "All Trials" helmet, Troxel was the first to offer helmets to the Trail & Western rider. Troxel is still the only helmet manufacturer supporting all equestrian disciplines with a comprehensive line of safety helmets.

How Do I Select The Right Size Or Get The Right Fit For My Helmet?
Getting the right fit is more than just for your comfort, it is paramount for your safety. Determining your size is easy.
Just see our short video below to help you:



Take A Look At Troxel's NEWEST Star— The SPIRIT™ Helmet!
The #1 riding helmet is now better than ever with a new low profile, deep full coverage design and improved fit! The Spirit offers protection and ventilation without sacrificing style. Now with an XS size to fit young riders and a new size range to appropriately fit adults, even with the largest of heads, the new Spirit is sure to win over even more riders. The Spirit comes in a large range of solid colors and graphic prints.

Key features include:

New Low Profile
Improved Fit- fits round to oval shaped heads
Full Coverage Design for Optimal Comfort
DialFit System
New Size Range- including XS for young riders
Maximum Airflow Vent Placement
FlexVisor™
FlipFold™ removable washable headliner with Air-Channel™ technology
ASTM/SEI certified
See our Newest Video For Spirit Below!



Riding in Tough Terrain? The SIERRA™ Helmet Is Your Answer!
Engineered for riding extremes, our Sierra's Helmet rugged nylon and leather covering not only looks good, but also withstands the toughest terrain on the trail. Its excellent ventilation and mesh covered vents have made this the trail rider's number one choice.

Key features include:

Low profile
SureFit™ Pro
Riveted nylon and leather finish
Mesh-covered vents
FlipFold™ removable washable headliner
XL Sizing (Brown and Black Only)
ASTM/SEI certified


Looking for an Ultralight, Low Profile Helmet? The INTREPID™ by Troxel Will Keep You Cool!
The Intrepid Helmet features an ultralight, low profile design created for the performance rider. Moisture-wicking padding, self-adjusting SureFit™ Pro technology and superior ventilation provide an unmatched level of comfort and stability during demanding hours in the saddle.

Key features include:

Low Profile
SureFit™ Pro
Duratec™ finish
Honeycomb mesh-covered vents
FlipFold™ removable washable headliner
ASTM/SEI certified


Are You An English Rider? The ES™ Helmet Is Your Show Partner!
Designed for the performance needs of English riders. Troxel's latest fit technologies combined with high-quality materials and a beautiful low-profile silhouette make the ES Helmet a must-have for athletes in an English saddle.

Key features include:

Low profile
SureFit™ Elite
Air-channel™ technology
UV Resistant Microfiber covering
Mesh-covered cluster vents
FlipFold™ removable washable headliner
XL Sizing
ASTM/SEI certified
See our ES Helmet



The DAKOTA!
Hit the trails in style and comfort with the coolest and lightest trail helmet on the market. The Dakota's extended visor provides extra sun protection while the excellent ventilation and lightweight construction will make you forget you're even wearing a helmet.
Key features include:
Low profile
Matte Duratec™ finish
Extended sun visor
Leather hat band and concho detail
Seven large mesh-covered vents
SureFit™ Pro fit system
FlipFold™ removable washable headliner with Air-Channel™ technology
Can I Paint and/or Sticker My Helmet?
Troxel strongly advises against painting, stickering, applying crystals, cameras or any other objects to or otherwise modifying a helmet as all of these modifications can damage the helmet and/or reduce its protective capabilities. In addition, dry-cleaning, cleaning solvents, chemicals, paint, heat or bug sprays may affect the helmet's integrity or performance.

Troxel branded helmet covers, headliners and other Troxel accessories can be used on Troxel helmets and not interfere with the ASTM standard, so long as the user instructions are followed. All other modifications void Troxel's warranty and may affect the helmet's protective capabilities.

Do You Make Helmets for Different Head Shapes: Round vs. Long/Oval?
Yes! Troxel helmets are designed to fit different head shapes. Troxel's removable and washable interior headliner changes shape and can alternate between a more oval or more round shape. This is accomplished by the 'flipfold' pad located inside the front and sides of the headliner.

Do I Need To Replace My Helmet After a Fall?
Yes. Your helmet is only designed for ONE impact! The damage may not be visible. Your helmet may also crack during a fall, this is okay, it's a form of energy dissipation, and energy used to damage the shell is no longer available to damage the rider's head.

How Often Should I Replace My Helmet If I Have Never Had a Fall?
Even if your helmet has not been damaged, it needs to be replaced every 5 years or sooner, depending on how much it is worn.

What Do Customer's Say About Troxel Helmets?
Never even got on... I was mounting my 21 year old thoroughbred whom I have owned for 18 years. Normally he is rock solid for mounting but today something spooked him and he bolted with me half on. I was thrown backward landing on my head and back. Other then numerous bruises, scrapes, and a slight headache I got up and walked away. In my entire riding career of 33 years this is the worst accident I ever experienced. Thank goodness for my Troxel helmet!
Nancy Lexington KY

On Friday, June 16, I was out for a lovely trail ride on my horse near Arlington, WA. While trotting along at a quick pace, my horse suddenly spooked and dodged to the left, while I kept going forward. As I flew over his shoulder, my body twisted and I landed hard on my back, followed by my head slamming into the ground. I didn't lose consciousness but it took a good 10-15 minutes before the world made sense again.

Thankfully, I was wearing my Troxel Liberty helmet. Until I purchased the Liberty in March 2015, I rarely wore a helmet. I didn't like my old helmet… it was uncomfortable and always seemed to end up tilted sideways. However, I wore my Liberty helmet religiously and I'm ever so glad now! I suffered a mild concussion instead of serious brain trauma. I'll be purchasing a new helmet again in the next few days and should be back in the saddle within a couple weeks. Thanks for making a helmet that I wanted to wear – it saved me from a far worse head injury!
Kris Olsen Mill Creek, WA

Ride With Confidence With Troxel and Order Today!
There is a reason why more riders depend on Troxel than any other brand! Their design, durability, beauty, style, and unparalleled protection just have no equal. You can find Troxel Helmets at any major catalog like Stateline Tack, Horse.com, Jeffers, ValleyVet, SmartPakEquine and more. Troxel has numerous styles, price points and size that you need, visit Troxel to view their entire helmet collection!

---
Contact: Our Friendly Staff
P.O. Box 68 or 7540 CR 201
Mt. Hope, Ohio 44660
Phone: 800-288-4280
Email:
Website: Click Here To Connect

---