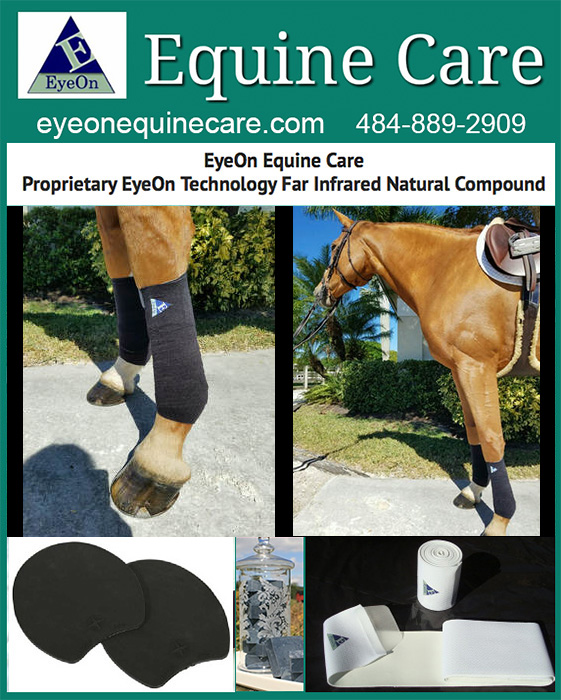 EyeOn Equine Care
The EyeOn products are made of soft, breathable, non-slip, non-irritating, medical grade foam to actually promote the NATURAL THERMOREGULATION of heat.



How Did EyeOn Equine Come To Be?
EyeOn Technology is the result of life's experiences. Says owner Doug Spatz, I grew up in a family traditionally immersed in the world of horses from our ancestors who immigrated from Ireland during the 1800's. Other personal interests included mineral collections, competitive athletics and much more. While on a university research project to study Disease Etiologies in Latin America during the summer of 1979, my background research revealed a great deal about alternative healing methods and indigenous beliefs that certain herbs and minerals had beneficial properties.

In 1995 while in South America I purchased an interesting mineral sample and studied its properties over time. I believed this one particular mineral might enhance blood flow once embedded into products such as hock boots. I then procured samples from around the world to test for the best qualities I desired. Having made this determination I continued my experiments by adding other minerals to enhance these properties. Eventually I was able to increase the output from 1x to over 20x. The Far Infrared output was so powerful that it caused many people to state they feel a tingling sensation the moment they tried any EyeOn product.

For over a decade we worked on developing products and testing them on me, family members, our pets, friends, their animals and so many others. The technology has prevented many horses from being put down, elderly dogs to live free of arthritic pain into old age in addition to many people who believed they'd need to rely on pain medication for the rest of their lives only to live pain free from this technology.

How Do I Know If My Horse Can Benefit From EyeOn Technology?
EyeOn Technology consists of natural crystals and minerals and doesn't contain any ceramics. Instead the compound embedded into the products transforms heat waves into far infrared waves plus produces a continuous flow of healthy air anions that serve as a natural antimicrobial and odor eater. The EyeOn products made with the breathable foam do not reflect or trap heat but permit NATURAL THERMOREGULATION.
This natural technology produces Far Infrared Rays within the same frequencies or wavelengths of animals and people.

* Far Infrared waves penetrate deeply – easily passing through the dermal layers
* Increases blood flow and oxygenation
* Musculoskeletal Improvements with Infrared heat – of particular relief to those with rheumatoid arthritis.
* Reduces pain, swelling and inflammation
* Relief of muscle spasms
* Accelerates the Natural Healing Process by increasing Nitric Oxide in the blood and plasma

How Does FIR (Far Infrared Rays) Technology Help With Pain Relief and Recovery From Injury?
When you apply the FIR technology, you see the healing results from the production of nitric oxide from the hemoglobin by the reaction of the photons of the FIR on the enzymes, which produce the nitric oxide gas. The immune cells get into the area and the circulation is increased. Pain is reduced, and the area now has the immune cells necessary for complete healing.

How Is FIR Superior To "Icing" My Horse?
1) The practice of icing down legs before and after a race should be considered as much of an out of date practice as bloodletting. Of course ice reduces swelling but it also impedes the natural healing rate and can cause more injuries rather than prevent them.

2) Any athlete, human or animal before a workout or a race needs to warm up muscles to get the circulation going. Muscles often become tight and if not warmed are more prone to injury. Muscles are elastic or stretchable, but there are limits to this. This limit is called the stretch reflex. Simply put, the stretch reflex is a muscle contraction within the muscle itself. When a muscle hasn't been properly prepared for strenuous exercise it can contract or tighten up, causing strains or tearing of the muscle fibers. Warming up causes blood vessels to dilate and allows for optimal elasticity of the muscles.

3) Strenuous exercise leads to microscopic tears in the muscle, which leads to inflammation and soreness, a process that is an important step in the muscle getting bigger and stronger. Muscles are made up of protein filaments that shorten, leading to a contraction. As the body repairs those microscopic tears, it builds new, healthy, and strong muscle tissue.

4) Icing down the legs goes against common sense! The best treatment is using Far Infrared Leg Wraps. Far Infrared heats evenly the inside and out to enhance blood flow and oxygenation. FIR reduces pain, inflammation and swelling plus accelerates the natural healing process. FIR treatment is the most advanced practice being used by professional and amateur athletes today

Is It True That, Unlike Our Competitors, EyeOn Equine Will NOT Cause Overheating?
YES! This is true for two reasons. First, the EyeOn compound doesn't contain any ceramic material that reflects or traps heat. Second, the EyeOn Compression and Support Wraps are made with very soft, non-irritating, breathable foam that has a breathable, Velcro receptive, textile backing. The EyeOn compound is mixed into the foam solution before manufacturing. The far infrared properties will not wear out during the life of the product.

* The breathable foam products have been used as compression and support therapy systems for many years prior to the introduction of the EyeOn compound. These products were tested by certified, independent laboratories to ensure none of the chemicals or dyes used would cause any irritation to animals and people. Additionally, independent labs conducted skin contact tests by having people wear small product pieces for 28 days to against any adverse effects.

* Marly Coppens of The Netherlands - Student Animal Physiotherapy, BSc. Physiotherapy, Musculoskeletal Ultrasound and her team conducted a study to compare the skin temperature of the distal limb under a bandage or a tendon boot with that of a bare limb, at rest and after 20 minutes of lunging by use of sensors and thermography.

* Horses used a closed tendon boot made of neoprene attached and a polypropylene fleece with incorporated ceramic particles bandage that both enclosed the fetlock joint. After exercising with a bare leg the mean maximum temperature was 14ºC, with a bandage 25ºC and with tendon boot 21ºC.

* One of the main mechanisms of thermoregulation is heat loss from the body via convection from the surrounding air. Earlier research looked at the effect of hyperthermia on tendon cell death and found that after heating at 45ºC for 10 minutes' tendon fibroblast cell survival percentage was 99%. Heating at 48ºC for 10 minutes decreased cell survival to 22%. SDFT core temperatures of 45ºC have been recorded during gallop, with tendon surface temperature reaching 40ºC.

Can I Really Leave The Wraps On All Day? Competitors Can't Offer This!
We have veterinarians using the wraps on race horses over night and replaced after training by noon. To date we have not had one trainer from the Americas or Europe inform us of any problems using the wraps for too long a period of time. The wraps are breathable so heat can't be trapped. The Velcro is very strong and has stood up as hock wraps in stalls with saw dust bedding. Using the wraps for extended periods of time does require common sense. Wraps shouldn't be too tight and of course during a heat wave with extreme temperatures one should take care. Otherwise the wraps can be used as long as any other breathable wrap.

Tissues normally produce infrared energy for warmth and tissue repair. Tissue production of infrared energy is associated with a variety of healing responses. At times, the infrared energy in tissues may require a boost to a higher level to ensure the fullest healing possible for tissue repair. Body tissues that need an infrared boost selectively absorb infrared rays. The tissue will only use the infrared rays in the areas where it is needed. After boosting a tissue's infrared energy, the remaining rays pass on harmlessly A phenomenon known as "resonant absorption."

What Conditions Are Helped By EyeOnEquine Therapy?
Any animal suffering from swelling, inflammation and or pain will benefit. EyeOn Equine Care products have had incredible results on horses suffering from suspensory ligament issues, lameness, swelling, arthritis, bowed tendons, tendinitis, laminitis, lymphedema, abscesses, sores, rain rot, foul odor, etc. The wraps have also cut the healing process of fractures in half on people. Additionally, diabetics with open sores that wouldn't heal in two years used EyeOn pads to completely heal in two weeks.

What Kind Of EyeOn Products Are Available?
Our product line is well thought out, to serve your needs.
* Leg Wraps
* Hoof Savers
* Foam Pads
* Handmade Soap— For humans and animals
Note: Along with our INCREDIBLE results… you're going to find our prices are AMAZING!

Wait! What? — Did You Say "Handmade Soap"?
Yes! This extraordinary handmade soap is only made in the USA with the EyeOn Technology compound. It's so safe we decided to make it into a soap for use by animals and people. We are the only authentic maker! EyeOn®SOAP has the desirable antimicrobial and far infrared properties proven to have many benefits:
The combination of healthy anions and far infrared rays has been found to be very useful to treat the following:
* Acne
* Dermatitis
* Age Spots
* Wrinkles
EyeOn Soap will leave your skin feeling healthy and very soft! Single 5 oz bar only $9.85

So, What Do Horse Owners Say About EyeOn Products and Their Results?

Dr. Frank Reilly of Equine Medical and Surgical Associates
I used the EyeOn leg wraps on a standardbred with chronic front leg suspensory issues for the last 2 years--applied them direct on the skin from below the knee to the ankle, and then wrapped a quilt and polo around it to keep it in place. The wraps were left on all night and replaced after training by noon.

After 48 hrs, the swelling in the front legs prior and after training was significantly reduced and on palpation, the tenderness seen was also reduced---the horse also trained better by day 7 and did go on to qualify and raced well 10 days later. The trainer also kept the horses legs wrapped on the trailer ride to the races with the EyeOn until warming up and after the races prior to loading up for home would reapply them--the horse continues to improve.

Jenny, KS
My mare had been head-bobbing lame since July 11th and I was not having much success with anything. I received the leg wraps and hoof pads on August 11th and applied them the afternoon of August 12th. She was still noticeably lame the day I put them on her. By the next day she was much better and even trotted a few strides without much trouble. Before this she was hesitant to even walk. I attribute my mare's instant soundness to the Eyeon® material embedded in the wraps and the hoof pads. There is no other explanation. All I have to say is that I do believe that the EyeOn® products would be of great benefit to the equine community for overall healing and pain reduction. I knew I had to write this testimonial after using the products because of how well they worked. I think it is breakthrough technology!

Jenny, KS
The other horse, Brave, I was telling you about with the bad arthritis...his owner just called and said that he is wanting to run! They are so happy he is doing this much better...they are doing the happy dance. They said they also believe it is the EyeOn® wraps that have helped him improve so quickly! The husband said that he is entirely a brand new horse now just after four days! So you might be getting a separate testimonial from them as well! They actually considered putting this horse down.

Lynda C, NY— Help For Humans!
I took the thin EyeOn® pad under my bed sheet. I slept on it and upon waking the following morning and as I got out of bed I felt no back pain. I didn't feel I was ninety years old. I even put it on my dog Fred one night. He has been suffering with arthritis for years. Everyone commented on how much better Fred was the next day, playing with other dogs like he did years ago!

Robert S, Wellington, FL— Helped Horse, Dog and Human!
Our jumper's leg started to blow up and fill with fluids after competitions. The vet scanned the horse with ultra-sound and said it wasn't a bowed tendon, just fluid and swelling. I've been using the EyeOn® pads and had very good experiences with them. I decided to try EyeOn® pads on the legs, first laying the pads right on the skin, then applying the sheet cotton and finally the wrap. I wrapped the leg just before noon and removed them the following morning around 7:30 The swelling was completely gone and I found no need to use any other medication. There was no sweating either. EyeOn worked on me, the dog and horse. I've even used EyeOn pads on my horses' backs to relieve pain. There is no other product that works as well as this!

Hannah C - Scotland/North Windham, Connecticut
My mom's boyfriend, Scott, was talking to your representative and checking you guys out. Scott is a farrier and has been so for almost 40 years. As you may know, a farrier's job isn't an easy one; it can wear down the body. This is the case for Scott. Along with other joint pain, being a farrier has taken a hard toll on his elbow, making him take further action to help it through a recent elbow surgery. Scott had this surgery a little prior to coming to the equine affaire, and had his arm in a sling. It's been a painful recovery which has hampered some of his capabilities. He decided to stop by to your booth to chat. After talking with you for a while, you were VERY kind to give him one of your wraps to try. It has made a world of difference.

Even during our venturing throughout the equine affaire Scott was surprised that his elbow was neither hot nor sweaty--a major plus. For days after and even now, Scott has been wearing the wrap on his elbow. He swears there is less swelling, less sweatiness than other wraps, and less pain. His doctor said his arm is healing very nicely, and said that if the wrap is working then to keep going with it.

Don't Your Horses Deserve To Be Pain Free, Affordably--Without Risk Of Overheating?
Few things can discourage a horse faster than pain and discomfort. If you can help that horse to recover, feel better, and do it faster, and naturally— and at a price that is about 1/2 of our competitors? Why wouldn't you? You'll love EyeOn Technology and what it can do for the horses, dogs and people in your life. Call us today and tell us about your horses— we're excited to talk to you!

---
Contact: Doug or Friendly Staff Member
P.O. Box 1181
Malvern, Pennsylvania 19355
Phone: 484-889-2909
Email:
Website: Click Here To Connect

---