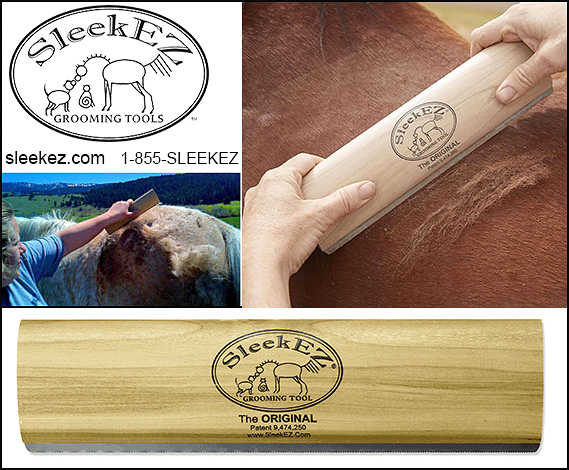 The ORIGINAL SleekEZ® LARGE Animal Grooming Tool
SleekEZ Grooming Tools are one of the most highly effective and affordable tools for removing loose hair, dirt and dander without stress or discomfort to horses, dogs and cats.



About Our Company
SleekEZ® was formed by long-time, advanced equine dentist Jennifer Tipton. Jennifer travels throughout the United States making horses happy, and always enjoys a pretty horse! She is a horse, kitty and dog owner, and lives in Montana where the winters are long and springs are, well, hairy. But, no matter what part of the world you are in, animals shed year round.

Different prototypes were made and many were tossed mostly due to shoddy presentation and uncomfortable grips. Finally, after many handmade prototypes, she went with this present one as it is most comfortable in the hand. Patent was filed and is presently pending.

In fact, that is the second most common type of remark from users of SleekEZ®: "It is very well constructed and fits nicely in the hand." Truly, the grip does allow the user to use two hands and really work without discomfort to the animal. In fact, horses and dogs seem to really enjoy it whereas they don't like other brushes.
Following are what SleekEZ® presently carries, however more items are on the way...



The ORIGINAL SleekEZ® LARGE Animal Grooming Tool-- only $19.95
The ORIGINAL SleekEZ® is ideal for the horse to shed loose hair, dirt and dander from the coat without irritation. We promise that you will be completely in love with this item come shedding season! GUARANTEED. No honing the edges required, and the 10-inch length allows users to use two hands and quickly remove loose hair, dirt and dander. Just simply swipe the blade with a soft brush from your tack box to remove dirt build up, continue brushing and see that sleek pony appear!

The ORIGINAL SleekEZ® MEDIUM Animal Grooming Tool-- only $17.95
The ORIGINAL SleekEZ® MEDIUM is our #1 best seller. NOTHING works better than our simple tool to remove shedding hair, dirt and dander not only from pets but also from furniture, pet bedding, saddle pads, autos and carpeting. Works on any animal year round for removing all expired hair...


The ORIGINAL SleekEZ® SMALLAnimal Grooming Tool-- only $14.95
These 2.5 inch SMALL SleekEZ® Grooming Blades are for cats, small dogs, and horse legs and faces! We had buyers of SleekEZ's dog and horse grooming blades tell us that they have tried them on their cats, so we created a smaller version. The cats LOVE it they are saying. It works like a "bionic cat tongue" to remove all that loose kitty fur....Goodbye hairballs? Gag, hack...We can only hope!

What Do Customers Say About SleekEZ® Grooming Tools?
I just purchased one of these and it arrived yesterday! I was really happy with its performance on the yak mare (I REALLY should have done that third clip ...). I can see this little gizmo saving me a good bit of grooming time and definitely saving money on the slicker blocks. Ivy, my thin-skinned (and naturally non-hairy) TB cross didn't object to me applying the shedder to her. She doesn't really need it, but it did help pull up some scurf on her bum where she had had a good roll in her favorite sandy wallow. - coloredhorse, online forum

My dogs don't like to be brushed. I think it is the teeth of the brush scraping against the skin. They tolerate the SleekEZ, though. And, it really works well. - S. Kirk, Agua Dulce, CA (owner of fine labrador retrievers)

I really like how the handle fits in the hand. I can get a good grip. It's easy to use and works amazingly well.
M. Richarz, CA

This product is freaking awesome!!! I cannot believe how much hair comes out!!! My donkey takes the longest to shed out, and she looks sleek now because of this!!!" - Stacey "Myhorserocks Huska.

I can't tell you how great this works on all my horses and now I use it on my saddle pads to remove caked-on hair. Really helps to preserve the pad-- just see my testimonial video below! - Bob Pruitt- CEO Infohorse



Order Your SleekEZ Grooming Tool Today!
SleekEZ Grooming Tools are the ultimate grooming aids to deal with shedding without irritating your horse, dog or cat. You can find us in great catalogs like JeffersEquine, Amazon, Chewy, SmartPakEquine, DoverSaddlery and more, or call today and we are happy to help you!

---
Contact: Our Friendly Staff
931 Princeton
Billings, Montana 59102
Phone: 1-855-SLEEKEZ
Email:
Website: Click Here To Connect

---