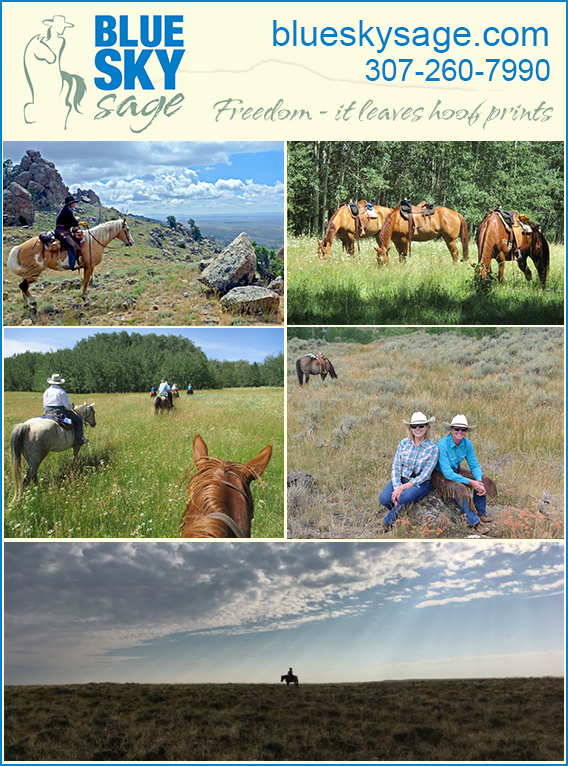 Blue Sky Sage -- Horseback Riding Retreats
At Blue Sky Sage, it's all about quality horses to ride, a small group of only SIX RIDERS PER WEEK, and the personal attention you receive from owner Bobbi Wade!



About Blue Sky Sage Horseback Riding Vacation
When you choose Blue Sky Sage Horseback Riding Retreats, you have selected a horseback riding vacation that is an intimate, exclusive experience for SMALL groups, personally escorted every day by the owner of Blue Sky Sage, Bobbi Wade. A smaller group means more personal attention, more privacy and more individual space. You won't get lost in a crowd at Blue Sky Sage; group size is limited to SIX RIDERS PER WEEK.




About The Owner Of Blue Sky Sage- Bobbi Wade
Bobbi Wade was born and raised along Rawhide Creek just a few miles from the Texas Trail and the Pony Express Trail in eastern Wyoming. Her dad worked for many years on different old-time ranches north of Lingle, Wyoming as a cowboy, and ranch foreman. Bobbi and her husband Mike Wade, together worked in the outfitting industry for over twenty years, and in 2000 started High Wild & Lonesome Cowboy Adventures, which eventually became Blue Sky Sage. Mike passed away in May of 2019, however Bobbi is continuing to operate Blue Sky Sage, with a special emphasis on women-only ride weeks and horsemanship clinics for women, with the same dedication to safety, quality horses, small groups, and a nature experience that has been the trademark of the company for the past 20+ years.

Bobbi Wade is an amazing horsemanship instructor, working with guests to gain confidence, learn how to be safe in all aspects of horsemanship, and to find the "joy of the ride"! Each of the ranch horses are well known for their training and the pure enjoyment they offer to guests.

So, Is It True That The Riding Will Be Guided By Bobbi Wade?
Yes and her personal attention and lifetime horse experience makes all the difference! She will NOT hand you off to a wrangler' though there is an assistant wrangler in the field. Bobbi guides every ride, every day, so you are assured the experience and expertise of her 40+ years as a professional guide and horsewoman are shared throughout your riding week.

Do They Have Horses To Ride That Can Meet My Level Of Experience?
The horses are well-trained, respectful, and forgiving when they offer themselves to you to learn and enjoy a good days' ride. Blue Sky Sage conducts ride weeks for the strong novice (basic riding skills and relative confidence with a horse) to the more intermediate and advanced levels for qualified riders. They try to put people of similar skill levels into the same ride week, so no one is overexposed, or held back in the group. It is important to be physically fit— at least within reason, and your ability to "post the trot" correctly is imperative if you want to have the opportunity to pick up the pace. The intensity level and pace will be adjusted to accommodate your skill and fitness, remembering that the number one priority is SAFETY, for both rider and horse.

Will I Really Be Able To "Ride" … Or Is This A "Nose to Tail" Adventure?
One thing about Blue Sky Sage, these are not dull "nose to tail" trail rides! Every ride day is conducted to be safe and controlled, yet physically active, and where practical, you ride off-trail and abreast of your fellow riders. Natural horsemanship philosophies practiced and shared all week, so you can become a much more confident and knowledgeable horsewoman. Featured rides include: Be the Heroine of Your Own Live All Women Weeks, the Horsewomen of a Certain Age Horsemanship Retreats, and Guys Ride Too! Mixed Group Week

Where Can I Expect To Be Riding?
When you are riding with the Blue Sky Sage you will be horseback in the midst of the wide-open spaces of Wyoming, with 100-mile vistas stretching between the horizons. Ride along the Continental Divide as it crosses the Red Desert or into the Honeycombs Badlands wilderness of the Great Divide Basin. Find yourself along the banks of the Little Sandy River as it winds its way like a ribbon of refreshment through the high, cool desert. This tall and uncut Country is the home of the true western perspective. Cowboys, wild horses, historic trails, and ancient Native American campsites are still a part of this landscape. The fences are few and far between, "civilization" is a long way off and the freedom to ride is limited only by your desire.

What Are The Accommodations Like?
"Simple luxury" is how we accommodate your needs during the ride week. The premise is to have everything required for people to be safe, comfortable, well-fed and well-equipped, without all the "noise" that buildings, electricity, and all the accoutrements they support to interfere with the simplicity of an off-the-grid "home on the range" in nature. "Less is more" when you settle in to the idea of a true wilderness adventure, and it can be a powerful, rejuvenating time.

Think of the soothing melody of running water over smooth stones, with the harmony of a summer breeze through tall lodgepole pines to lull you off to sleep. The quiet of your own canvas tipi lodge, with a warm sleeping bag on a cot and a comfy mattress are better than the best king sized bed in a luxury resort for restful sleep. The privacy and peace of the location enhances the accommodations of the Blue Sky Sage camp setting.

Will I Have My Own Private Lodging?
Every individual guest is set up in their own tipi lodge, with larger lodges available for couples or those who want to share. In addition, there is a private shower tent with solar-heated showers ready to use after we get in from the days' ride or the river right beside your tent may beckon you to take a dip in the crystal clear water for a cool soak, and to wash off the dust of the trail. The waters' edge is also a fabulous place to socialize and relax with your fellow horsewomen. There is no "single supplement" fee added on either.

How About The Food?
The menu features grass-fed buffalo raised on the high plains of Wyoming. Other fine entrees include wild Alaska salmon, grilled chicken, crisp salads, fresh fruits, natural cereals and yogurt, fresh vegetables prepared in a variety of mouth-watering ways, homemade breads, and if you have room, desserts that are sure to entice you into a second helping. Our camp chef is talented in preparing and serving a variety of wonderful meals, and specialty hors d'oeuvres for the BYOB cocktail hour after the horses are put up from a good days' ride. You will dine under the outdoor awning, or around the campfire, where an occasional Dutch oven surprise awaits!

Is It True That I Can Even Order A Customized Wade Saddle From Bobbi?
Yes— you will love the Blue Sky Sage "Double Wade" Saddle, and you may like it so much you will want to order one for you and your horses! These amazing saddles have been developed by Bobbi and her late husband, Mike, and their saddle maker with the knowledge and experience of well over 40 years of professional riding and guiding. The "Double Wade" is built on a genuine Wade tree, and designed especially for women; it is lighter weight, narrower across the seat with a deep pocket for a more secure seat, and is incredibly comfortable for both rider and horse.

Call Today and Have The Horseback Experience Of A Lifetime At Blue Sky Sage!
Join the hundreds of happy Blue Sky Sage Guests that want to come back again and again. Bobbi Wade and her wonderfully trained horses make the experience one you will cherish for life. From our delicious food, to days spent on horseback exploring beautiful country, good people and comfortable accomodations- you'll love every minute. Bobbi is excited to talk to you-- just get on the phone and reserve your spot today!

---
Contact: Bobbi Wade
P.O Box 116
Big Piney, Wyoming 83113
Phone: 307-260-7990
Email:
Website: Click Here To Connect

---