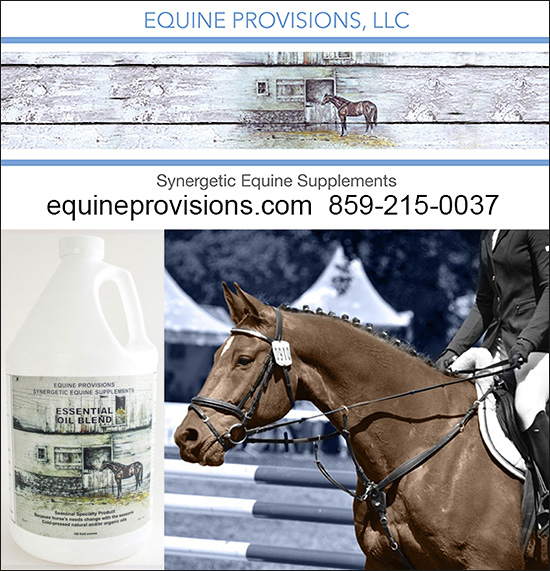 Essential Oil Blend by Equine Provisions, LLC
Essential Oil Blend is specially designed with a unique formula for HOT months and COLD months-- help with weight management, proper muscle function, boost immune system, inflammation -- and much more!



About Our Company

Equine Provisions approaches a horse's health from a balanced, foundational perspective and all of the supplements work synergistically with each other and cooperatively with most medical protocols. The products are synergetic because they don't overlap nutrients in a haphazard, imbalanced manner; which can be more harmful than effective. They work cooperatively because supplements should enhance medication therapy, not hinder progress. Top quality medical care is most valuable when paired with top quality individualized nutrition. We have done our homework!

Equine nutrition is most successful as a lifestyle. It begins with asking the right questions. For example, a gorgeous coat on a horse is desirable, but it is not always a full measure of complete health. Horses can have a shiny coat, but still harbor health issues. So the right questions are: does your horse have ulcers, a low thyroid, breathing problems, bleed or have low WBC's (white blood cell count), painful joints, allergies, etc.? Equine Provisions helps make horses look physically fantastic, which is a true reflection of internal health.

Horses will benefit when they maintain elevated health. Equine Provisions products help regulate, promote, and restore proper body functions. They nourish the entire system and meet fluctuating needs as dictated by gender, age and performance requirements.

What Separates Equine Provisions Products from Other Supplement Companies?

Equine Provisions high performance products build a strong foundation from the inside out and the specialty formulas address resistant issues more effectively than any other supplements. They are called high performance products because of the high level of results they achieve for every horse's needs.

Equine Provisions products are set apart for numerous reasons:

* First-ever, gender specific supplements for male and female horses — because their needs are different
* Products fully accommodate for horses' seasonal and lifestyle needs
* Includes: fresh-batch, all natural, organic and human-grade ingredients
* Does not include: ground-up rocks, bones, toxic metals (oxides), synthetics or harmful chemicals and preservatives — these ingredients are commonly found in other equine supplements
* Works efficiently with and do not overlap other nutrients which would haphazardly cause harmful imbalances
* Cooperative and compatible with most medical protocols
* Nourishes entire system, elevates health and improves performance

Is It True That Essential Oil Blend Can Help My Horses With Their Seasonal Metabolic Needs?

Yes! In our Essential Oil Blend, we combine the highest quality, human-grade, cold-pressed natural/or organic oils as a nutrient-rich food source and to elevate the health of all horses. This is the first seasonal oil blend offered for horses—because their metabolic needs change from the Spring/Summer to Fall/Winter.

We use the heavier blend in the cooler months to retain warmth and in the warmer months the lighter blend to increase metabolism. Equine Provisions automatically changes the seasonal blend in March and October.

Oils we use in the blend:

Extra Virgin Olive Oil- cold-pressed
Safflower Oil- cold-pressed
Wheat Germ Oil- cold-pressed
Flaxseed Oil- organic, cold-pressed

Note: The Essential Oil Blend is a Race- Friendly, and F.E.I. safe product.
Additional Important Note: Even if your horse's ship south in the winter it is still their winter internally and the season is changed geographically as well.

Is It True That Essential Oil Blend Can Help My Underweight or Overweight Horse?

Horses can be underweight for numerous reasons, but generally a combination of factors. It is best to determine the cause of weight issues which may include: ulcers, poor feed choices, malnutrition, poor feed to exercise ratio, limited roughage and grazing, parasites, illness, over active thyroid/metabolism, poor absorption and assimilation of nutrients, nervousness, field "bullying" causing deprivation—to name a few. Consult your veterinarian.

Having said that, using our Essential Oil Blend is opportunity to help restore weight to most horses. This product is essential to use for the overall health benefits because of the quality of the oils, the choice of oils and the fact that they change seasonally to accommodate the horses' metabolic needs. Then weight gain or weight loss becomes more a matter of how much to serve to meet the desired result.

Why Did Equine Provisions Choose These Oils for the Essential Oils Blend?

Manufacturers have sadly replaced some excellent oils. Horsemen are prey to fad diets and fad products (including oils) in horses.

Oils we do NOT prefer for horses are:

Corn Oil: do not recommend unless it is cold-pressed and packaged properly because it is often poor quality and goes rancid quickly.

Soybean Oil: soy is a goitrogen, it tends to "drop" the thyroid which slows the metabolism and compromises the immune system. Not recommended for male horses because it tends to increase estrogen.

Rice Bran Oil: rice bran oil is acidic and that makes it unsuitable for the equine stomach.

Fish Oil: equine health is best achieved by adhering to their physiology. Horses are herbivores, they do not graze alongside ponds and eat fish. Fish oil is great for humans, dogs, and cats.

Note: Some of the oils mentioned above may help produce a good coat, but we can accomplish that without causing an issue somewhere else like these un-digestible, acid-forming, and thyroid affecting oils do. Equine Provisions Essential Oil Blend has the highest quality, human grade, cold-pressed, and/or organic oils. They are seasonal to adhere to your horse's needs and they promote a gorgeous coat from the inside-out year round!

What Issues Does the Essential Oil Blend Help With?

Our oils help in the following ways: promote healthy coat and weight management, proper muscle function, boost immune system, work as a natural anti-inflammatory, ease joint and muscle pain, promote healthy joint function and flexibility, cardiovascular health, lubricates irritated stomach lining, anti-bacterial properties, repair tissue, help regulate nervous system, antioxidants, help regulate metabolism, provide food for friendly bacteria in G.I. tract, and are a source of vitamin E, B complex, etc.

Order Your Essential Oils Blend Today!

Serve our Essential Oil Blends as part of your horse's diet. You'll love the way it helps your horse perform and your horse will love the way it makes them feel. Make sure to call and ask us about our Essential Oil Blends and which one is right for your horses today!

---
Contact: Equine Provisions, LLC
P.O. Box 3820
Midway, Kentucky 40347
Phone: 859-215-0037
Email:
Website: Click Here To Connect

---