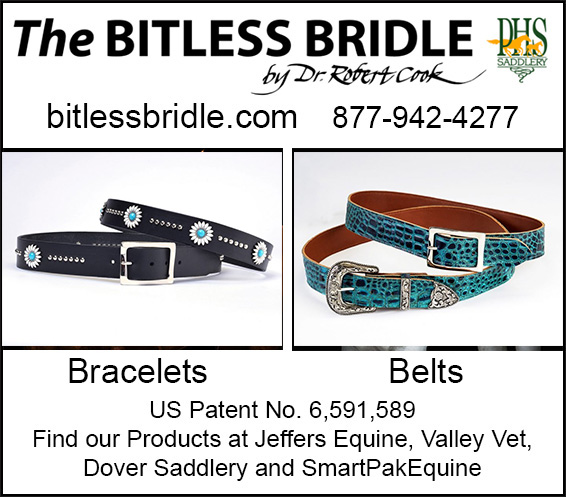 Belts and Bracelets by PHS Saddlery

PHS Saddlery has been making amazing leather goods, like the world famous "Bitless Bridle" for decades. Their gorgeous Belts and eye catching bracelets will attract immediate attemtion and conversation.



PHS Saddlery Makers of Gorgeous Belts and Bracelets-- and the Original Maker of the Bitless Bridle!


At the age of 14, working from his parent's farm in the Midwest, Mr. Paul founded PHS Saddlery by building horse and pony driving harness. Through mail-order and our retail store, PHS has continuously provided saddlery items to horse owners across the U.S. and Europe for the last 63 years. Our manufacturing facility is located in the Southern Colorado foothills of the Rocky Mountains.

We are the ORIGINAL manufactuer of the Dr. Cook Bitless Bridle, and have recently purchased The Bitless Bridle Co. from Dr. Cook who wanted to retire. We hope you enjoy our line of Dr. Cook Bitless Bridles and also our in house designed and manufactured line of belts and accessories.
We realize you have a choice when you shop and our passion is to provide a top quality product you will truly enjoy for years to come.



Why Not Ride IN Style With Our Eye-Catching Belts And Bracelets!
Every horsewoman can ride with the same style and flair as her trusty steed with PHS Saddlery Belts and Bracelets! Each are made to perfection using only the finest harness leather and each with crafted with care individually for a unique flair and style that is hard to find anywhere else!

Copper Sunrise: The popular style of our Copper Sunrise is sure to catch the eyes of everyone with our gorgeous design and copper inlays. From our ladies Spotted Belt at less than $59 to the Double Wrap Bracelet at less than $20, every horse woman can enjoy the beauty and attention from admirers of these amazing accessories... sure to catch the eye of all!

Park Avenue: The simplicity and elegance of our Park Avenue Collection will be an amazing, classic addition to any of your fine western wear. With a beautifully designed belt less than $60 and a double wrap bracelet at less than $20, any woman can afford to look her classic best.

Spring Daisy: Our Spring Daisy Collection with silver and turquoise is one of our most popular designs. It instantly catches the attention of everyone with it's beauty and cheerfully elegant design. With the gorgeous silver and torquoise belt at just under $70 and matching, stunning, double wrap bracelet at just $22.50, you will definitely be the talk of your peers.

Hunt Club: Show off your love of the Fox Hunt with the subtle elegance of our Hunt Club Collection. From the gorgeous Fox Head Belt at just under $70 and the matching double bracelet at just under $20, this pair will accent your wardrobe with style and purpose.

Silver Pony: Our Silver Pony Collection adds a touch of style and class to any equestrian wardrobe. Available in black or brown harness leather, and simply but beautifully adorned, you will love wearing the Silver Pony to accent your wardrobe.

Copper Pony: The Copper Pony Collection is adorned with the warmth and richness of copper accents . Featured on our rich, brown, harness leather, it feels as good to wear as it looks and adds a touch of style and richness to any equestrian wear you choose.


What About The Bitless Bridle? Does PHS Saddlery Offer The Bitless Bridle Too?
YES. The ORIGINAL makers of Dr. Cook's Bitless Bridle, PHS Saddlery is proud to announce that, with Dr. Cook's retirement, they have purchased the rights to the world-renowned Bitless Bridle and are proud to offer that to your horses to make a real difference in comfort for your horse!

The Bitless Bridle Is Kinder To Your Horse!
Apart from avoiding the negative aspects of the bit, the benefits of The Bitless Bridle enable you to be kinder to your horse; improve your horse's welfare and its mental and physical balance; avoid confusing your horse by expecting it to eat and exercise simultaneously (the effect of using a bit); have better "brakes"; enjoy smoother transitions: lengthen your horse's stride (and, therefore, increase its speed); have less fidgeting, a calmer horse and one that listens better to the aids; reduce the stress of exercise for you and your horse; dispense with tongue-ties and dropped nosebands; enable your horse to get more oxygen and generate more spirit, vigor and stamina; obtain better performance; improve your own safety and that of your horse: gain more control; avoid so much lathering-up, foaming at the mouth and slobbering; allow your horse to develop a more graceful action, with a more rounded outline and better engagement; reduce the likelihood of foreleg lameness and breakdowns (from hypoxia, fatigue and heaviness on the forehand); reduce the likelihood of bleeding from the lungs and sudden death at exercise (caused by upper airway obstruction); put a novice on a fully-trained horse without fearing that its mouth may be damaged, and so enable a trained horse to teach an untrained rider; establish a better partnership; obtain more cooperation and have a happier horse.




Why Wait? Order Your Gorgeous Belts, Bracelets, or Bitless Bridle TODAY!
Why wait to start helping your horse reach his/her full riding potential? Eliminate the pain, get better control, and help your horse to reach his fullest potential. Just visit BitlessBridle.com and order today!




---
Contact: PHS Saddlery
5220 Barrett Road
Colorado Springs, Colorado 80926
Phone: 877-942-4277
Email:
Website: Click Here To Connect

---